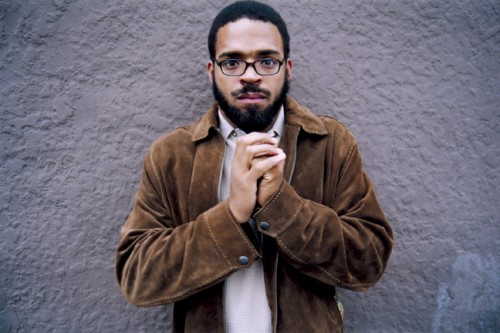 Hip-Hop Core: Your new album "Cosmic Cleavage" has just been released. How did you approach this new album considering the critical acclaim received by "Temporary Forever"?
Busdriver: Well, it was kind of just like a personal project. It was kind of like a therapeutic record. The overall theme of it is based around my relationships with women and what not. Daddy Kev actually pretty much kicked the whole record off. He just asked if we can do a record really quick and we did it. It didn't take that long to do. It's not supposed to be like my next follow-up full length release. It's just something that happened so we put that out. It's not even coming out in the States. It just came out here in Europe . I also wanted to use it to introduce myself to the European market. It's just a fun little record.
HHC: "Cosmic Cleavage" is also a part of the ongoing jazz experiments of Daddy Kev & D-Styles…
B: You know what? It's more of that. "Cosmic Cleavage" is more of a Daddy Kev and D-Styles record. Even though, it has my name on it. It's more because Daddy Kev had done serious records like "Slanguage" and "Sound Advice". He also did a record with P.E.A.C.E. from Freestyle Fellowship but that's not out yet. It's kind of just Kev doing his little experiments.
HHC: The album is a lot more laidback and less "experimental" than "Sound Advice". How do you think "Cosmic Cleavage" fits in that Kev series?
B: I don't think it's fantastic. I think the one with Grouch was really dope and I was really pissed when I heard it because Kev's spent a lot more time with the Grouch's stuff that he did with mine (laughs). I think mine's and Awol's albums are alright but Grouch's got the bulk of the production quality; which is ok. I understand. The Grouch is a bigger name than us so it's smart. But Kev's one of my good friends so… I like it.
HHC: What attracted you to "Cosmic Cleavage"? You had already worked with Kev since the "Lost Angels" EP and on other things but what attracted you from the start in that particular kind of collaboration?
B: Well, Daddy Kev engineered the whole "Temporary Forever" record and he produced half of it so I've been working with him for a few years and I just do a lot of stuff with him. He's always there. He's in my fold of closely knit artists that I work with.
HHC: You seem very at ease on jazz tracks. It seems that jazz truly allows you to show all your technical possibilities. Why is that in your opinion?
B: I don't know. I'm kind of like a torch bearer for the whole Good Life / Project Blowed scene and it was kind of instilled at me early on to incorporate a lot of be-bop and jazz and vocalises into my stuff so it's always a natural progression to go that way. That's kind of a given and Kev knows that so he's catered to it throughout the record. Actually, the whole album was inspired by a song that me, Xololanxinxo from Of Mexican Descent and Myka Nine from the Freestyle Fellowship did. It's a little freestyle song that we did. I don't know if it's ever gonna come out. I let Kev hear it and he was like "Oh my god!" and he just made this whole lot of beats and he was like "here, do something like that, Driver!" and I was like "ok"… so it's just kind of how it happened. It was Kev's idea, the whole record.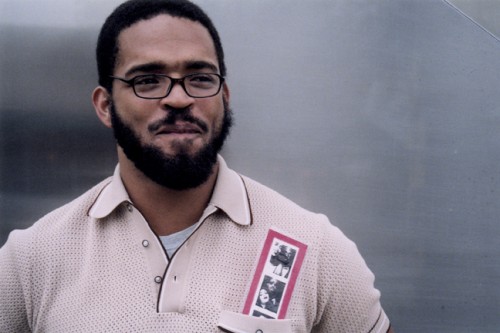 HHC: Sometimes you really use your flow like a saxophonist would use his instrument, to draw some amazing rhythmic lines. What led you to do that and how did you perfect that kind of flow?
B: When I was a teenager, I just got introduced to a lot of different flows. The crew that I'm from is a lot of older emcees who have similar approaches. Not only was I inspired by how they rhyme but they showed me about vocal jazz and about John Hendricks. That's pretty much it. It's me enjoying my jazz.
HHC: At the same time, considering the often very complex structures of your rhymes, don't you think that sometimes you go too far and risk to lose the attention of the listeners?
B: I don't think it's always the point to write for an audience. You just have to explore the craft and I'm just trying to do a good job. I'm more like a rapper's rapper. I'm not really a crowd pleaser. I never was a good battle emcee. I never was that true school hip-hop guy. It never really happened for me. It seems like I'm deviating from the path but I'm just doing me.
HHC: I understand that you've worked with a Bluegrass band during your first years as a rapper.
B: Yeah. I had a band in high school called Pop Corn Goddess. We did a bunch of different types of music: bluegrass, folk, blues, old time, rock, pseudo jazz… It was just an acoustic band: a guitar, a mandolin, a fiddle and hand drums sometimes. I was just the impro rap guy. I didn't write anything at all. I was treated like an instrument. We would play bluegrass covers; I learned the songs and just have like a solo spot. So that's also why I'm used to considering my voice as an instrument sometimes.
HHC: How important has the influence of the Project Blowed and Good Life Café experiences been on your flow and your evolution as an artist?
B: It's pretty much the turning point for me. I wasn't really a part of the Good Life. I caught the tail-end of it and they embraced me so that I became a full-fledged Project Blowed when it started in late '94. I went to the Good Life around '93 and I would go overnight every now and then. But, yeah, I think my approach is very much from that school of thought. Those are the people who brought me up in hip-hop and who I roll with, besides rolling with Radio and stuff. It's just pretty basic rap crew stuff. I think Aceyalone is helming the next Project Blowed album. It's been ten years since the first album so we're getting ready to do a new one. We've been doing a couple of songs here and there. I don't know how good it's going to be. I pray that it'll be good.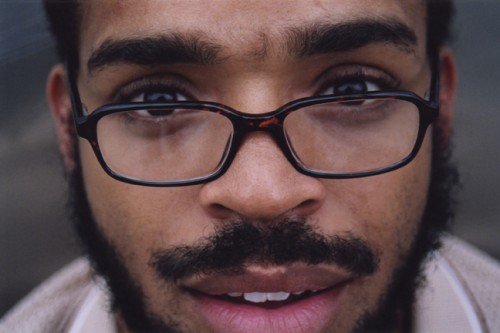 HHC: I hope so because the "Good Brothers" album last year was really disappointing…
B: So was I! I kinda like the song that I was on but I don't like everything. So I hope that Acey is trying to keep in mind the level of the first Project Blowed compilation for the upcoming one. I'm sure he is. I'm just really excited to do it.
HHC: How did you hook up with Afterlife in the first place?
B: They kind of brought me into the game of underground rap. Around '93 or '94, C.V.E. took me under their wing and I became part of the Afterlife. I've been with them ever since. We put out some records and nothing really happened so we're still working. I don't know exactly what we'll be doing in the coming months. Right now, Afterlife is really scattered. A lot of different members are doing things: OMD, 2Mex, Xinxo, Ellay Khule… the next CVE record is coming out in some form. Certain things are slowly coming together. I think this time around I'll play more of a role and really administrating what happens because I don't trust my older homies to really make things happen (laughs). They kinda fall out of touch. It's a strange thing 'cause they're like 35 and I'm young and I give a fuck so I feel like I have to push that. But I don't know, we'll see.
HHC: What memories do you keep of the discs released under the Afterlife imprint such as "This Machine Kills Fascists" or "Memoirs of the Elephant Man"?
B: "This Machine Kills Fascists" wasn't really an official record. It's kinda like "Fo'tractor" for Radioinactive: 4-track songs that never should have been. Except I didn't release it until recently like 2001 or something like that. I mainly did it to supplement my living cost and to give people an idea of what I was doing when I was a teenager. But "Memoirs of the Elephant Man", that was my official first album. I like certain parts of it honestly. I got the tail-end of a certain era of production from CVE that I liked (before they went on a different tangent). It was cool. It was a pretty good experience for me. It's not the best record in the world but it's pretty standard underground hip-hop stuff.
HHC: You've worked several times with 2Mex. What's so special about your relationship?
B: Well, 2Mex is an Afterlifer too and he's just one of my good friends. We really bond. We want a similar career path, a kind of underground hip-hop hustle, punk-rock aesthetic. I just hang out a lot with him and a lot with the Abstract Rude, Aceyalone and all that stuff.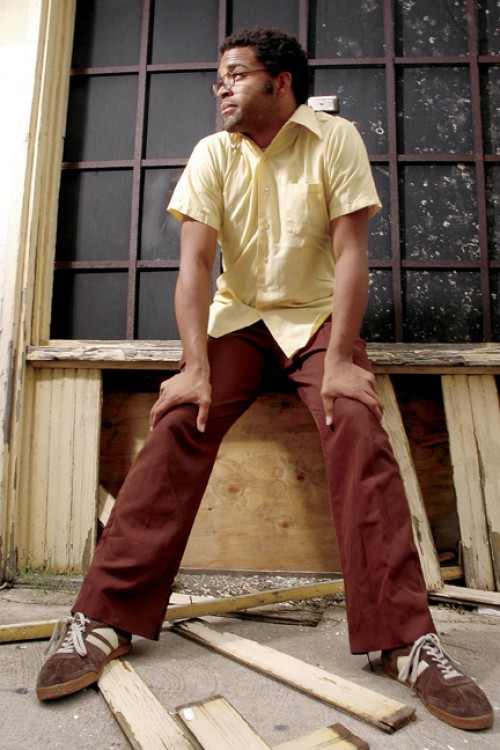 HHC: What led you to release that live album with 2Mex?
B: Actually, it's for financial purposes because we flew out and we drove out to this South By South West music conference in Austin , Texas . We completely funded the trip because we wanted to network and we got to do a live radio concert with all the other South By South West men even though we were not on the bill for any show. We got a copy of it and we thought it sounded pretty good so we figured "Hey, let's put out a few to make up for the cost of the trip!". That's pretty much it.
HHC: Also, why did you release that "Live Airplane Flood" album with Daedelus following the Weather LP?
B: A couple years ago or a year ago, I was involved in Daedelus live band. It was a guy who would play the horns and the keys and melodica and some other guy would play drums and I would rap. So we would have this unsampled thing to complement Daedelus pieces and that's just one of the first few shows. Actually, it wasn't even the best shows at all. It's just the shows that I had some live audios of. Actually, I was really pissed because I wanted to get a better show but it was fine… That's pretty much what that was. I just wanted to document that experiment and to show that it happened.
HHC: I believe you went to college at the American University at Paris . What do you think about the time that you've spent in France and what do you think about France in general?
B: Well, I came out here six years ago to live in Paris with my girlfriend, my daughter's mom. I hardly attended; it was a very bad school. I didn't really come away with anything from the school but I guess I got a broader sense of international rich kid culture as there's a lot of rich kids who go to that school. While I was in Paris, I conceived my child and that's the greatest gift of all of course. I wrote a lot of songs. I wrote 'Painkillers' of "Memoirs of the Elephant Man" in Paris. I stayed in Paris for almost a year. I remember mainly a lot of roaming, a lot of subways 'cause we don't have a subway in LA. That tends to stick with me even though it shouldn't: going underground and coming up somewhere else. For some reason, that's very displacing and interesting for me. Also, the experience of being in a truly beautiful historical city. That left an imprint on me. I appreciate that. We don't have it at all in LA…
HHC: Could you tell us a few words about your next album?
B: Well, I'm on the Mush train. Mush is putting out my next record in the fall, probably late October or September out here. Big Dada's going to put it out in Europe . It's called "Fear of a Black Tangent" and it's kinda funny. I'm still working on it. It'll be done soon after I get back. It revolves around underground hip-hop politics, loosely playing with the racial politics and other things. Daedelus will do half of the production and Paris Zax will do the other half. And there's some spot productions from Omid and also Thavius Beck (aka Adlib). Apart from that, I'm also working on the next Project Blowed record a little bit. I'm currently trying to figure out what's my next step and trying to plan my next year. This year has been really interesting cause I tried to really take on the European market and it's going well so far… So I have to incorporate that in how I attack the whole music.
Interview by
Cobalt
&
MelloW
May 2004