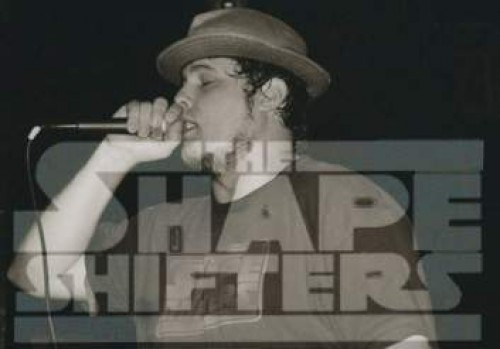 Hip-Hop Core : Firstly, can you introduce yourself and explain to our readers who Circus really is ?
C : THEY CALL ME BIG BAD ASS MR. CIRCULEEZ MAXIMUS a.k.a LIL BIG KID ZELDA da NEANDERTHAL ELF OF THE INFAMOUS & NOTORIOUS SHAPE SHIFTERS & CBS CREWZ ... I
DO GRAFF , SERVE WHAK MCS AND I RIP MICS ... AND .... UMMMM ? ERR ? DUH ?...
YEAH !... THATS ABOUT IT
HHC : Can you tell us more about the quite particular "Gangstahz fo' Gawd", how did it come about, the concepts behind it. Oh and how long did it take to record it ?
C : ACTUALLY, IT HAPPENED OVER QUITE A LONG PERIOD OF TIME ... PLANET OF THE
SHAPES , KNOW FUTURE , ADOPTED BY ALIENS & GANGSTERZ FO GAWD (plus one other
that has not yet been released" THE SHAPE SHIFTERS WERE HERE" coming some
time in the future)... WERE ALL CREATED VIRTUALLY AROUND THE SAME TIME ....
BETWEEN LIKE 1995 TILL 2000 OR SO .... GANGSTERZ FO GAWD WAS JUST A BACK
BURNER 4 TRACK ALBUM THAT I HAD BEEN SITTING ON , AND ONE DAY I FINALLY GOT
THE BALLZ TO PUT IT OUT ... DUE TO ITS GRITTY QUALITY ... ITS MORE OR LESS
OF WHAT I CONSIDER B-SIDE MATERIAL , OR CUTS THAT I WOULDN'T REALLY CONSIDER
DOING LIVE .... IT WASN'T SOMETHING INTENDED TO BE PUT OUT ON A LARGE SCALE
... AS OF NOW ? ITS VERY LIMITED ... IT WAS ME DRIVING FROM HOUSE TO HOUSE
WITH THIS MAKE SHIFT STUDIO/RECORDING DEVICE/8TRACK THING UNDER MY ARM ...
LOADED UP WITH BEATS THAT DIFFERENT PRODUCERS DONATED FOR THE CAUSE ... AND
US JUST PLUGGING SHIT IN WHERE EVER THERE WAS AN ELECTRICAL OUTLET ... AND
WE WOULD RECORD RIGHT THERE ON THE SPOT ... IN THE PARK ... IN THE BATHROOM
... IN THE GARAGE ... WHERE EVER ... ALL OF THE FEATURED ARTISTS ON THERE
ARE MORE OR LESS HOMIES FROM MY OLD NEIGHBORHOOD ... ITS NOT ON SUM HIGH
PROFILE SHIT ... ITS PEOPLE THAT WERE WITH IN AN ARMS REACH ... ITS THE
HOMIES THAT WERE DOWN TO MAKE A SHITTY LOW-FI ALBUM FOR THE SAKE OF CREATING
SUM HORRIBLE UNDERGROUND MUSIC ... THUS THAT IT WHY IT WAS CALLED "CIRCUS &
FRIENDS PRESENTS GANGSTERZ FO GAWD" ... THE NAME ACTUALLY CAME FROM AND OLD
FRIEND OF MINE WHO IS THIS RASTA CAT FEATURED ON THE CD NAMED "KEITH
SINCLAIR" WHO'S MOM WAS A MILITANT BIBLE THUMPER WITH A GHETTO MENTALITY
.... WE WOULD JOKE AROUND ABOUT HOW PEOPLE WERE GOING TO EVENTUALLY KILL
EACH OTHER OVER GOD ... CONCEPTUALLY ? IT IS POLITICAL AND RELIGIOUS SATIRE
... ITS A REFLECTION OF THE WORLD I LIVE IN.
HHC : G.I. Joe, Lego. you seem to make many references to toys and games in your songs. Is their a reason for that ?
C : THESE WERE THE THINGS THAT PLAGUED MY MIND AS A YOUTH ... I COLLECTED A LOT
OF TOYZ WHEN I WAS YOUNGER ... AND I STILL DO ... IT WAS SOMETHING THAT ALOT
OF US GREW UP WITH AND REMEMBER ... IT BRINGS US BACK TO THE TIME WHEN LIFE
WASN'T SO DIFFICULT ... ITS ALSO SOMETHING THAT I CAN MAKE REFERENCE TO ...
AND ANYBODY GROWING UP IN THIS TIME AND AGE
HHC : Science fiction is probably your most notable source of inspiration, especially in your posse cuts with the other Shifters. As a matter of fact, with so many references to Star Wars, Planet of the Apes and E.T. in your lyrics, it looks like science fiction has almost become your trademark. Aren't you guys afraid to be perceived as geeky hip hop crew ?
C : I DON'T REALLY CARE WHAT PEOPLE THINK OF US ... I DON'T THINK THAT SOME OF
THIS SCIENCE FICTION STUFF IS TOO FAR FETCHED AT ALL ... IN FACT I THINK
THAT THE TWILIGHT ZONE IS MORE PRONE TO HAPPEN THAN SOME OF THESE SO-CALLED
REALITY TV SHOWS
HHC : why do references to Jesus seem to always appear in your rhymes ?
C : CANT SLEEP ON OL JESUS ... NO WAY DUDE ... HE IS THE MOST FAMOUS MC AROUND
... THE LEGEND LIVES ON WEATHER YOU BELIEVE IN HIM OR NOT ... ITS LIKE WHAT
WOULD JESUS DO IF HE WAS ALIVE TODAY ? PROBLY BRAKE DANCE ON WATER ... HE'D
BE SUCH A HUGE SUPERSTAR ... LARGER THAN MICHAEL JACKSON ... EVERYBODY WOULD
BE ALL SICK HITTING HIM UP TO GET CURED N SHIT ... POOR JESUS WOULDN'T GET
ANY REST ... ITS LIKE "YO JESUS , I FELL OFF OF MY SK8BOARD AND I SCRAPED UP
MY ELBOW ... SO WUS UP ?!... LIKE HOOK A BROTHA UP"
HHC : You are the perfect example of what we call an " off beat " mc. Did you choose to rap this way deliberately ? Have you received any comments regarding this ?
C : UNFORTUNATELY I HAVE NO CONTROL OVER THIS ... IN FACT I WAS BORN LIKE THIS ... AND I HAVE ENTERED MC BATTLES & I HAVE LOST MORE TIMES THAN I HAVE WON
... LISTENING TO WHAK MCS TRYING TO TELL ME THAT I AIN'T ON BEAT ... THEY
JUST DON'T GET IT , I GUESS ?... HOWEVER I HAVE BEEN MORE RECENTLY BEEN
WORKING ON SOME MORE CONVENTIONAL TYPE RIDDOMZ ... BUT NEVER THE LESS ... IT
IS STILL WHAT ONE MIGHT CONSIDER "OFF BEAT" ... PERSONALLY , I PREFER THE
ABSTRACT STYLES MYSELF
HHC : Do you drink or take drugs ? This could probably explain the moments in your album I had a hard time understanding.
C : I HAVE DONE MY FAIR SHARE OF EXPERIMENTING WITH SOME OF THESE THINGS ...
HOWEVER I TRY TO KEEP IT WITH IN THE REALM OF THE NATURALS ... SOME OF IT I
FIND BENEFICIAL ... AND SOME OF IT I THINK IS JUST PLAIN SELF DESTRUCTIVE
... SO I THINK IT ALL DEPENDS UPON THE INDIVIDUAL ... IN OTHER WERDS ON
OTHER WERLDZ ... SOME PEOPLE CANT HANDLE THEIR LIQUOR
HHC : You also draw and do graffiti. I read for example that you had drawn the cover of "Adopted by aliens". How and when did you get into that ?
C : ACTUALLY (AXIS from da LA CBS crew) DID THE COVER FOR = ADOPTED BY ALIENS ... & HE IS A VERY TALENTED GRAFF ARTIST TOO I MIGHT ADD ... HOWEVER I DID DO THE COVER FOR "KNOW FUTURE" & THE SHAPE SHIFTERS DVD = "TERRORISTS FROM
ANOTHER WORLD" ... PLUS A FEW OTHERS I DID ...
HHC : Word is a collaboration with Odd Nosdam is going on right now. Can you tell us more about it ?
C : THE ANTICON PROJECT FEATURING NOSDAM & WHY ... IS CALLED = "CIRCUS 4
DICTATOR" ... ITS HALF WAY COMPLETED ... AND I CANT SAY EXACTLY WHEN IT WILL
BE RELEASED ? WHEN EVER IT GETS ACCOMPLISHED I SUPPOSE ?... ACTUALLY IM
VERY PLEASED WITH THE WAY ITS BEEN COMING ALONG ... ITS VERY CHILDISH AND
SATIRICAL ... ITS WHAT YOU MIGHT CALL A GANGSTERZ FAIRY TAIL ... ITS
SOMETHING THAT I HAVE NEVER REALLY ATTEMPTED B4 ... ALTHOUGH , I GUESS ITS
PROBABLY EXACTLY WHAT YOU MIGHT EXPECT FROM ME ... I AM AIMING TO BE DONE
WITH IT AFTER MY ALBUM (THE FACELESS COWARD) WITH ASMAR DROPS ON MUSH ...
HHC : Things that you love and hate in hip hop ?
C : IM REALLY GROWING TIRED OF SOME OF THIS HYPE OUT THERE ... IM FED UP WITH ALL OF THESE WHAK MUTHERFUKERZ GETTING MAJOR DEALZ IN THIS CORRUPT ASS MUZAK INDUSTRY ... IM TIRED OF ALL THESE GUYS WHO WERE IN A ROCK BAND LAST YEAR & NOW ALL OF THE SUDDEN THEY ARE GETTING DEALZ TO DO HIPHOP ALBUMZ ... THIS
SHIT HAS GOT TO STOP !.. I MEAN SERIOUSLY !... WHAT IS THIS SHIT ANY WAYS
?... JIGGY RAPMETAL ?!

DON'T GET ME WRONG ... I LOVE HIPHOP & HEAVY METAL ... THE GOOD SHIT AT
LEAST ANY WAYS

IM JUST MAD THAT ALL OF THESE DOPE ARTISTS WHO REALLY DESERVE THE ATTENTION
... ARE THE ONES WHO END UP GETTING SLEPT ON OR SWEPT UNDER THE RUG .... AND
THE REASON FOR IT IS ?... IS ALL OF THIS COMMERCIAL ASS GARBAGE THAT IS
CONSTANTLY BEING PUSHED ON EVERYBODY ON THA DAILY

HONESTLY ?

THIS IS WAR
HHC : How do you picture yourself in 10 years from now ?
C : IN A HOT TUB GETTING FED GRAPES WHILE I GET MASSAGED BY MY GROUPIES
YEAH BUTT REALLY THOUGH ...

HOPEFULLY SOMEWHERE BETTER THAN WHERE IM AT

HOPEFULLY NOT DEAD
HHC : Awol One is without a doubt the most media-exposed Shapeshifter. You must think this is deserved. What is your opinion concerning his prolific solo career ?
C : AWOL ONE IS BLOWEN UP ! REPRESENTING THA SHIFTERZ TO THA FULLEST ... IM IN FULL SUPPORT OF ALL OF THAT ... I THINK THAT IN ORDER TO HAVE A STRONG CREW
? EVERY ONE IN THAT CREW MUST ALSO BE STRONG INDIVIDUALS ... SO YOU CAN
EXPECT TO SEE MORE COLLABS WITH CIRCUS , AWOL & THE REST OF THA SHAPES
HHC : What's next for the Shifters ? Are there anymore tight albums still to come this year or have you guys already made enough money to retire ?
C : WE HAVE SEEN NOTHING BUT SUM SHADY DEALZ WITH LABELS ... SO ? WE WONT BE
RETIRING ANY TIME SOON ... AND EVEN IF WE WERE ROLLING IN LOOT ... WE WOULD
STILL BE MAKEN RECORDS ... THERE IS QUITE A FEW SHAPE SHIFTERS PROJECTS IN
THE WERX ... FROM THE ENTIRE CREW ... MYSELF AND OTHER MEMBERS ... HOWEVER I
CANT REALLY SAY WHEN THEY WILL EXACTLY DROP ? BEST WAY TO KEEP INFORMED WITH
WHAT WE ARE DOING ? IS CHECKING UP ON THE WEB SITE : www.theshapeshifters.net.
HHC : What do you think of :

- Kool Keith ?
C : 1 OF MY FAVORITE MCS
- George W. Bush ?
C : 1 OF MY LEAST FAVORITE MCS .... HOWEVER IM GLAD THAT THEY GOT RID OF SADDAM ... THIS GUY WAS A THREAT TO THE ENVIRENMENT ... BUT I HAVE SERIOUSE DOUBTS THAT THE USA's REASONS FOR INVADING IRAQ WAS TO FREE ITS PEOPLE ... ITS A GOOD EXCUSE ... TO GO GET ALL OF THAT OIL ... THEY WILL TEAR DOWN ALL OF THE
SADDAM STATUES ... AND BUILD NEW SOLID GOLD STATUES OF RONALD Mc DONALD THAT
PISS INTO A FOUNTAIN OF MOTOR OIL .... HA HA !
- French hiphop ?
C : I CANT REALLY SAY THAT I HAVE HEARD ENOUGH TO HONESTLY GIVE A FIRM OPINION ... I KNOW THAT THERE IS DOPE RAPPERS COMEN OUT OF JUST ABOUT EVERY CORNER OF THE EARTH NOWADAYS , SO IT SEEMS ... BUTT THE 1 THING I CAN SAY FOR SURE IS ? IM UNIMPRESSED WITH DIFFERENT PEOPLES TWIST ON HIPHOP , WHEN LETS SAY I VENTURE OVER TO A FOREIGN LAND ... AND THE MCS OVER THERE EITHER SOUND LIKE
PROJECT BLOWED OR THE WU TANG CLAN ?! THIS IS VERY DISAPPOINTING .... I WANT
TO HEAR SUM HIPHOP THAT IS TRUE TO THE CULTURE ... ALOT OF MCS ARE TRYING
TOO HARD TO BE DOWN ... THEY ARE MISSING THE WHOLE POINT OF IT
HHC : Well, thank you very much for this interview, Circus. Any last word ?
C : BIG UPS !
Interview by
Metalik
&
Kreme
May 2003