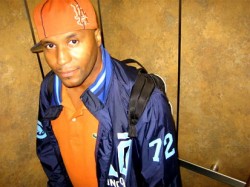 HHC: What do you like so much about rapping about strange sexual practices, scatology or cannibalism?
KK: I GET OFF ON TOUCHING ISSUES NOBODY ELSE TOUCHES. PEOPLE ARE AFRAID TO TALK ABOUT THOSE THINGS.
HHC: Why have you been so critical about NY rappers and about the NYC lifestyle lately?
KK: FROM THE CITY THAT STARTED HIP-HOP CULTURE, STYLE AND BREAK DANCING, I THINK THEY'VE BEEN STUCK IN THE SAME STYLE. PLUS, THEY ARE FOLLOWING OTHER CULTURES AS WELL, TRYING TO ACT LIKE THEY FROM LA, DRESSING LIKE THEY ARE FROM DOWN SOUTH AND REPLICATING LA GANGS…WEARING REGULAR DUNGAREES, I'M SURPRISED NY TOOK A BACK SEAT TO OTHER CITYS.
HHC: After the success of Dr. Octagon and other out-of-this-world projects, it seemed that you've wanted to reconnect with the streets by lashing out at the music industry and at wack emcees. You kinda gave your following albums more accessibility from the lyrics point of view. What led you to do that?
KK: OCTAGON WAS A FANTASY PROJECT THAT DID NOT REFLECT MY WHOLE LIFE, IT WAS JUST A COFFEE AND DOUGHNUT PROJECT THAT PEOPLE GOT STUCK ON AND THOUGHT I WAS LIVING A LIFE AS A GREEN MARTIAN, WHEN MY REALITY IS THE PISSY STREETS. BECAUSE I'M ALWAYS A TRAVELER OF THE CITY, I DIDN'T GROW UP IN SAN FRANCISCO , I'M VERY SORRY , BUT I'M FROM THE BRONX NYC, AND THE PROJECTS.
HHC: Could you clarify the whole Dr. Octagon 2 situation by the way? It's been pretty hectic to follow…Will it ever come out in some form?
KK: I HATE OCTAGON. IT'S NOT MY BEST PROJECT. AND YES IT WILL IN MANY FORMS OF OTHER LABELS REMIXING IT, TRYING TO RE-DO IT OVER, USING MY VOCALS. PUTTING ME ON OTHER TRACKS I DON'T APPROVE, WITH PRODUCERS I NEVER MET IN MY LIFE. JUST PREPARE YOURSELF, I'M JUST AS SURPRISED AS YOU ARE.
HHC: In rap, you've originated the aliases, the extravagant costumes, the offbeat flows, the spaced-out concepts, the abstract rhymes… It's also fair to say that you've defined hip-hop's underground scene with Ultramagnetic MC's. Yet, you're only considered as a legend in some circles. The infamous Vibe hip-hop history book doesn't even mention your name for instance. How does it feel being an underground legend?
KK: I JUST HAVE TO TAKE WHAT I CAN GET RIGHT NOW BECAUSE I CAN ONLY RECEIVE THE CREDIT I HAVE TO RECEIVE. AND THERE'S NOTHING I CAN DO ABOUT IT. THE WORLD TREATS ME FUCKED UP.
HHC: After bringing all these different things to rap music, what will you bring next?
KK: FILM, A LOT OF FILMS, DIFFERENT FILMS OF DIFFERENT THINGS. THEATRICAL FILMS;
HHC: How did you develop your unparalleled offbeat complex flow? What inspired you to rhyme like that at a time where everybody was rapping on the beat à la Run DMC?
KK: MYSELF. I WAS JUST LISTENING TO DIFFERENT BEATS I PRACTICED DIFFERENT SHIT WITH MY VOCALS THEN IT BECAME A phenomena OF DIFFERENT SHIT.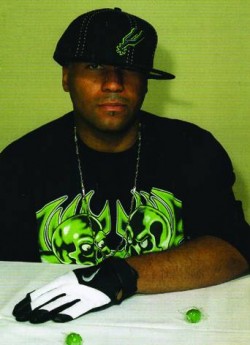 HHC: It seems that Sun-Ra has clearly influenced you in many ways. Could you elaborate on that?
KK: WELL I NEVER PAID ANY ATTENTION TO SUN RA. I WAS ALWAYS A DIFFERENT PERSON. I'M ALWAYS NATURALLY COMPARED TO SUN RA, BUT IM A DIFFERENT PERSON. I NEVER COPIED SUN RA. I SAW SUN RA, AND HE'S A QUITE INTERESTING PERSON.
HHC: How did you develop your unparalleled offbeat complex flow? What inspired you to rhyme like that at a time where everybody was rapping on the beat à la Run DMC?
KK: MYSELF. I WAS JUST LISTENING TO DIFFERENT BEATS I PRACTICED DIFFERENT SHIT WITH MY VOCALS THEN IT BECAME A phenomena OF DIFFERENT SHIT.
HHC: Let's talk a little bit about the recent release of the really good "Clayborne Family". How did you hook up with Crashman and could you tell us a few words about him and about what he's done so far?
KK: CRASHMAN IS FROM CHICAGO, HE GAVE MARC SOME BEATS TO RAP ON AND ME AND H JUST HAPPENED TO BE IN THE BACKGROUND, WE JUST RAPPED ON SOME TRACKS AND FUCKED AROUND AND COMPLETED AN ALBUM.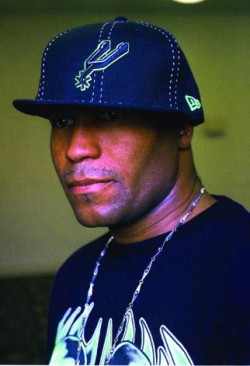 HHC: How do you feel about "Thee Undatakerz"? Most of your fans feel like it's the weakest project you've ever been involved in…
KK: UNDERTAKERS IS NOT ORGINALLY MY PROJECT. PEOPLE USED MY NAME TO MARKET THE PROJECT, THAT I HAD NOTHING TO DO WITH, AND PLUS I RHYMED ON ONE VERSE PER SONG,. IT WAS JUST SOMETHING CREATIVE, BUT IN MY MIND IT WASN'T A KOOL KEITH ALBUM… FUCK IT
HHC: Junkadelic Zikmu has definitely done a lot of work to promote your music in France and Europe, Keith. How do you feel about their dedication to your music?
KK: THEY'VE BEEN DOING REMIXES(for me) FOR YEARS AND ARE DOING THEIR JOB PROPERLY . THOSE GUYS HAVE A SKETCH OF WHAT I'M DOING. THEY ARE FUNKY AND I CAN'T BE MAD. SOME (other) PEOPLE ARE TRYING TO MAKE OCTAGON AGAIN, AND THEY'RE NOT.
HHC: Many people think that you're less talented as a producer than you are as an emcee and some fans have strayed away from your albums since you've decided to produce most of them by yourself. What do you think about these remarks and what would you say to make them change their mind?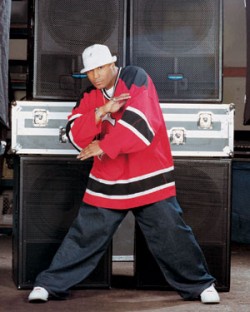 KK: TO ME THOSE PEOPLE ARE FUCKIED UP IN THE HEAD, CUZ THEY THINK A RAPPER CAN'T PRODUCED THEY OWN SELF. PARRISH AND ERICK SERMON DID IT, PETE ROCK, IT'S JUST A BULLSHIT CRAZE. PEOPLE THINK THAT YOU SHOULD BE WITH A PRODUCER, THEY CAN'T ADJUST TO ME GROWING UP, LISTENING TO FUNK BANDS, LIKE SLAVE, CAMEO, BRASS CONSTRUCTION, THE DAZZ BAND, UNDISPUTED TRUTH, ROGER AND ZAPP. THEY'D RATHER HEAR ME RAP OVER SOME BULLSHIT SWITZERLAND BEAT FROM SOME CORNY ASS UNDERGROUND PRODUCER. THAT MAKES THEIR DICK HARD, THAT HAS NOTHING TO DO WITH THE INTENSITY OF MY LYRICS, SOME GUY, LOOPING SOME SESAME STREET SHIT, THAT DOESN'T MATCH MY PISSY PROJECT LIFESTYLE... WHITE CASTLE , KENTUCKY FRIED CHICKEN EATIN' ASS.. SO I SAY FUCK 'EM, BECAUSE WHEN I RETIRE, THEY WILL BE STUCK LISTENING TO POP MUSIC THE REST OF THEIR FUCKING LIFE!.
HHC: Ultramagnetic MC's were the kings of the sampler but as a producer you've rarely used a lot of samples and on the contrary you have chosen more synthetic sounds. Why is that?
KK: BECAUSE SAMPLING REALLY IS STEALING. I DON'T WANT TO STEAL SOME OF THOSE GUYS MUSIC WHO ARE DEAD AND GONE. I'D RATHER MAKE MY OWN NEW MUSIC AND BE HAPPY.
HHC: You've always had a lot of troubles with record companies. Did you choose to go the independent way out of pique?
KK: I'LL GO BACK TO A MAJOR, I'LL GO TO AN INDEPENDENT. I DON'T HAVE ANY PROBLEM WITH EITHER.
HHC: Are you still in contact with the whole Californian underground hip-hop scene (Awol One, etc)? There's clearly a kinship between those inventive emcees and yourself…
KK: UNDERGROUND DOESN'T EXIST, THERE'S NO SUCH THING AS UNDER GROUND, IT'S JUST HOW MANY PEOPLE KNOW YOU AND THAT'S IT.
HHC: As opposed to many of the rap producers you've worked with, you've always been very enthusiastic about the work you've done with Prodigy, from your tracks on "The Fat of the Land" to the new track you've recently recorded with them. Why is that?
KK: IT'S SOMETHING DIFFERENT. MAKES ME WRITE SOMETHING DIFFERENT, SOME NEW SHIT.
HHC: Are you ever going to re-release the 'Big Willie Smith' EP or the Cenobites LP that so many of your fans are desperately looking for? That would probably help solidifying your legendary status….
KK: I DON'T CARE ABOUT THOSE RECORDS. I MOVE ON TO BETTER THINGS.
HHC: A few words about "The 7 th Veil" project. What can we expect from it? What led you to step out of your realm to work with artists such as Chilly Chill or Ike Turner?
KK: I'M GETTING TIRED OF REGULAR RAP. I CAN'T WAIT TO WORK WITH PATTY LA BELLE, THAT'S WHY I'M DOING MY SLOW RECORDS FOR MYSELF LIKE THE PERSONAL ALBUM. RAP IS GETTING BORING TO ME, IT'S LIKE ME WORKING AT MC DONALDS EVERDAY AND MAKING THE SAME BIG MAC EVERYDAY FROM 9 TO 5. AT THIS PONT I DON'T CARE IF I WORK WITH VANILLA ICE. I'LL TRY SOME BRAND NEW SHIT.
HHC: Who's the guy lying under your feet on the "Critical Beatdown" sleeve and who/what did he represent?
KK: I DON'T KNOW YOU HAVE TO ASK MOE LOVE
Interview by
Cobalt
&
Bachir
August 2004
Note: Thanks to Nator from Junkadelic Zikmu.