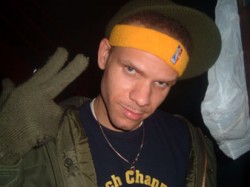 Hip-Hop Core : First of all, can you describe yourself ? Where are you from…
J-Zone : A small planet called "Pay Me, Fool"
HHC : You learned the basics of production with DJ Vance Wright (Slick Rick's DJ) in 1994 I believe. What memories do you keep of that period ?
J : Getting business tips and hearing stories from some of the artists and producers that recorded at his studio. Greg Nice of Nice-N-Smooth, he was real cool and funny. He used to snap on everybody. Straight comedian, but mad down to earth. Grand Puba, Mark Spark, Stud Dougie...Even Amil (from Roc-A-Fella) recorded demos there way before she blew up. Shit, half the fun was playin Tetris on the arcade machine. Also, bein 17/18 years old and havin some of your favorite artists hear you beats is an experience...even though they ain't pick shit! I was wack then!
HHC : What producers, apart from him, do you consider as major influences on your production style ?
J : Different ones at different times. The Bomb Squad, 45 King, Timbaland, DJ Pooh, Beatnuts, DJ Muggs, Dr. Dre, Prince Paul & Sir Jinx are the main ones. Also, bits of Marley, Pete Rock, Premier, RZA & DJ Quik.
HHC : Is it true you originally planned to play bass in a funk band ?
J : Yup, but I couldn't find nobody to stary a band with and nobody else was willin to grow their afro grow but me, so I got into beats...sumthin I can do by myself and not depend on anybody.
HHC : How your musical studies have affected your way of creating music ?
J : To make better arrangements and do good songs, not just good beats. Like craft a whole song and make it dope...not be so monotonous.
HHC : What kind of music were you listening as a kid ?
J : Funk. Early Kool & The Gang, James Brown, BT Express, mad Funk 45's, Slave... That's how I got into rap, cause I used to hear the funk samples and the beats would be so dope, I got hooked
HHC : Do you still work on a SP-1200 or have you bought some extra material ? And on that note, do you still record in your Pimp Palace East studios ?
J : Still at Pimp Palace. I use an MPC-2000 now, a Planet Earth Sound Module and keyboard, F/X, Compressors, mixin board, DA-88's, DAT...simple shit.
HHC : Can you tell us where you find all those crazy twisted samples and skits you use in your compositions ? You must be spending a lot of time digging.
J : Silent Films.
HHC : When you begin to produce a track, do you have a clear idea of the kind of sound you're going to create or is it more a matter of "Cut, Paste & See how it fits" (as one could say) ?
J : A little of both, I can't explain. More of the first though.
HHC : Where do you find all those strange ideas and concepts for your rhymes, like in "No Consequences" for instance ?
J : I wanna make shit everybody can relate to, or at least mix it up a bit. Me and HUG made that one up together. When I play certain friends my album who may not listen to rap, they ain't gonna relate to an album fulla freestlylin and battle rappin. I like stories and concepts cause people can follow...with a battle track here and there where I get somebody good at that shit to do it.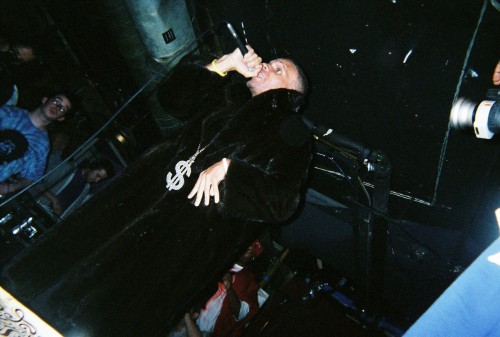 HHC : How do you feel about the fact that you're more famous and sell more records in Europe than you do in your own country ?
J : I love it. I don't wanna be noticed on my block. Nobody in my neighborhood knows I do this and I'm glad. Cause in 20 years if I wanna get a regular job, nobody will say "hey you used to be a rap star, what happened?". I don't like bein bothered in public either. It's flattering overseas, but then I can come home and be an average dude. I'm not into superfame. Just pay me.
HHC : How did you hook up with the Old Maid Billionaires (Al-Shid & Hug) in the first place ?
J : At the strip club. HUG was doin the sound system and shid was pimpin the strippers. We all struck up a conversation and decided to make records.
HHC : Every 12" from Al-Shid and HUG have been received very well last year. When can we expect their LPs and are you going to do all the production work ?
J : Shid is workin on an album now. HUG and I are still real cool on the personal tip, but we went our separate ways creatively, so it's over musicwise. We went in different directions musically and it got to a point where it couldn't work anymore, but I always got love for him cause we came in this game together.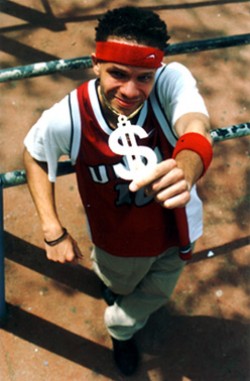 HHC : You broke your promise and there is going to be a new J-Zone album (Great news!). Does it mean you've find some ideas for new twisted narratives ? Could you give us some more info on what to expect from this release ?
J : Yeah, but I broke a lotta promises on the album itself too. I did stuff I swore I would never do (see if yall notice). I got different guests on there too. Al-Shid is on there as usual, but I also got Masta Ace, Celph Titled, Dick $tallion and a few surprise west coast MC's too. It will be different in a lot of ways and the same in a lotta ways. Peep it when it drops and see for yourself.
HHC : Who's going to distribute your LP and all the future Old Maid Entertainment releases ?
J : Fat Beats.
HHC : What about the Gorilla Pimps project ? When is it going to come out? What's going to be the concept exactly ?
J : Me and Dick $tallion's supergroup. The beats are straight funk. Nuthin quirky or bugged or unique. Just funk. Go-Rilla Pimp$ is platinum shit!
HHC : What's your favorite own track so far.
J : Ho Kung Fu
HHC : What's your favorite track of all time ?
J : Ice Cube: Once Upon The Time In The Projects or Eazy-E: Still Talkin'
HHC : Last year, we've heard your job for the Eastern Conference Records' artists. That was really great as you managed to keep your own style while blending it to such different artists as The High & Mighty, Tame One or Cage. Are you currently working on some projects with them ?
J : Yeah, I did some shit for Tame 1 recently.
HHC : Do you still live in Queens ? Have you made any connections there ?
J : Yes, but I keep a low profile. If Im not workin on music, I'm playin basketball at the park or goin to some high school basketball games and tournaments. I'm into hoops when I'm not doin this music shit.
HHC : We know you've done some productions for Biz Markie and Prince Poetry. How was it working with such important figures of our music ?
J : An honor. Real cool. If it all ended tomorrow, I'd at least have that...Being able to work with dudes whose music I grew up on.
HHC : Any other artists you're going to work with ?
J : I wanna continue with all the guys on the upcoming album, Louis Logic and I gotta find Suga Free. He's the best rapper out now. I'd like to work with that Liks, Project Pat, Devin The Dude, MC Ren and E-40 as well.
HHC : Since you've stopped tripping on Lucy Liu, is there any girl that has managed to replace her in your heart ?
J : Naah, I just don't trip over nobody no more. I'm tryin to get some money!
HHC : Finally, have you bought that brand new Cadillac yet ?
J : I'll see you at the car show!
Interview by
Blaze
et
Cobalt
February 2003