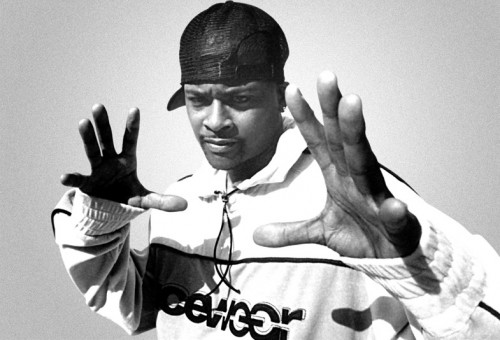 Hip-Hop Core: It's a shame but many people still don't know who you are exactly. So for the record could you introduce yourself?
Marc Live: MARC LIVE ROCKSTAR: RAW BREED, KOOL KEITH, ICE-T's PRODUCER, HYPE MAN, GROUP MEMBER AND LONG TIME STREET AFFILIATE!
HHC: Now, I'd like to go back in time. Can you tell us a few words about your beginnings in rap music and about the creation of Raw Breed?
M: I STARTED IN 1991. KOOL KEITH IS A LONG LONG TIME FAMILY MEMBER, HE GAVE ME MY FIRST BREAK AND HELPED ME PUT MY DEMO TOGETHER! RAW BREED WAS BORN IN 1992 AND IN 1993, MYSELF, NICK SWIFT AND ALEXANDER THE GREAT WERE SIGNED BY BDP PRODUCERS D-SQUARE AND SYDNEY MILLS!
HHC: In 1993, Raw Breed came out with "Lune Tunz" and it was kind of a surprising album (and artwork) for its time. What did you want to accomplish with that LP?
M: WE JUST WANTED TO BE DIFFERENT AND NEW, DO SOMETHING ORIGINAL AND ILL, SOMETHING LEFT FIELD AND SICK!
HHC: I believe you were affiliated at one point with the late great Jam Master Jay. What happened exactly?
M: JAY WAS OUR MANAGER FOR 6 MONTHS AND IT WAS THE ILLEST TIME. DEF JAM RECORDS MEETINGS AND HANGING OUT WITH METHOD MAN AND ONYX. I FELT LIKE WE FINALLY MADE IT! MANAGED BY A PIONEER, REALLY BIG! BUT AFTER 6 MONTHS HE WENT ON TOUR WITH SNOOP, DRE AND ONYX AND WE NEVER SIGNED A CONTRACT. HE SAID IT WOULD BE HARD FOR HIM TO FOCUS ON US FOR ABOUT 5 MONTHS. WE WERE IN THE MIDDLE OF OUR PROJECT AND NEEDED EVERYDAY ATTENTION. I WAS SORRY TO HEAR THAT HE GOT KILLED. IT WAS CRAZY!
HHC: How did you hook up with Ice-T and his Rhyme Syndicate then?
M: I MET ICE-T AND HIS EAST COAST MANAGER AT A BODYCOUNT SHOW IN NYC! I WAS INTRODUCED TO ICE BY ULTRAMAGNETIC AT THE NEW MUSIC SEMINAR! I MET ICE AND WAS LIKE: THIS IS THE REALEST NIGGA ALIVE! WE DID THE RABBIT STEW VIDEO AND I WORE A BODY COUNT SHIRT THAT MOOSE MAN GAVE ME, ICE SAW THE VIDEO AND SAID GET A HOLD OF THOSE GUYS FOR MY VIDEO. WE CAME AND THE REST JUST FELL INTO PLACE!
HHC: This affiliation kind of really launched your career to the next level, enabling you to sign with a major label and to release two LPs on Warner Brothers including the critically acclaimed "Blood, Sweat & Tears" in 1997 (with production by TR Love, etc…) What was the goal with this album?
M: TO SHOW DIVERSITY AND A DIFFERENT STYLE OF PRODUCTION THAN SOUL LOOPS AND THE STUFF JAY-Z AND ROC DO TODAY!
HHC: What led you to decide to stop the Raw Breed adventure?
M: IN LATE 97 THE GROUP BROKE UP AFTER THE RAP DIVISION AT WARNER WAS ELIMINATED SO WE WENT OUR SEPARATE WAYS! SOON AFTER, KOOL KEITH ASKED ME TO RAP IN SIR MENELIK PLACE AND THAT WAS THE BEGINNING OF THE BLACK ELVIS ERA!
HHC: A few years down the line, what's your view on the legacy of Raw Breed?
M: WE WERE THERE IN THE BEGINNING 92. BEFORE A LOT OF GROUPS YOU HEAR TODAY WERE EVEN RAPPING. WE MADE ILL VIDEOS AND CRAZY RECORDS AND WERE THE CATALYST FOR GROUPS LIKE WU TANG AND ONYX !
HHC: During you career, you've been with independent labels and with major labels. How do you feel about both?
M: MAJORS CARE ABOUT SALES, INDIES CARE ABOUT QUALITY. MAJORS ARE POP, INDIES ARE UNDERGROUND AND LET YOU BE CREATIVE AND EXPRESS YOUR SELF! NO POLITICS.
HHC: Why did you decide to work with your cousin Kool Keith after the end of Raw Breed?
M: HE ASKED ME TO DO BEATS FOR HIS FREESYLES AND THEN SAID: "HYPE ME ON STAGE, YOU'RE ON THAT ROCK SHIT". HE SAID I HAD A LOT OF ENERGY AND IT WAS AND STILL IS A GREAT THING. I'VE SEEN THE WORLD AND I OWE IT TO KEITH!
HHC: Who had the idea of the Analog Brothers and what was the whole idea behind the futuristic pimp concept?
M: KEITH CAME UP WITH THE NAME AND PIMPIN REX FROM "IM YOUR PUSHER" FAME CAME UP WITH THE CONCEPT.
HHC: When and why did you decide to record a KHM album with Keith and H-Bomb?
M: IN 2001, BEFORE WARPED TOUR, H AND KEITH WERE LIKE :LET'S BE A GROUP.I WAS LIKE" PERFECT" BECAUSE WE CAN START THE HYPE ON TOUR AND CREATE A BUZZ, AND THAT'S WHAT HAPPENED!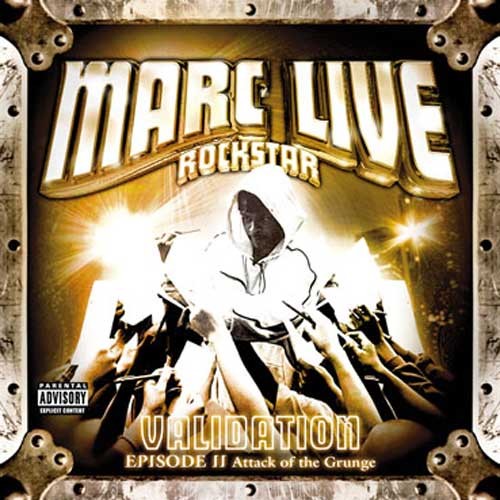 HHC: Your production style has become very digital and raw since you've been working with Keith. What gave you the will to switch to more synthesized sounds and for a more minimalist approach?
M: KEYBOARDS GIVE YOU MORE CONTROL THAN SAMPLES. IT MAKES YOU GO INTO ZONES A LOOP CAN'T. KEITH'S INFLUENCE SHOWED ME THAT A MORE FUTURE SOUND GAVE YOU A BROADER AUDIENCE AND A MORE INTELLECTUAL CROWD!
HHC: When you're rapping alongside Keith or Jacky Jasper, it's striking how your vocal stylings are totally different from them. You come with a more rugged, raw, in-your-face type of energy whereas their flows are more complex and their imagery is more abstract. It makes up for an interesting chemistry. Was it one of the main ideas when KHM was created?
M: WELL, IT JUST HAPPENED THAT WAY. I COME FROM THE BDP, REDMAN, RAKIM INFLUENCE SO I'VE ALWAYS BEEN MORE STREET AND STRAIGHT UP RAW WITH LYRICS, SO IT MAKES FOR AN INTERESTING BLEND!
HHC: You've shown that you're a talented producer. Would you choose production over rhyming if you had to?
M: YEAH. I LIKE BEHIND THE SCENES, AND I'M HEADING THAT WAY. I WANT TO DEVELOP TALENT AND WATCH THEM GO. RHYMING IS GREAT BUT CREATING A STAR IS THE BEST!
HHC: The new KHM album "Clayborne Family" is already floating around on the internet even if it's only supposed to be released in February. As far as I know, the feedback is pretty good and I even think I prefer it to "Game". But can you tell us what's behind this internet leakage situation?
M: WELL MY FORMER PARTNER (DARRICK ANGELONE) AND I CALLED IT :QUITS... AND HE DECIDED TO DO SOME UNDERHAND SHIT AND LEAK THE RECORD TO GIVE HIS SITE SOME CREDIBILITY. BUT CLAYBORNE WILL BE RELEASED SOON THE RIGHT WAY, SO THE FANS CAN HAVE IT PROPERLY!
HHC: How do you feel about this new LP?
M: IT'S DOPE IT'S MORE MY STYLE OF BEATS: URBAN AND RAW. IT TOUCHES THE STREET MORE SO THAN OUR OTHER PROJECTS IN THE PAST!
HHC: From Marc Rippin' to Mark Moog and then Marc Live… Why do you change names so often?
M: I THINK REINVENTING YOURSELF IS GOOD IT KEEPS YOU FRESH FOR THE PUBLIC! ALSO, IT GIVES YOU RANGE AND LET THE PEOPLE SEPARATE YOUR CHARACTER FROM ONE PROJECT TO THE NEXT!
HHC: How did you hook up with DJ Junkaz Lou and Junkadelic Zikmu here in France?
M: I HOOKED UP WITH JUNKADELIC BY CHANCE. THEY CAME TO HOLLAND TO A KOOL KEITH SHOW AND GAVE THEIR CARD TO KEITH. HE TOLD ME ABOUT THE SPACE TAPE, AND SAID THEY WANTED TO DO RECORDS IN EUROPE WITH THE CAMP! CRAZY!!! THEN WE TALKED, AND THEY MADE IT HAPPEN. THOSE GUYS ARE CLASS ACTS.THEY LOVE THE MUSIC, AND WORK HARD TO PROGRESS HIP HOP. JUNKAZ LOU ' S BEATS AND DEEJAYING ARE BANANAS. HE COULD BE RICH IN THE STATES!
HHC: In Paris, this autumn, we were really surprised to see you on stage next to Kut Masta Kurt and Motion Man. It was a real unexpected pleasure. Your stage presence was really amazing. What led you to appear there that night?
M: I WAS IN PARIS STARTING MY ALBUM WITH JUNKADELIC, AND HEARD ABOUT THE SHOW. MOTION'S HYPE MAN GAVE ME A MIC AFTER MY SET WITH JUNKAZ AND SAID GET ON STAGE WITH US AND LET'S RIP THE PLACE DOWN . THAT'S WHAT HAPPENED!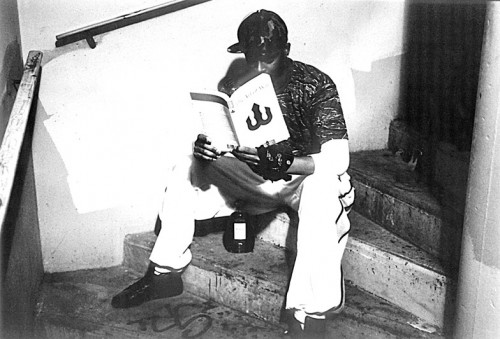 HHC: Do you plan to come back here for a show any time soon?
M: YEAH HOPEFULLY IN THE BEGINNING OF THE NEW YEAR AROUND THE TIME MY ALBUM DROPS IN LATE FEB.
HHC: By the way, do you plan to work with Kurt or Motion some day? I've heard that Kurt is supposed to produce some tracks on one of your future albums…
M: YEAH. KURT DID 'STREET MUSIC' ON MY NEW ALBUM AND WE PLAN TO COLLABORATE MUCH MORE IN THE FUTURE!
HHC: Now, let's talk in details about your upcoming projects. First, there's "Validation" that's supposed to be released in Spring 2004. Can you tell us a few words about this first solo album? What can we expect from it?
M: WELL, IT'S A LONG TIME COMING AND IT IS VERY RAW AND GRITTY. IT'S CALLED VALIDATION "ATTACK OF THE GRUNGE"; THAT SHOULD GIVE YOU SOME IDEA OF THE SOUND: DIRTY AND STRONG BUT STILL SOUNDS CRISP! WOW!
HHC: Why did you decide to work with outside producers such as Ariel " The Cartel" Caban, SA-RA Creative Partners or Larry Hutch on this project? How did you select them?
M: ARIEL IS MY LONG TIME FRIEND, RAW BREED ROAD MANAGER AND JUST BECAME RETARDED IN THE LAST 3 YEARS PRODUCTION WISE. SA-RA HAS TWO MEMBERS I KNOW WELL : SLJ WHO DID 'NEW JACK HUSTLER' AND 'OG ORIGINAL GANSTER' FOR ICE-T, HE IS A FORMER MEMBER OF RAW BREED ; AND OMMAS WHO WAS ONE OF THE MAIN PRODUCERS OF 'BLOOD SWEAT AND TEARS'. LARRY ( FROM JUNKADELIC CAMP ): I COULDN'T PASS UP THAT TRACK "RUSH". I HAD TO DO IT ! PEACE TO CRAZY LARRY!
HHC: What about the "Rockstar" LP? What is it?
M: ROCKSTAR IS ABOUT MY TIMES IN THE HOLLYWOOD DRUG AND PARTY SCENE. IT'S COMING THIS SUMMER.THIS ALBUM WILL MAKE MORRISON SAY" DAMN"!
HHC: Then, I also know you plan to do a rock meets hip-hop type of album with Ice-T and Bodycount under the PSK moniker. What gave you the will to do that?
M: IT'S STILL IN DEVELOPMENT. IT'S NINE INCH NAILS MEETS TYPE-O NEGATIVE!
HHC: Any other project in mind or in the works?
M: YEAH. "LIVE BLACK : BLACK SILVER" AND MYSELF'S ROCK HOP ALBUM. VERY WILD AND CRAZY!
HHC: Let's switch to more global questions. What do you think about the state of underground hip-hop these days?
M: WELL EUROPE IS MORE LIKE THE EARLY 90'S. THEY ARE HUNGRY. HIP-HOP IS NOT A BUSINESS VENTURE, IT'S ART. AND THEY APPRECIATE IT AS SUCH. I THINK THIS IS TRUE EVERYWHERE BUT THE USA. THE U.S. IS A BUSINESS, MARKETING SALES ,VIDEO'S IMAGING, MOVIES AND SOFT DRINK ENDORSEMENTS. THE MUSIC IS LOST. THE YOUNG RAPPER DOESN'T INNOVATE TO FURTHER THE MUSIC. THEY COPY JAY-Z AND WANT TO DRIVE MAYBACHS .IT'S SAD. HOPEFULLY SHIT WILL CHANGE, BUT RIGHT NOW U.S.HIP-HOP IS ON CRACK!
HHC: What kind of music do you listen to when you're not in the studio?
M: I LISTEN TO FLOWETRY, STONED TEMPLE, THE DOORS, OLD MICHAEL JACKSON, ULTRAMAGNETIC MC'S AND ICE-T'S GREATEST HITS!
HHC: What do you know about the French hip-hop scene now that you're connected with DJ Junkaz Lou?
M: I KNOW THEY LOVE HIP-HOP. THEY ARE UP AND LISTEN TO A LOT OF OUR STUFF. ALSO THEY KNOW THE HISTORY BEHIND IT! BUT IT'S LIKE ANYTHING, THERE'S STILL A COMMERCIAL SCENE OUT THERE AND A LOT PEOPLE STILL THINK TECHNO IS FUNKY SO PROGRESS CAN BE MADE, BUT IT'S NOT FAR OFF ... PARIS AND THE FRENCH ARE DOPE ! IN MY BOOK!
HHC: Well, that's about it Marc. Thank you very much for the interview.
M: THANKS FOR THE INTERVIEW! PEACE MARC LIVE 2004!
Interview by
Cobalt
January 2004
P.S. : Thanks to Marc Live, Nator and Junkadelic Zikmu.