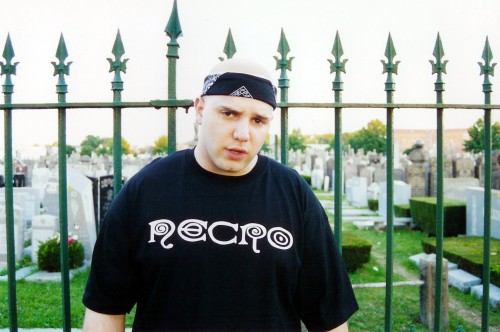 Hip Hop Core : What was the first rap track that made you feel like "Whoa! This is what I wanna do!" ?
Necro : I DONT KNOW
NOTHING AMAZES ME
I ENJOY THE PROCESS
AND SOMETIMES I FEEL DIFFERENTLY
I CANT REMEMBER TO 10 YEARS AGO
I DID ALOT OF DRUGS
HHC : Who was the first of your family to become a hip-hop head : you or Ill Bill ? Is there some kind of a lyrical competition between you and your brother ?
N : MY BROTHER FIRST
YES THEIR WAS ALWAYS COMP.
HHC : Yes you invite him on all your albums.
N : YEAH
HHC : Back in the days, you used to be a freestyle fanatic rippin' mics on radio mix-shows. Do you still freestyle?
N : I NEVER WENT OFF THE TOP
IF YOU MEAN KICK WRITTENS LIVE ON THE RADIO
I WILL STILL DO THAT
BEFORE I WAS BUILDING UP MY REP
SP I DID IT ALOT
THEN I FELT CERTAIN RADIO STATIONS DIDNT APRECIATE IT
SO I SAID FUCK THEM
BUT THEN I REALIZED
I HAVE REALLY ONLY LACED
THE NEWYORK ONES
AND THEIR ARE 100'S I HAVENT HIT UP YET
SO SOON WHEN I GO ON TOUR
I WILL HIT UP
ALL THE RADIO STATIONS
AND KICK FREE RHYMES
BECAUSE I REALLY DO ENJOY SHREADING RADIO STATIONS LIVE
ITS A PLEASURE OF MINE
BUT THEIR IS SO MUCH YOU CAN DO FOR FREE
I NEED MONEY FOR MY SHIT NOW
SO I CAN DO SOME SHIT FOR FREE
BUT IT HAS TO COME IN A PACKAGE OF $$$$
MEANING
IF I DO A SHOW AND I GET $$$
THE SAME NIGHT
I WILL RHYME FOR FREE ON A RADIO
AND LACE NEW VERSES
LIKE THAT
THE FANS GET DOUBLE PLEASURE
THE SHOW
AND NEW VERSES
LIVE ON THE RADIO
IM 26
THE MASTER OF PUPPETS dit :
AND I WANNA BE RICH BEFORE IM 30
AFTER 26 YEARS OF POOR
YA START GETTING SICK OF IT
BUT I LOVE LIVE RADIO
BUT I DONT FREESTYLE
OFF THE HEAD
BECAUSE IM NOT THAT GOOD AT IT
I COULD BE
BUT I WOULD HAVE TO GIVE THAT ART
TIME
AND I PREFER TO MAKE GREAT BEATS
AND GREAT WRITTENS
AND I FEEL I COVER THAT AREA GREAT
BUT I WILL GO OFF THE TOP ON OCCASION
SOMETIMES I COME OFF
SOMETIMES I DONT
EITHER WAY ANYBODY THAT DONT LIKE IT CAN SUCK THEIR FATHERS DICK
HHC : Yea, the Bobbito show...
N : I WENT UP THEIR LIKE 12 TIMES
I THINK
SINCE 1994
DROPPED ALOT OF DOPE SHIT ON THAT SHOW
ON MY NEW DVD
I HAVE LIVE
RHYMING
ON BOBBITTO AND LORD SEAR
I RIP THAT SHOW TO PIECES
BUT AFTER THE SHOW
BOB WOULDNT LET ME RHYME ON THE SHOW ANYMORE
HE IS A HATER
BUT HE HAS ALWAYS HATED ON NECRO
SO THATS NO THING
IM USED TO IT
HHC : How did you hook up with Cage for the "Agent Orange 12" ?
N : WELL
I CALLED BOBBITO UP
AND ASKED HIM FOR THE CONTACT
HE SAID HE DOESNT THINK I WILL BE ABLE TO GET CAGE TO DO ANYTHING BECAUSE CAGE IS A FLAKE
AND HE FLAKES OUT ON EVERYTHING
AND PRETTY MUCH NOBODY WANTS TO WORK WITH HIM
SO I WAS LIKE FUCK THAT
HE IS ILL AND HE NEEDS ILL BEATS
SO I CONTACTED HIM
AND HOOKED UP
BOBBITTO THEN
SAID
NECRO
IF YOU CAN GET CAGE TO DO 2 TRACKS
I WILL PUT IT DOWN ON MY LABEL
SO I SAID YA KNOW
FUCK IT
ILL GET MAD PLAY ON HIS SHOW FOR MY BEATS
PLUS CAGE NEVER DEALT WITH A REAL NIGGA LIKE ME BEFORE
SO IT WILL HAPPEN
SO I MADE IT HAPPEN
BASICALLY EXECUTIVE PRODUCED THAT SHIT
WITHOUT THE MONEY
SO IT WAS ME AND BOB BASICALLY
AND I GIVE BOB HIS DAP FOR THAT THING
BUT HE ALWAYS LOVED CAGE
HE JUST COULDNT DEAL WITH CAGE BUSINESS WISE
SO WE DROPPED THE SHIT
AND IT GOT MAD PLAY AND IT WAS GOOD
CLASSIC RECORD
WE LAYED THE BEATS DOWN AT MILO'S HOUSE
THATS HOW MILO MET ME AND CAGE FOR THE FIRST TIME
AT HIS HOUSE
CUZ BOB WAS MILOS FRIEND
AND WE NEEDED TO LAY BEATS DOWN
WHEN WE REALIZED MILO'S SET UP WAS A PIECE OF SHIT
WE TOLD BOB
THAT WE NEEDED A REAL STUDIO
AND FORGET MILO'S HOUSE
CUZ ITS NOT GOOD ENOUGH
THATS WHERE MILO FIRST STARTED SUCKING CAGE'S DICK
AND WOULD EVENTUALLY BRAINWASH CAGE FROM WORKING WITH ME
AND THEREFORE I GUESS ANOYING FANS
BECAUSE THE FANS HAVE BEEN BEGGING FOR CAGE ON A NECRO BEAT
FOR YEARS
BUT MILO'S MONEY BEING A RICH PUSSY STOPPED THAT
I DIDNT HAVE MONEY TO BRIBE CAGE
ANYWAY
THATS THE PAST
LETS TALK ABOUT NECRO
BECAUSE RIGHT BOUT NOW
MY SHIT MURDERS EVERYBODY!!!!!
HHC : Why did you create Psycho+Logical-Records instead of just signing to an established label ?
N : NOBODY WOULD SIGN ME
EVERYBODY FRONTED
YET
I HAD FANS
LOVING MY SHIT
THE FANS SHOWING NONSTOP LOVE
INSPIRED ME
ALONG WITH MASTER P
DOING HIS THING
INSPIRED ME TO MAKE MY OWN LABEL
JAY Z
COULDNT GET A DEAL SO HE STARTED ROCAFELLA
SAME LIKE ME
IM TOO ILL FOR A MAJOR
AND ALSO TOO UNORTHADOX
MY STYLE IS IN A CLASS BY ITSSELF
AND IM NOT CORPORATE
SO I CANT BE ON A LABEL OWNED BY A CORPORATION
NOT YET ATLEAST
MAYBE WHEN I PROVE
MYSELF AS AN INDIE
AND MAKE $$$$$$$
WITHOUT THEM
THEN THEY WILL DEAL ON MY TERMS
AND I WILL USE THEM
TO BENEFIT MY DIRECTION
UNTIL THEN FUCK THEM
I WILL SELL BANGING SHIT TO MY FANS
AND LEAVE IT AT THAT
BRAINWASH HUMANS LITTLE BY LITTLE DAY BY DAY
I HAVE MENTAL
PATIENCE
LIKE THE TURTLE AND THE RABBIT
HHC : What inspired you to make your own movies ?
N : I LOVE MOVIES
AND I WANTED TO FUCK WITH IT
I DID IT FOR THE LOVE
AND I STILL LOVE IT
BUT THE WORK BROKE MY BACK
SO I WONT FUCK WITH MOVIES
TILL I HAVE A BIG ENOUGH BUDGET
TO HIRE MASSIVE AMOUNTS OF PEOPLE
IN THE FUTURE
YOU WILL SEE NECRO MOVIES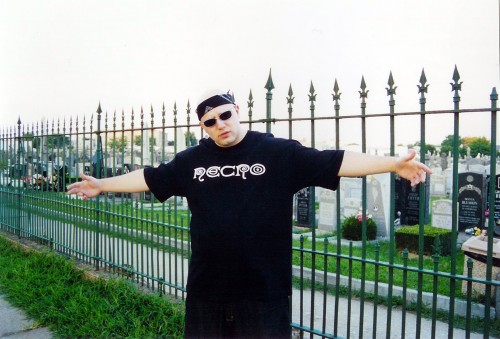 HHC : When do you feel more at ease : producing tracks, rapping or shooting underground movies ?
N : I NEVER FEEL AT EASE
IM ON EDGE 24/7
I CANT SLEEP AT NIGHT
I LIVE THIS SHIT 24/7
TILL I GET WHAT I WANT I WONT STOP
AND IM HAPPY LIKE THIS
BECAUSE I KNOW
WHAT I WANT REQUIRES WORK
BUT I HAVE DREAMS
AND I HAVE GOALS
AND I HAVE MASSIVE AMOUNTS OF TALENT
AND I KNOW POEPLE WANT WHAT I CREATE
SO I DONT RELAX
MUCH
FUCK THAT
ILL DO THAT WHEN 80
IM
HHC : Don't you ever feel the need to touch deeper subjects than sex, drugs & murder ?
N : I CAN TELL YOU DONT HAVE TO MUCH BRAINS BY THAT QUESTION
BUT ILL ANSWER
SEX IS NOT DEEP?
DRUGS ARE NOT DEEP?
MURDER IS NOT DEEP?
THEN WHAT IS
I SHOULD WRITE RHYMES ABOUT THE IGNORANCE OF PEOPLE THAT THINK NECRO IS NOT DEEP
BUT THEN
I WOULD WASTE MY TIME
NOT RAPPING ABOUT THE BRUTALITY OF THE EARTH
EVERYTHING I RAP ABOUT IS DEEP
MORE DEEP THAN A BACKPACKER FAGGOT
THAT HASNT LIVED ANYTHING
ITS ALL OPINIONS
EVERYONE HAS EM
SO I DONT REALLY CARE FOR YOURS OR ANYONE ELSE
MY FANS LOVE MY SHIT
AND THATS THAT
HHC : Are you all time serious in your lyrics ?
N : WHAT DO YOU THINK
HHC : Where do you find those girls for the suggestive photos on your albums and your website ?
N : IN THE GUTTER
CUZ THEY ARE ALL TRASH
HHC : How many tracks will you produce on Ill Bill solo Lp ? Is there already a scheduled release date ?
N : MAYBE 3
I DONT KNOW
HOWEVER MANY HE WANTS
WHATEVER HE PICKS
MUSICALLY HE CAN HAVE
I DONT CONTROL HIS SHIT
HE DOES
SO I COULDNT TELL YOU
HE HAS A FEW BEATS OF MINE ALLREADY HE LIKES
FOR HIS SHIT
HHC : Apart from Ill Bill project, what are you working on currently ?
N : ALOT OF SHIT
HHC : Your next album ?
N : YES
AND MANY MORE
LOTS
MORE DOPE SHIT THAN YOU CAN IMAGINE
...
HHC : Like what ?
N : I DONT SAY
TILL THE MAJICAL TIME
I DONT TRY TO TALK ABOUT SHIT BEFORE ITS READY
JUST KNOW
SHIT IS BEING WORKED ON
AND ITS GONNA BE CLASSIC
LIKE EVERYTHING I HAVE DROPPED TO DATE
AND ALSO
SHIT WILL ALWAYS GET BETTER
NEVER WORSE
LIKE HOW OTHERS DO
HHC : Actually, what rapper do you apreciate on the east and west coast scene ?
N : ON THE WEST?
HMMM
NONE I CAN THINK OF THAT I LISTEN TO
NAME SOME
AND ILL TELL YOU IF I LIKE THEIR SHIT
ON THE EAST
I LIKE CORMEGA
50 CENT
KILLARMY
G RAP
MOBB DEEP
NECRO
NON-PHIXION
ANYTHING EVIL
OR THUGGED OUT
I LIKE
BUT AS FAR AS THE WEST
IM NOT SURE
I RESPECT THE WEST
AND WOULD NEVER SHIT ON THEM
BUT I CANT SAY I LISTEN TO ANYONE FROM THE WEST AT THE MOMENT
OR THE SOUTH
ALTHOUGH I DO LIKE MASTER P'S OLD ALBUMS
AND C-MURDER
AND SOME CASHMONEY SHIT IS HOT
OFCOURSE
I LIKE MAD SHIT THAT THE WEST
HAS DROPPED
FROM NWA
TO DRE'S SHIT
TO CUBE
TO ICE T
BUT IN 2002
CANT THINK OF MUCH
I ALSO DONT LISTEN TO MUCH SHIT
NOTHING IMPRESSES ME REALLY
THATS WHY I MAKE MUSIC
SO I CAN MAKE SHIT THAT IMPRESSES MYSELF
HHC : What do you know about France except her small breads you had at nursery school ?
N : HMM
LOL
YOU READ THAT SOMEWHERE?
HAHAH
yea lol
I KNOW I GET ALOT OF LOVE IN PARIS
FROM WHAT I HEARD
AND THAT YOU CAN SHOOT SOME PORN THERE
BUT MUSICALLY I DONT KNOW SHIT
ABOUT FRANCE
SORRY
HHC : you will come into Paris for show ?
N : YEAH SOON
MAYBE IN 6 MONTHS
HHC : I'll be here.
N : OK
HHC : Any last word ???
N : YEAH
GO TO WWW.NECROHIPHOP.COM
AND BUY THINGS
GO TO WWW.SEXPERTVIDEO.COM
AND BUY THINGS
THOSE ARE MY 2 WEBSITES
AND I SELL STUFF
AND YOU CAN SPEND ALL YOUR MONEY THERE
I SHIP INTERNATIONAL
AND YOU CANT DO BETTER THAN THAT
HAVE A PIECE OF BROOKLYN, NY IN YOUR HOUSE
BUY MY NEW GORY DAYS SPECIAL EDITION SET CD & DVD
5,000 LIMITED PRESSING
AND THEN AFTER
THAT
GO KISS A STINKY ASS
AND MAYBE DIE
FOR THE CAUSE
WHATS THE CAUSE?
THE CAUSE IS SPENDING YOUR MONEY ON NECRO GEAR
SO YOU LOOK GOOD IN YOUR COFFIN
AND THATS IT
FOR NOW
TILL NEXT WEEK
YOU ALL PERISH
!!!!!!!!!!!!!!!!!!!
HHC : No problem, thanx a lot Necro!
N : THANX FOR THE INTERVIEW RIKEM
HOW IS ERIC B?
HHC : lol Rikem is my reverse name.
N : OK
ORCEN
HHC : Yea it will be my next alias... Orcen the killer.
N : I DONT THINK SO
ANYWAY
ILL LET YOU
GO DIE
CALL ME AFTER YOUR DEAD
TELL ME HOW IT IS
OK?
HHC : Ok!
N : BYE
HHC : Bye.
Interview by
Rikem
October 2002