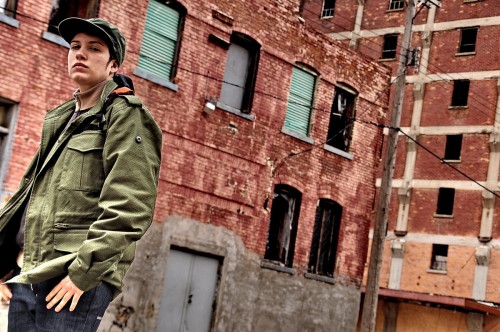 Hip-Hop Core: You've cited many hip hop groups that influenced you growing up: A Tribe Called Quest, Paris, Gang Starr, De La Soul... Are there any other musical genres that inspire you?
Invincible: Good music is good music, regardless of genre, and I'm influenced by many styles. Some of my favourites off the top are: Nina Simone, Letigre, Parliament-Funkadelic, Jimi Hendrix, Prince, Billie Holiday, Abel Meerepol (who wrote "Strange Fruit"), Marvin Gaye, Bill Withers, Alixa and Naima, James Brown, Kraftwerk, Underground Resistance, Fairouz, and Bjork, to name a few.
HHC: There are many interesting collaborations on the album. Can you tell us a bit about the different people who contributed and how you came to work together?
I: All of the collaborators on this album are people who I consider fam, not some random industry contrived formula (this producer+this guest appearance=a hit) lol. There are many stories for each artist, and how we connected. I met Wordsworth on my first trip to NYC at an open mic, where I also met D-Stroy from the Arsonists, who later introduced me to my crew the Anomolies. SUN was the first emcee to feature me on an official release (his debut album), and the first person I performed in Detroit with. Waajeed and I met at a record store in Detroit back in 97 as well, then reconnected at the Electronic music festival and started recording together for the first Platinum Pied Pipers project. Indeed and I met through De La Soul while working on their "Art Official Intelligence" album. Finale and I kept connecting at shows and realizing we had picked the same beat on different producers beat cds, so we decided to collab on one particular House Shoes beat that evolved to become Locusts. Black Milk and I met through Slum village and Athletic Mic League, and then he invited Finale and I to feature on his "Dirty District Vol. 2" project. Apex deejayed for me and Stacy Epps on tour in Europe opening for Bahamadia a few years ago and I picked that Spacious Skies beat while on the road... I could go on and on lol. They are all amazing artists and I'm honoured they blessed the album!
HHC: 'People Not Places', which deals with the Israeli-Palestinian conflict, features Palestinian hip hop artist Abeer. What exactly is she saying on the chorus of this song?
I: Abeer is an amazing vocalist and lyricist. I met her while working on the documentary she stars in: Slingshot Hip Hop (slingshothiphop.com).

The translation for her part of the chorus is:

"Remember the names of our cities/before you came and replaced it/remember and tell me/Tell me how can we not miss a homeland living inside of us."

Abeer told me the last line was inspired by a famous Palestinian saying : "Most people live in a nation, we have a nation that lives within us".

I just shot a video for this song, which will be a docu-music-video similar to 'Locusts' format, and will be released along with a workshop lesson plan in the late winter/early spring of 09 to honor the 61st anniversary of the 1948 Nakba.
HHC: You've also collaborated with different producers on this album, including Black Milk, Waajeed, House Shoes... Have you produced any tracks in the past, and if not, would you consider doing it at some point in the future?
I: I've dabbled in production, percussion, and drumming over the years, and I would love to dedicate more energy to those crafts eventually but in the meantime I just apply the lessons I gained from those instruments to my emceeing. For now I'd rather focus developing my craft, and let the infinitely talented producers around me do what they do best.
HHC: A lot of the songs on this album were, in your own words, "years in the making". Which song was the longest to write and why?
I: 'Locusts' - Finale and I made sure to research it and develop it intentionally with input from as many people from the Detroit community as possible.
HHC: The track 'Spacious Skies' talks of the image you had of the States as a child growing up in Israel and the shock of reality when you moved to the US. You've since worked with the YSN (U.S.-Palestine Youth Solidarity Network). How did young Palestinians' perception of the US strike you and did you find any similarities with your own perception at the time?
I: They definitely had a more politicized understanding of the US role in funding and supporting Israel and many other unjust foreign policies, but they had no idea that racism and injustice were still so present within this country. On the first day of the workshop, Palestinian youth listened to translated tracks from the Detroit Summer LAMP cd "Rising up from the Ashes…chronicles of a dropout", and learn about the way students in inner city schools are policed and treated like criminals on a daily basis. After they listened they were all in shock and anger, confused at why such a thing would happen in United States schools, while they live in a country where they can barely get to school because they face check points, and worse, on their daily journey. After listening to the Detroit youth's stories on the cd, one participant told me "in the movies and on TV they make it look like black and white people get along now and racism is over, I never knew these things were still happening there". I felt the same way growing up, especially because the Cosby show was the biggest prime time success at the time, so it painted an illusion that Black people in the US are treated equally.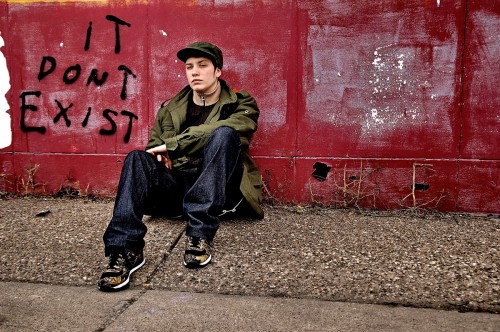 HHC: You worked as a writer for the Lyricist Lounge in New-York. Can you tell us a bit more about that experience?
I: We wrote and shot the show in LA for both seasons. It was an intensive writing process (we worked around the clock) and I learned a lot from all my co-workers (including Wordsworth, Mos Def, Thirstin Howl III, Bareda, Abnormal, and more), about their various writing and creative processes. I met several favorite artists of mine when they guest starred on that show (Qtip, Tash, Erykah Badu, Cee-Lo, Da Brat, and more). Other than that I hated working for MTV because they regularly censored and tampered with the show's content, saying it was "too black, too hip hop" etc. The whole experience really confirmed that the corporate industry route was not for me.
HHC: You cite Octavia Butler's "Parables" as a major inspiration for your ShapeShifters song. What other books are you into?
I: "Wild Seed" by Octavia Butler, is also amazing. "The Lone Ranger and Tonto Fistfight in Heaven" is a good collection of short stories. Toni Morrison's "Song of Solomon", "Sula", and "Beloved" are all masterpieces, as is "Another Country" by James Baldwin. Most of the books I've been shaped by are actually non-fiction though. "Memoirs of a race traitor" by Mab Segrest, "I am woman" by Lee Maracle, Angela Davis, Assata, Malcolm X, autobiographies, "Borderlands" by Gloria Anzaldua, "The fire next time" and "Notes of a Native Son" by James Baldwin, Grace and Jimmy Boggs' many writings. Other authors I love are Audre Lorde, Edward Said, Norm Finkelstein, Andrea Smith, Scott Kurashige, Jeff Chang, the list goes on... not like I ever have time to read anymore though lol.
HHC: Have you ever been drawn to the idea of writing a novel yourself?
I: I want to do a more epic music project someday that is as intricate, coherent, and textured as a novel but I definitely don't see myself as a page writer at this stage of my life.
HHC: You've said in interviews that your way of writing is very visual. Do you tend to write to a beat, or do the lyrics just come and you then fit them to music?
I: The process doesn't have one set formula, and it varies greatly from song to song. As soon as I start getting writers block with one approach I tend to switch it up just to try and challenge myself.
HHC: You've been known to say that you're your worst critic. Which would you say you're most critical of : content, technique or the beats?
I: A friend once told me you can say whatever you wanna say content wise, and people will listen to you whether they agree or disagree, as long as the delivery is convincing and the flow is sick. I would add that they listen even more if the wordplay, rhyme scheme, and word placement are intricate, the punchlines are clever, and the imagery is vivid. Of course I'm always reflecting on my content and I would love to gain more production skills even if just to add layers and arrangement to my pieces. But honestly the part that is most important to me above any technique beat or content, is finding my "inner voice", and developing a way to emcee that expresses in ways that only i can convey, and through that act I hope to create spaces and inspiration for other people find their voices as well.
HHC: Many critics have commended the fact that "Shapeshifters" never launches into egotrips. To take that comment a step further, I find it interesting to note that however much you expand on depictions of people and places, discuss and nuance your theories and ideologies, you very rarely talk about yourself or your emotions. Even 'No Easy Answers' which deals with an emotion (love), is much closer to a philosophical debate than a personal testimonial. Is this by chance, is it simply part of your personality or does it characterise your vision of what you wish to embody as an artist?
I: Almost every line in my work is directly influenced by an experience I've had, or a direct quote from a conversation with a close friend or partner. I have a few pieces that are more literally autobiographical ('Deuce/Ypsi', 'Ropes', the chorus on 'People Not Places'). 'Ropes' especially begins to give listeners a glimpse into my personal history, interweaved with my thoughts about the context my experience is lived in.

I've had earlier songs before this album that were very literally personal (such as 'The Eulogy' with Black Panther, or 'Silence' from "Last Warning" mixtape) and I will have more literally autobiographical songs in the future, but for me I see some of the less literal pieces as just as, if not even more personal because they have references in them you would only catch if you knew me extremely well. I usually write very slowly and choose each phrase intentionally. This allows songs to have multiple layers of meaning the listener can peel back if they want to understand exactly where I'm coming from, or they can just listen at a more surface level and still relate to the basic premise of the joint.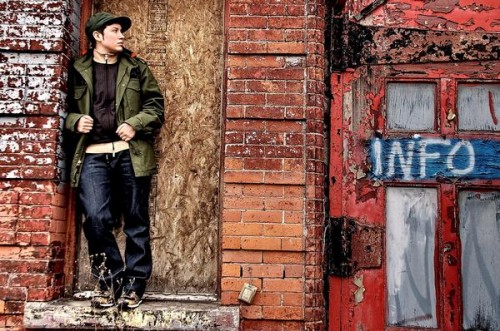 HHC: You're part of the Anomolies crew, and you've always been very vocal about your desire to show a different representation of women in hip-hop rather than criticise the existing one. Sexism has long been institutionalised in an innumerable amount of ways, but how big a role do you consider women have in perpetuating this system?
I: Everyone who cooperates with the system as it exists risks perpetuating it, therefore people of all genders should be able to play a part in creating better power dynamics and more nuanced representations and definitions of what our greatest potential is as people, beyond existing gender roles.
HHC: You also work with Detroit Summer, a multicultural, intergenerational youth program which was founded amongst others by Grace Lee Boggs, who also makes a guest appearance on your album. Can you tell us a bit more about her and how you came to meet?
I: I started working with Detroit Summer in 2000 after being asked to support bringing in more hip hop into the group's approach, in 2002 I was asked to move to Detroit to be the events and media coordinator for the organization. Shortly after I moved I met Grace Lee Boggs at a Detroit Summer gathering. She was 86 at the time and still taking water aerobics classes almost everyday, not to mention helping start several new community groups out of her house (The Boggs Center to nurture community leadership). I learned that she has been organizing for over 60 years, more than 50 of them being spent in Detroit. In the 60s she and her late husband Jimmy Boggs, worked within the Black Power movement and organized to bring Malcolm X to Detroit for the historical Grassroots Leadership Conference. The FBI didn't know how to categorize a Chinese American woman so heavily involved in the Black struggle, so they called her "Afro Chinese" in COINTELPRO documents. She and Jimmy Boggs worked with CLR James early in their organizing, before breaking off to help found several other groups over the years, including Detroit Summer in 1992 (along with many other black power and civil rights activists from around the country who wanted to support more youth in taking on leadership of rebuilding their cities from the ground up). I should also mention that Grace has a doctorate in Philosophy, and both her and Jimmy wrote several books, which developed and influenced philosophies on social change and organizing around the world. Their most well known book is called "Revolution and Evolution in the 20th Century" which breaks down how no two revolutions are exactly the same, therefore it is important to take action as well as reflect and refine your process, in order to evolve as revolutionists. Grace is now 93 and still extremely mentally sharp. I consider her a friend and mentor, and I visit her as often as I can to catch up, and continue to learn from each other.
HHC: You declared in an interview for the Metro Times that you were "quickly disillusioned by the reactionary nature of protest politics." Why?
I: I was referring specifically to the sectarian groups within the left that recruited heavily at my high school, and how they approached organizing in very rigid and opportunistic ways. But speaking more generally, I believe that if you just protest you are only reacting to the injustices around you, and you become stuck in allowing those injustices to dictate your course of action and over power you.

We have to be able to model the kind of communities we want to live in, and it should be integrated and informing the ways we oppose the harsh conditions our current reality is ruled by. We can't afford to wait til after "the revolution comes" to live the life we want to live. I'm inspired by what the French Situationists said, "the revolution is how we live our everyday life". The work I'm most excited by shows people how powerful they already are, and that the ultimate way to topple any system is to create a more viable model of how communities can function holistically, respectfully, and lovingly, which will make the unjust, hateful, and fragmented societies we live in completely obsolete.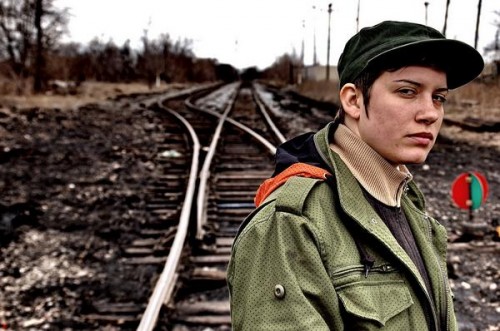 HHC: One of the themes of the album is "gentrification" and the impact it has had on Detroit. When doing some research on the phenomenon, I fell upon the following definition: "Gentrification can result from urban reinvestment efforts by local governments or neighbourhood groups, which directs money to invest in deteriorating city infrastructure, offers incentives for redevelopment, improves access to housing loans for low-income mortgage seekers, assists lending to first-time home purchasers, and improves rental properties. These efforts have been linked to reductions in local property crime rates, increased property prices, increased revenue to local governments from property taxes and increased tolerance of homosexuals." In your opinion, is there any truth to the second part of this definition when applied to your city?
I: Where'd you find this definition? Looks like the locusts are inserting lies in wikipedia entries again. LOL.

What's true is that police presence, harassment, and brutality usually increase in areas where gentrification is taking place. Its also true that higher property prices displace low-income residents, and obviously poor people of any sexual orientation (including gays) are NOT tolerated, as they are also pushed out.
HHC: You're planning on bringing out a multi-media DVD on your Emergence label. Can you tell us a bit more about this project?
I: The DVD is still far from complete, but in the meantime I am creating many multi media pieces that go along with this album (Locusts, Sledgehammer!, Ropes, and People Not Places all have videos or documentaries attached to them). Each video piece also has other layers, for example longer clips of interviews I wasn't able to use in the short documusicvideo format, or curriculum I or other educators I know have developed to utilize the songs and media pieces in more participatory and community transformational ways, that I would like to release in one package down the line, and the DVD (or other multi media format) would serve that purpose.
HHC: Do you plan to come to Europe anytime soon?
I: I was just in Europe for most of August and September, touring with Bahamadia, Roxanne Shante, Eternia, DJ Shortee, Stacy Epps, and many more dope female hip hop artists. It was an incredible experience and I'm planning to release a mini documentary about the tour very soon. I plan to return to Europe in 2009 most definitely!
HHC: Since Obama's election, the international press has been oscillating between two extremes: on the one hand, those stressing what a radical impact this will have on the US, and on the other end of the spectrum, those stating that in light of the current situation and/or system implanted in the country, Obama will have no leeway whatsoever to change anything at all. What's your perspective on the new president and the consequences it might reap upon the country?
I: All real change begins in the community from the ground up, organizing and making demands, or creating alternative solutions and visions. The main difference between Obama and other mainstream politicians is that he has some background in organizing so he might actually pay attention and listen when people come together to make their voices heard and vision seen. Even if he doesn't have much leeway to change things, the communities most impacted by injustices and social issues will continue to transform their situation out of necessity, regardless.
Interview by
Naïma
January 2009