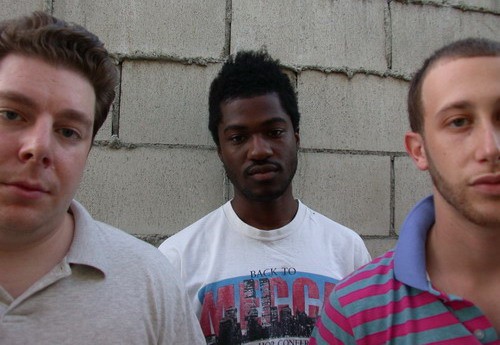 Hip-Hop Core: Could you tell us a few words about the genesis of Time Machine? How did you come to know each other and why did you decide to become a group?
Comel: Mekalek and Jaysonic were friends since 1993 in high school in Providence, RI. In 1996, Jaysonic moved to Washington DC for university, and he met me, (I went to another university in the city), through mutual friends. So we were all friends before we worked on music together. In late 1999, Jaysonic and Mekalek were working on some music together, and I paid a visit. I had a verse that was perfect to complete an unfinished song called, 'Block Troopin', which became the first Time Machine song. After that we just wanted to work together as a group because we liked how we all worked together and the sound we came up with.
HHC: What's behind the name Time Machine. Does it only have to do with you music (which obviously brings up comparisons to the Golden Age of hip-hop) or is there a deeper meaning?
Mekalek: I guess, first and foremost… it just sounds good. It's definitely a memorable name. The name has a little to do with the sound of the music, fusing more traditional sounds but also keeping it current or even a step ahead. But there also exists references to time throughout our songs, whether it's a line or an entire song topic. That actually was not a conscious thing.
HHC: It's been 3 years since your first 12" release as a group'Reststop Sweetheart'. What took you so long to record and release this first album?
Jaysonic: We released 2 other 12" s after 'Reststop Sweetheart' and before the album. The first being'Personal Ads', and the second being 'Night Lights' which was released immediately before the album as the lead single. Some of the main factors that made the process take long were establishing our own record label, Glow-in-the-Dark Records, and the fact that we were living in separate cities during the bulk of the recording process. Most of all, it took a long time because we wanted to get it just right, and that takes a lot of work.
HHC: Why did you move out of Rhode Island to go to California? Does it have anything to do with the weather or did you just want to get closer to a hip-hop scene with which you share a lot of tastes?
Mekalek: Comel was actually living in DC, and Jay and I were in RI. We all needed to be living in the same place, and we had done some shows in California and liked the response we got from the fans there. We also liked the weather of course, and it seemed like a good place for us to be for all aspects of our music career. All of these things have continued to be true.
HHC: Speaking about that, even if you're not directly working with them, there seems to be similarities between your work and those of People under the stairs or Ugly Duckling. It seems that there is a small core of artists that genuinely love that mid-nineties sound and want to build on it in California. Why is that in your opinion?
Mekalek: I think that we all just grew up listening to that boom-bap style and it's reflected in our music. For example, we'd rather have an organic sound as opposed to the synthetic sound of popular music today…it's really just about preference. The fact that there is this small movement in California is probably only by chance, but the people out here seem to be receptive to it.
HHC: What do you think about PUTS and Ugly Duckling by the way? Have you met them?
Comel: We like and respect them both groups. We performed with PUTS once in Rhode Island… they put on a real good show. We have also met Dizzy Dustin from Ugly Duckling, and he's a real cool guy.
HHC: You've created your own label Glow In The Dark Records. What led you to do that? Do you plan to sign other artists or will you just release your own projects on it?
Jaysonic: We started Glow-in-the-Dark after our experience of releasing the first 12" with another label. We wanted to be in a position of more control and not be at the mercy of other people to release our records. The first non-Time Machine release came out a few months ago, which was 'Make Some Noise', the first-ever collaboration of Hip Hop greats Masta Ace and Edo G, and also has songs by two other new artists Jahpan and Shawn Jackson, in addition to a Time Machine song, 'The Wiggle'. We plan to continue releasing music by Time Machine and other artists as well.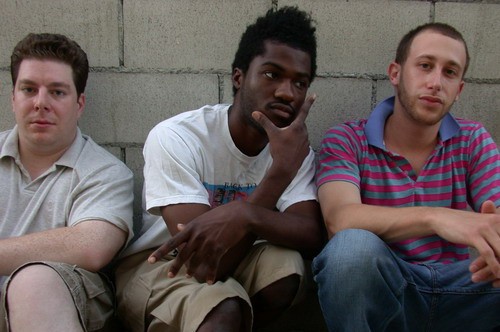 HHC: What can we expect from Time Machine and Glow In The Dark Records in the coming months? Any upcoming project?
Jaysonic: Our next release, at the beginning of next year, will be a 12" vinyl EP/maxi-single called "Grime Machine". After that, we are releasing a CD in early 2005 called "TM RADIO" that has songs by Time Machine, Celph Titled, The Procussions, Raashan Amhad (of Crown City Rockers), Jahpan and others. We are currently scheduling the rest of the 2005 releases.
HHC: 'Mind A Spin' has a dub/reggae edge to it that separates it from the rest of the LP (which is jazzier). What inspired you this track Mekalek and what led you to include it on the album?
Mekalek: I'm always trying to experiment with new sounds as much as I like the jazz/soul feel, and actually had been trying to hook up that beat correctly since like '97, but could never do it. Eventually I realized how it needed to be done and both Jay and Comel were into it. It's got a raw energy that's unique to the album, and when Edo put his verse to complete the song, it just fit into the layout of the LP. It's funny because it seems like every 3 years or so there's a reggae resurgence in commercial music, and one happened shortly after we made that song.
HHC: As a producer, Mekalek, who inspired you during the course of your career?
Mekalek: I'd say that the biggest influences have been the DJ/producers… mainly Pete Rock, Diamond D, and Premier. I'm still amazed by the beats that they made and scratches that they were doing 10 years ago. There was also this local DJ when I was growing up in Rhode Island called Curty Cut (R.I.P.), who actually produced a track on our album, who had a huge influence on me as a DJ. Also, ultimate respect to Tony Touch and PF Cuttin'.
HHC: Stoerok produces a lot of tracks on "Slow Your Roll". Who is he and where does he come from?
Jaysonic: I met Stoerok at George Washingon University in Washington DC through mutual friends. He played some beats for me, and I was impressed and asked him if I could try to make some songs with them. He agreed, and we have worked together ever since. He is originally from Boston, but he lives with us in Los Angeles now.
HHC: Jaysonic, you've only produced one track on "Slow Your Roll". Yet, it's one of the best. Why didn't you try to have a more important input on the production side? Is it just a hobby for you or are you a true MPC addict?
Jaysonic: I am not as experienced of a producer as Stoerok or Mekalek. I have made some beats, but I don't consider most of them good enough to release on a record. I was happy to have one beat that made it on the album, and I consider 'Night Lights' the best beat I have made so far. We chose 'Night Lights' as the lead single for "Slow Your Roll", not because it's the best song on the album, but because we agreed that it was most representative of the feel of the whole album. Right now we are really busy with performing, recording new material, and running the label. Hopefully I will have some more time to spend on the MPC in the future, and maybe come up with something else that deserves to be on a Time Machine record.
HHC: By the way, could you tell us a few words about your first solo album "Hot Air" that you recorded with Mekalek in 1999 before Time Machine even existed? Few people know about the existence of this LP. How does it compare to the Time Machine album?
Jaysonic: Hot Air was an important experience for learning about the recording process and the very basics of releasing our music to the public. There were only 1000 copies made. We thought the CD was pretty good at the time, but now it sounds really immature to us. People seem to really like it though, particularly songs called 'Sneakers', 'Intuition' (with Sage Francis), and a concept song we did called 'Scratchman and Rhymeboy'. The most important thing about this project was that the song 'Block Troopin' gave birth to Time Machine.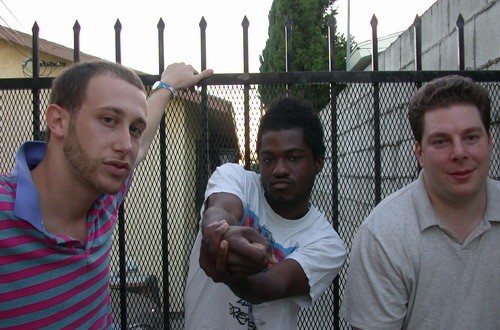 HHC: You've recently been touring the USA with Edan & Insight. Edan and Edo. G both appear on your LP. Where does this connexion with the Boston hip-hop scene come from?
Jaysonic: I originally met Edan when I was living in DC, because he is from Maryland, which is right next to DC. We met Edo through doing a concert together. Providence is less than an hour away from Boston, so we were lucky to be so close to two talented artists that we wanted to work with on our album.
HHC: How was it working with a legend like Edo. G? Did he choose to rhyme on 'Mind In A Spin' or did you select that particular track just for him?
Jaysonic: Working with Edo is dope. He is one of the coolest and most humble rappers we have ever met. It was an honor, because we grew up listening to his music. After working with him on the 'Make Some Noise' record with Masta Ace, we asked if he would consider making an appearance on our album. We sent him a demo version of 'Mind In A Spin'. He liked it and he said he wanted to do the song.
HHC: Working with Edan must have been pretty different from your daily recording. What was the recording of '@$$hole' like?
Comel: Edan is very particular and precise in his recording process. We recorded that song at his studio in Boston. It took longer than we expected it to, but we were happy with the final results.
HHC: Finally, a few words about your meeting with Special K?
Jaysonic: Special K called us on the phone to tell us that he liked the 'Personal Ads' single when we sent that out for radio promotion. After that we stayed in touch, and when we came up with the idea of having a host on 'Spelling Bee', we asked him if he wanted to do it. He said he was down, so we went to New York to record him. He is a cool and knowledgeable guy with a lot of good stories to tell.
HHC: You have a reputation for very refreshing and funny live shows. During the creation of the album, were you particularly careful of the "live aspect" of your tracks? Do you have any example?
Mekalek: That's not really a consideration for us when making songs, but when the song is complete, there is a sense of whether or not it'll work well when performing it live. Like the song, 'Cold Day In Hell' is a song that we would never perform, but it's an important addition to the album. While making that song, we knew it wouldn't be a live-show possibility but a complete recorded work is independent of that. However, one thing that's happened is that we'll be working on a new song and come up with a chorus so it can be performed at a show, and that ends up being the chorus on the recorded version too, for example 'Night Lights' and 'Personal Ads'.
HHC: What's a good hip-hop show according to you?
Jaysonic: A show where the audience wants to pay attention, where they don't get bored, and where they are left wanting more, not relieved that the performance is over. There should be visual aspects to a good show also, not just reciting the songs live.
HHC: Over the years, you've opened shows for big names like Masta Ace, Common, The Beatnuts, Das EFX, J-Live or Edo. G. What did you learn from sharing the stage with them?
Comel: We've learned that some artists care about their performance and their fans enjoyment than others. We've also learned that it's important to be confident in your delivery and presentation, and its also good to make the crowd feel like they are part of the experience rather than just observers.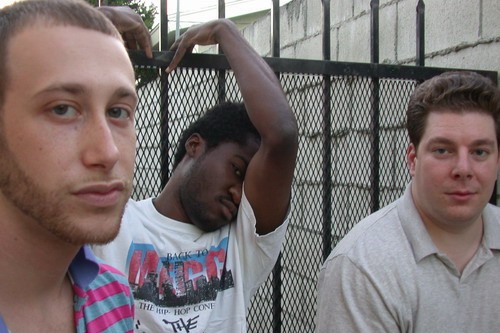 HHC: Do you plan to come to Europe for a few shows any time soon?
Jaysonic: We would love the opportunity to perform in Europe, but we have no current plans to come there. If you know any interested promoters, please have them contact us.
HHC: What decided you to release a limited edition version of the LP with bonus tracks for the Japanese market?
Jaysonic: Since our first 12" was released, the Japanese fans have been very supportive of our records. A few record labels in Japan offered us licensing deals for the project, and we decided to work with MicLife because they are very dedicated and offered opportunities that we would not be able to accomplish alone.
HHC: For the most part, it seems that you want to put forward the fun elements of hip-hop and the good side of life. What attracts you in that kind of carefree attitude?
Mekalek: We enjoy the fun and good things in life and our music reflects that.
HHC: On the other hand, a track like 'A Cold Day In Hell' is more socially conscious. What's the good balance between seriousness and pure entertainment?
Comel: It's possible to convey a positive message in a serious forum. That song allowed us to bring some attention to a social issue that had rarely been addressed in a Hip Hop context. The balance between seriousness and entertainment is not necessary, but we wanted to have that for more depth on the album.
HHC: What inspired you the mischievous 'Spelling Bee'?
Jaysonic: That song was my idea. I've always enjoyed the playfulness of words. I told my idea to Comel and Mekalek, and they both liked it. Mek made the beat and we recorded it. Special K made it complete with his intros.
HHC: What are you listening to these days?
Comel: The UN, People Under The Stairs, Camron/Diplomats, Zero 7.
Mekalek: Fedd Hill, Ghostface.
Jaysonic: The Misfits, Ghostface, Masters of Ceremony, and rediscovering various jazz and rock records from my collection that I haven't listened to in a long time.
HHC: Any last word?
Time Machine: Thanks for the interview. We hope to come to Europe and meet you in person sometime soon. People can find out more about us at www.TimeMachineSound.com and www.GITDRecords.com.
Interview by
Phara
et
Cobalt
Photos by Bianca Duffy
November 2004