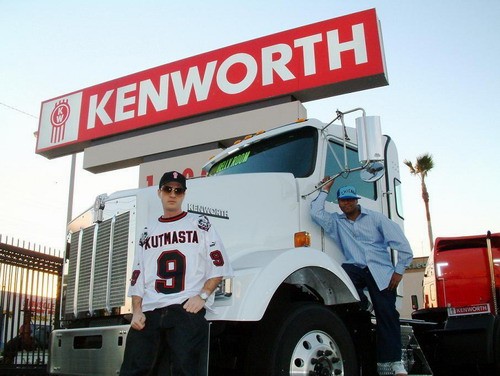 Hip-Hop Core: Why did you decide to work together again, nearly 4 years after "Masters of Illusion"?
KutMasta Kurt: I needed a break from Keith for a few years. I know he wasn't too happy about it, but it was time. I needed to do some other projects such as the Motion Man album and get myself out there more as Artist. I think I've accomplished that to a point where now people aren't so quick to say "oh yeah kutmasta kurt, the guy who works with kool keith". No disrespect to Keith, he has contributed a lot to my career, and I have also done the same for his, but I think in order to grow and progress, this was a necessary step. Now that we have decide to work together again on a new album, it's new and fresh again. I had a lot of people asking me in interviews etc "when are you going to work with keith again?" and I would usually say, I don't know, but we met last December at Red Lobster along with our publisher Jon, and Carl from Oglio, and after sitting through an hour and a half complaint session (I think Jon has some of it on video) from Keith, we decided on doing this new project. I took a vacation to El Salvador in January to help prepare myself for the intensity of the project and in February we spent a couple of weeks recording the album. Keith returned home to New York (he moved back last year) and then I spent the next two months mixing and mastering the project.

Kool Keith: I MOVED OUT THE APARTMENT AND KURT MOVED TO HIS OWN APARTMENT SEPARATELY. I WAS IN HOLLYWOOD TAKING PICTURES, USING MY CAMERA LIKE A PROFESSIONAL. I EVEN FORGOT ABOUT RAP FOR A MINUTE. I FELT LIKE HUSTLER MAGAZINE. I DID NOT CARE ABOUT BACKPACKS. WHO WAS THE BEST LYRICIST. IT WAS JUST A NEW DAILY OPERATION. I WAS JUST BUYING KODAK AND FUJI
HHC: How was it working with Keith again after this long break? How did you approach this new album?
KMK: It was generally pretty good. Actually half way through the project, Keith started getting into his "Dr Stress" mode and I told him, I was finished and we could just make the project an EP unless he took a chill pill…Obviously he did that. I took what I learned from the previous projects we did together and tried to build a shiny new Diesel TRUCK from that point…Ready to sonically roll over fools.
HHC: "First Come First Served" and "Sex Style" are considered as classics by many people. What memories do you keep of the recording sessions for those LP's? What was your state of mind at the time?
KMK: Sex style was my freshman project with Keith. We recorded most of it while we shared an apartment in west Hollywood. Our building was actually the last one before it turned into Beverly Hills, so we used to tell people we live in Beverly Hills. It sounded cool. But there was a lot of tension at the time. We had a NYC refugee camp in our living room. TR Love, Marc Live , Nick and Alex from Raw Breed, and even Sir Menelik all staying with us. They were all Keith's guests, and they were very rude. One day Keith hid all the dishes, and pots and pans from them because they were the most disrespectful, un-thankful pigs you've even seen. Not once did they clean anything, or help pay any bills. They never even offered to pay for the damages they did to the apartment. Somehow with all that going on we recorded most of that album. The doctor Doom album was done in a few weeks during the fall of 98. Keith was finished with the Black Elvis album for Ruff House for a while and was frustrated that they wouldn't give him a release date, so we decided it was a good idea to do our own album instead of sitting around and waiting for the Major label to get things going. Keith was very angry at his con-artist manager and a lot of the disses were subliminally directed at him. But it was also a comical album too, actually more of what I was thinking ( back in 94) we would have wound up doing as a first album.

KK: I WAS JUST ON SOME DARK SHIT, STRICKLY DARK DRACULA, LIKE I WAS THE STEPHEN KING OF RAP.
HHC: How do you think "Diesel Truckers" compare to those superb albums?
KMK: I'm really happy with what we did. It has variety and texture. It's not as dark or angry like Dr Dooom or "Matthew", and isn't as raunchy like "Sex Style" either. I think the Diesel Truckers album takes a little from the best styles of the previous projects we've done together, and combines them with a new style as well. I remember I told Keith to drop "anal, rectum,& pee, pee " from his vocabulary for this album. I think those words were getting really tired, and it would be better to focus more on making solid songs with good structure and choruses etc. It's a sold album start to finish.

KK: ALL THOSE ALBUMS COMPARE TO THEMSELVES. NOTHING COMPARES TO THEM. THAT'S WHY I MADE 'EM. "SPANKMASTER" IS NOT "BLACK ELVIS", "BLACK ELVIS" IS NOT "MATTHEW", "MATTHEW" IS NOT ULTRAMAGNETIC, AND IT GOES ON AND ON. BELIEVE ME ALL THOSE RECORDS ARE DIFFERENT. I'M NOT TRYING TO DO JASON 1, JASON KILLS 1, JASON KILLS 2, JASON KILLS 3, JASON GOES TO CALIFORNIA, JASON GOES TO NEW YORK, JASON GOES TO PHILLY, JASON MEETRS FREDDY'S BROTHER. THAT'S HOW I FEEL ABOUT MY MUSIC.
HHC: Did you work differently on this new project? I believe Keith didn't really take part in the production on this one.
KMK: Keith played an executive production role, like with Sex Style. He gave his input and ideas for certain songs etc. but didn't really get a chance to touch too many keys, which would have changed the continuity in the sound of the album. Some people like Keith's retarded Keyboard beats. I get a lot of complaints about them, but I am kinda amused at times by them. There just wasn't any room this time around to mix it all together. Maybe next time.

KK: I JUST SAT BACK AND JUST OBSERVED MY LYRICS, BUT I ADDED A FEW LOOPS. RECOMMENDED. BUT I WAS INTO MY LYRICS.
HHC: Concerning "Sex Style", what gave you the will to re-relase 'Lovely Lady' through Junkadelic Zikmu with an exclusive track from the same era? It definitely showed that your work stands the test of time by the way…
KMK: Thanks, glad you liked 'In your Building'. It's "Get Off My Elevator's" brother (song). Junkadelic did the "Space Tape" and are big supporters of our work. It is a special limited edition 1500 pressing single we just put out there. Sometimes it fun to experiment with different releases like that.
HHC: Speaking about this 12", what's up with the Funky Ass imprint? Do you plan to release any new project on it and, if yes, which ones?
KMK: Funky Ass is basically Keith's label. I don't think he takes it serious enough to try and build a roster of artists etc. My label Threshold is a vehicle for releasing my own albums and other various projects which come to me that I like, such as the Substance Abuse single feat MF Doom.

KK: NOT TO BE ANNOUNCED. PEOPLE HAVE TO FINSIH THEIR FOOD FIRST AND WIPE THEIR MOUTH. WE PUT EGGS ON THE TABLE AND PEOPLE DIDN'T FINSIH THEM YET, YET THEY WANT GRITS. WE'RE TIRED OF A GREEDY AUDIENCE. GO OUT AND BUY SOME RECORDS, WE'RE TIRED OF PEOPLE GETTING TOO MUCH FOOD WHEN THEY CAN'T DIGEST WHAT WE PUT ON THEIR PLATES ALREADY. BUT THEY'LL SWALLOW A SLOW POP ALBUM FROM A POP GROUP, AND EAT IT VERY WELL!
HHC: Tim Dog just appeared on the "Clayborne Family" LP. It was great hearing him again. Could you give us some info on what he's up to now?
KK: TIM, BELIEVE IT OR NOT, HAS HIS DAYS OF RAP. HE'S A BUSINESS MAN TRAVELLING BACK AND FOURTH, DOING HIS OWN BUSINESS. TIM MAY HAVE A 16 LAYING AROUND ON SOME PEOPLES SONGS, I KNOW I MAY DIG ONE OUT THE BASKET, THAT'S PRETTY FLY, OUT OF MY ARCHIVES. BUT MAYBE ONE OR TWO RECORDS FLOATING AROUND WITH EXCELLENT VOCALS, AT HIS BEST. I THINK CED MIGHT HAVE ONE. AND I HAVE HIM ON SOME BRAND NEW SHIT I HAVEN'T RELEASED. IT'S JUST MARINATING, READY TO BE COOKED.

KMK: Tim is a rapper I have no interest in, or contact with. I think he had his time with "Fuck Compton" . It was a monumental song and I'm grateful to have had the opportunity to do the legendary radio version for it too, but other than that he's not an MC I'd say anyone is really checking for. Did you hear his last solo album?
HHC: Is there any chance for a new Ultra album then?
KMK: You mean Ultra as Keith and Tim Dog, not UltraMagnetic right? Who knows, but I seriously doubt I would be involved with that one. UltraMagnetic? That would be cool, but I almost think they've waited too long now as to where people almost wouldn't care so much. I think they should have done an album in 98 between sex style and dr dooom and again in 2001 after masters of illusion and before or instead of Spank master. Timing is everything. I think now is the right time for Keith and I to do a new album together again, Utra trying to do a re-union now would be cool, but it may not be as effective as if it was done sooner (my opinion)
HHC: Is there any chance of seeing you rocking a stage together or on your own in France?
KMK: Yeah, there is a chance of us coming to France and Europe together, but there are currently two different people booking two tours around the same time, so we'll have to see how it all pans out. Crazy Eh? We call that too many cooks in the kitchen, but in Keith's world I think it's how he likes it.

KK: I TRAVEL EVERYWHERE. MY LEGS ARE STARTING TO HURT, I NEED MORE FIRST CLASS FLIGHTS. THE INDUSTRY CHANGED, I FEEL PROMOTERS NEED TO REALIZE FLYING INTO A WHOLE DIFFERENT ZONE OF A CITY FOR THE SAME PRICE OF AMERICA, IT SHOULD BE DOUBLE. NO WAY IN HELL EUROPEAN PEOPLE, SHOULD PAY WHAT THE AMERICAN PAYS. IF I'M MIKE TYSON FIGHTING IN MADISON SQAURE GARDEN, WHEN MIKE WAS HOT. MIKE SHOULD DOUBLE THE PRICE FOR BOXING IN EUROPE.
HHC: Let's talk a little bit about Marc Live, who's just released his first solo album "Validation" on Junkadelic Zikmu. You were both involved in the recording of his album. Could you tell us a few words Marc and about 'This Is Street Music' and 'Star Wars' respectively?
KMK: Marc and I had a time when we didn't get along (after the whole incident with them staying in our apartment etc). We were forced to work it out in 98 when we went to Philly together for a few weeks to work on the Black Elvis album. I think Marc is one of the best Hype-men in the biz, and I'm always happy when he's on stage with me. I hope this album gives him a chance to make a name for himself as a solo artist as he desires. He was in LA last summer and hit me up for a track for his album. I kinda felt two ways about it. One was: "hey, this guy had major label deals on Warner Bros back in the day and never got me any production work, but now he's struggling independently and wants a track from me?". The other way I felt was "hey, fuck it that's the past, it's not a big thing for me to do a song for him, who knows people might actually like it"… So we dropped it, and I like it a lot. It's even gonna be a single on threshold/junkadelic soon too!

KK: MARC IS JUST DOING HIS THING. THE MARC THING.
HHC: Motion Man's new album must be pretty much defined and recorded since the last time we spoke, Kurt. What can we expect from it and from your production on this LP?
KMK: Actually it isn't. It's only half way done right now. Motion has been living one of his own records…"Partna's Confused". He has been frustrated with the lack of success from his first album and keeps thinking he needs to do something differently. What I keep trying to tell him is that, he needs to be consistent, and persistent. I think he's finally understanding what I mean, but now it will be almost 3 years gap by the time his new album drops and I think that hurts a bit too. My production for the album is what you would expect from me, and with also some newer musical styles as well.
HHC: Could you tell us a few words about Dopestyle 1231 and about their album? What gave you the will to sign them on Threshold and what has been your input in this project?
KMK: I executively produced, A&R'ed, and mixed the album. I knew MC Dopestyle for a long time, and kept telling him, I would like to possibly release something from him, but I wasn't the producer who could/would do the album. Eventually he found Tom C and presented me with a demo I was really feeling. I took it from there and helped them put together the project. DS 1231 is a new and different group which is exactly what hip-hop needs now. I really enjoy listening to the album.
HHC: A few words about "Redneck Olympics". Will there be some exclusives on this album and what led you to decide to release this kind of compilation?
KMK: This album was something I've been planning since 99 or so. I realized that as a remixer and producer you don't usually get the proper credit for the work you've done, and at some point I needed to assemble some of my best work as an album unto itself. The Beasties remix has not been previously available on CD format along with a few other things people have heard here and there but want available because they were promo only, or hard to find. I also included the Linkin Park remix and Work the Angles of course to give a full perspective of the range of my work. The Italian and German versions will have exclusive songs in their respective languages. The Canadian release will probably be changed a little too. I'd like to have the words "Hoser, Take Off Aye, and About" used more in the lyrics, but I don't think I can change that at this point.
HHC: Keith, you've been very critical about most of the people who produced for you in the past. Kurt is the only producer with whom you continue to work regularly. What makes your relationship so special in your opinion?
KK: I WORKED WITH KURT. I THINK HE HAS SOME FLEXABLITY. A LITTLE. BUT I THINK EVERYONE ELSE I WORKED WITH WAS SET IN THEIR WAYS AND EXTREMELY COMPLEX.
HHC: What are you listening to these days?
KMK: I'm listening to a lot of Jiggy and Bling, Bling music. It's totally taken over. I hate it but I can't escape it, I hear it everywhere I go!

KK: I DON'T LISTEN TO RAP. I LISTEN TO AFRICAN MUSIC FROM LYBIA AND OTHER COUNTRIES. MY MIND HAS BEEN OPENED, RAP IS GETTING SIMPLE TO ME. I'LL PROGRAM SOME INDIAN AND PAKISTAN SHIT, OR EVEN SOME BRAZILLAIN MUSIC. RAP HAS NO BOUNDARY'S FOR ME TO GO. I'LL LEAVE RAP SO FAST, PEOPLE WOULDN'T EVEN KNOW IT, THEY'LL BE LIKE OH SHIT KEITH DID A BRAZILIAN ALBUM!
HHC: What are the projects you're going to work on in the near future?
KMK: Finish up the Motion Man Album first, then see what presents itself. David Lee Roth from Van Halen plays bongos really well and wants to do a rock hop project with me, so that would be fun.

KK: THERE IS THOUSANDS OF THEM. I RECORD EVERY MINUTE I CAN. I'LL PASS UNRELEASED ALBUMS DOWN TO MY KIDS, IT WON'T STOP. IT''L BE SO FUTURE THEIR FRIENDS WILL SAY YOUR DAD WAS FUCKIN CRAZY!
Interview by
Cobalt
&
Bachir
August 2004