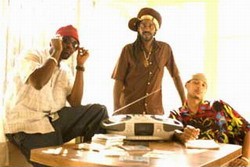 Hip-Hop Core: What gave you the will to resuscitate Haiku D'Etat five years after the first album?
Abstract Rude: Listening to 'Redemption Song' by Bob Marley. I love that song. It was time for redemption. Rap had gone wild and we stepped up to coup de main conquer. It was time again for a poetry takeover. Time for some more styles, concepts and exciting sound recordings. Fat Jack & Mikah laced about 10 beats and me & Mike just started throwing ideas around. Acey wanted to do a new A-Team album, but I figured haiku was even better timing since we released an A-Team disc earlier this year. Once acey agreed, it was a wrap - we were doing it ourselves and without any of the prior label distractions.
HHC: What did you want to accomplish with "Coup de Theatre"?
Abstract Rude: Styles, meaningful lyrics and more specifically: Mikah the jazz, Acey the poet & Ab the soul - we wanted to stress these strengths in each others' forte and I think Fat Jack helped us to do that with his musical contributions. We worked with guests who are all vocally & lyrically dynamic as well. Obviously, we could have featured many more talented wordsmiths in our camp and neighboring camps, but quannum projects & busdriver seemed fitting.
HHC: How do you think it compares to your previous album?
Abstract Rude: They both stand alone. The 1st one was more live, but we plan to do a live version of this album anyways. They both were conceptual orgasms, very fun to listen to & quite jazzy. There's more soul & poetry on this new one though. The 1st one was real jazzy.
HHC: Originally, how did you come up with the name and the concept of the group?
Abstract Rude: It's been debated. A group of musicians from the Bay area and us all vibed on it together. As for the 3 of us: we met at the Good Life Cafe on thursday nights 8p - 10p an event called underground radio but it became known as the good life. That's where it all began.... We 1st recorded together on Acey's solo debut "All balls don't bounce" and we did many shows together before forming Haiku.
HHC: What do you mean when you say that your function is to be a source of harmony and to appease people's energy?
Abstract Rude: Mikah said that. I feel he was referring to going with the flow & not rocking the boat when unnecessary.
HHC: What was the recording of 'Top Qualified' like? How did you feel about finally hooking up with another one of the top west coast underground crew?
Abstract Rude: Amazing. Everyone ran to their corner and came out swinging over a phat ass Chief Xcel beat. We talked in depth about recording an album together the 6 of us. Watch out. We have a lot of respect for QP and what they bring to the table. They are some of the ones who bring something fresh to the table. Kindred spirits.
HHC: Why did you decide to re-release the first "Haiku D'Etat" album?
Abstract Rude: We only pressed up 10,000 of the original and those are sold out so it was just good timing and it made perfect sense. Also, legal matters prevented it from coming out for a while, but that shit is all resolved now.
HHC: What was your state of mind when you recorded that album?
Abstract Rude: Having fun, fun, fun - I was turning 21 then and bars were legal. Also, as always when we unite: styles, styles, styles, but also, we wanted to make good songs - we definitely wanted to do that. The musicians were hella weird, so we were just vibing man - rock & roll style.
HHC: You've all worked with Fat Jack at some point in your career. How did you meet him and why did you decide to choose him again as the main producer when you began working on "Coup de Theatre"?
Aceyalone: I met Fat Jack through an add in the Recycler when i was 17 years ago. It said some producers were looking for some emcees and I responded. We met once and then never seen each other until the Good Life. He is the main producer cause his vibe is what fitted for the project plus you know with Fat Jack you can never go wrong.
HHC: How did you select the other producers involved in this project?
Aceyalone: Their beats just were on the same wave link as we were.
HHC: Why didn't you work with Adrian Burley this time?
Abstract Rude: Timing and we just wanted a different sound this time around.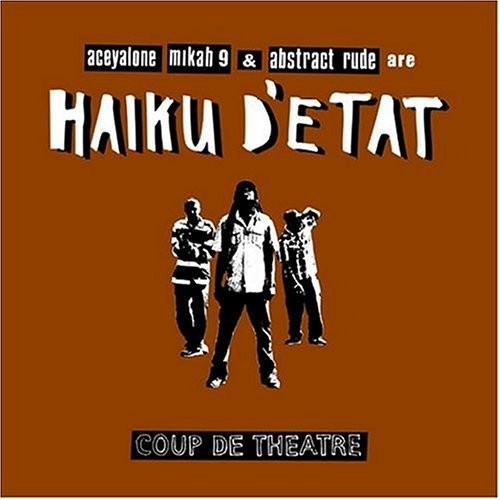 HHC: What do you like so much about jazz?
Abstract Rude: It's black music; it's in our soul, our genes. The note progressions, the c o o l, the soundtrack of our lives.
HHC: You've spent nearly 15 years or more around hip-hop. How do you keep your passion and your interest for this culture alive?
Mikah Nine: I'ts there. I was born with it. It's someting that will never leave me.
HHC: Ab, how do you feel about the fact that breakdancing has virtually disappeared from the underground hip-hop scene and shows?
Abstract Rude: I don't think it has and to say so would be to discredit all the many b-boys & b-girls still on the scene as well as the new up & coming dancers - not just breakdancers but freestylers and poppers & lockers, etc. As for shows, you are correct: not many rappers at all perform with dancers as part of their show on the indie-under scene. I've seen krs-one, mr. brady, black eye peas, resin dogs, zion i and of course my group abstract tribe unique all use dancing as part of the overall presentation. My personal opinion is that it makes the show more exciting and it definitely gets the energy going in the crowd - Besides, we come from the times when there were mad circles & groove battles, also there was more guys dancing with girls at the parties and the events were parties not just live shows y'dig? Hip hop events need to get back to partying with an MC and DJ for the whole night keeping the vibe alive, keeping people on the floor having a good time. That's what i think.
HHC: What made the Good Life Café so special? What inspired all these artists to experiment with their flows so much?
Mikah Nine: It was the only open mic hip hop spot in Los Angeles , and everybody who was anybody would come. People from all over the country. Just to showcase their skills, kinda like the Apollo. It was the artists themselves that did it, I mean you would here somone perform a song and it would raise the bar cause next week you had to come different or better. You know steel sharpening steel.
HHC: Still on that subject, flows seem to take a central part in the west coast scene. Why is that in your opinion?
Mikah Nine: That just where we took it. Back in the early days of hip hop it was about the flow. We just added to it and took it to the next level.
HHC: How important are live performances compared to studio recordings according to you?
Mikah Nine: They're the same. I love live shows cause there is no reason in the world that you will not give it up. I thrive off of that. I make sure when I record a song that it can be performed live. That's just the school where I'm from. You always had to perform your raps live.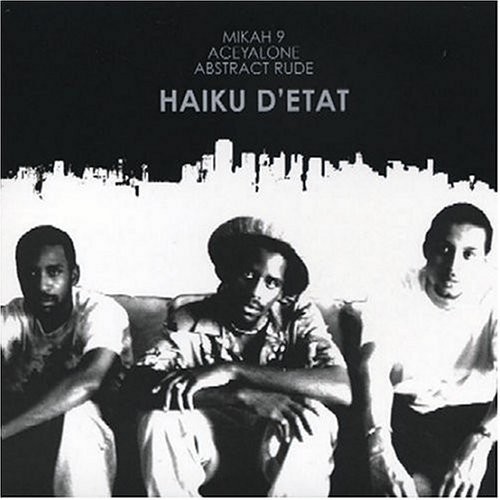 HHC: Could you tell us a few words about the legendary first Project Blowed compilation? How did you come up with the idea of this project and what was the recording like?
Aceyalone: That was my transition from the Good Life and we were known for blowing wigs back and other things of that sort so I thought the name Project Blowed was right for it. So I got with Abstract, CVE, Hip Hop Kclan, The Nonce, Medusa, Fat Jack & Digiak and got some of their recordings and Ab & me put it out. The rest is history. It was something to show the world the west was not just gangster rap. That there was more going on out here in L.A.
HHC: A lot of your fans were very disappointed by last year's "The Good Brothers". What do you personally think of this project?
Aceyalone: You can't please everybody but I like the album. I think Riddlore, Hines and myself did what we could for an album. It's solid. I'm sure somebody out there likes it.
HHC: Abstract, it seems that what you learned about poetry at the Pilgrim School really inspired you. What attracts you to poetry?
Abstract Rude: Symbolism. Irony. Haiku. Rhyme. Free verse. Wordplay, wit. And above all, expressing one's self through written &/or spoken word - it's liberating.
HHC: There's definitely a whole generation of emcees that has been heavily inspired by the styles you've created and that try to follow in your footsteps. How do you feel about the fact that, even if you haven't sold millions of records, you've been some of the most influential artists of the last decade?
Mikah Nine: If that is true then it's very satisfying. I am glad that I can contribute and keep it moving.
HHC: The whole west coast underground scene is really coming up these days. What do you think about this new-found exposure?
Abstract Rude: It's tight. The more exposure the more awareness. We need that especially with such a strong voice from the streets of LA like the project blowed camp. In the immortal words of the late great odb and may he rest in peace, "we got something for the kids..."
HHC: Busdriver is clearly one of the most talented artists from this "offspring". What was it like working with him for this LP?
Abstract Rude: A piece of cake. He's a real professional. Came right in, heard the music & concept, and chimed in with us perfectly. He's amazing and quite witty. The world is just now finding out what we've known for a while about him. Anyways he blew up on the album & we always love working with him as we do on many projects. We like to call him the youngest heavyweight.
HHC: Do you really think like Acey says that your students will eat you if you don't find a new ocean to dive? What ocean do you plan to dive in then?
Mikah Nine: That's just life and evolution. There is always someone better. Nature finds a way to improve. As far as oceans, I don't just dive in them I make them.
HHC: What upcoming projects are you working on right now?
Aceyalone: Right now I'm working on the Project Blowed 10 year album which will be out in 2005 and possibly an album with RJD2.
Interview by
Cobalt
December 2004