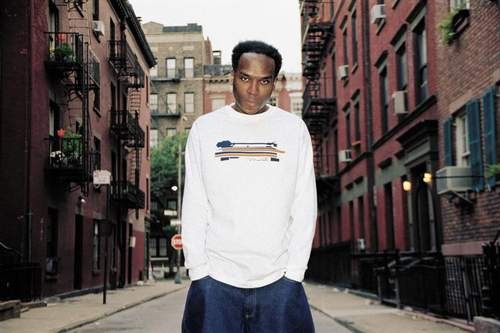 Hip-Hop Core : When did you touch your first turntables and decide to do a little bit of scratching ? What made you want to do that ?
Rob Swift : I touched my first pair of turntables when I was 12 years old. I grew up lucky enough to have a father and older brother who were both DJs. My dad had the top of the line equipment at home while my brother would buy records. Thus, I had all the tools I needed to become a DJ at my disposal.
HHC : If you had to keep one thing or memory out of all the battles you've done, what would it be ?
RS : I think the memory I cherish the most out of all the battles I've been a part of is winning the 1992 East coast DMC championship. I worked really hard to win that battle and the competition that year was fierce.
HHC : To many, "X-pressions" and "The Ablist" are considered two of the greatest DJ albums of all time. What's your view on these albums ?
RS : "X-pressions" and "The Ablist" will always have a special place in my heart. "X-pressions" was the first turntable album made by a DJ crew. So I feel we broke down record industry barriers. "The Ablist" was my first solo album and I was able to experiment and try things I hadn't done up to that point. Honestly though, the album I'm most proud of up to now is "Sound Event," my last solo album. I feel creatively it surpasses any turntable
album I've been a part of.
HHC : Retrospectively, what do you think about "Built From Scratch" ? It was really different from "X-Pressions" or even your solo adventures. The turntablism aspect was clearly not as important on this one and you introduced a lot of different producers in the mix.
RS : "Built From Scratch" was an attempt by the X-ecutioners to introduce the art of DJing to the mainstream world. There are still many people that haven't seen or heard of "turntablism" and we were trying to reach those people. Through our collaborations with artists like Linkin Park , M.O.P., Everlast, DJ Premier, etc. we were able to give people a taste of what scratching, beat juggling etc. is all about. Our next album, due out next year will be a step beyond "Built From Scratch." We feel that now people are ready to be introduced to the phase of the art form. "X-pressions" and "The Ablist" were composed for those who understood the art form and were already a part of the turntable culture.
HHC : You appeared in the documentary "Scratch". A few years down the line, what's your view on the movie? Even though it's widely considered as a reference, some people have openly criticized it.
RS : I think "Scratch" is one of the most important movies documenting the DJ culture. The creators of the movie did an amazing job at exposing the film and the culture to the world.
HHC : What do you think of turntablism in 2003 ?
RS : I think "turntablism" in 2003 has a lot of potential. This November the X-ecutioners along with Mix Master Mike, Jazzy Jay, Z-Trip and Q-bert all were involved with the Scratch tour. All of the tour dates were successful. Large amounts of people turned out to watch us and because of that I feel like there is a new turntable revolution about to take place.
HHC : Do you still teach turntablism courses ? You were teaching one of the only existing classes revolving around the art of turntablism at the end of the 1990's.
RS : I don't teach "turntablism" as a course any more. I just don't have the time these days. Most of my time is spent in the studio or touring. Teaching the art in high school was an experience I will never forget though.
HHC : As much as it is a progression for Djing, don't you think this kind of education is somewhat of a break for innovation and differentiation ?
RS : I think having a course in DJing at a school is good. The important thing is for the right person to be teaching it. The right teacher gives students the opportunity to be creative in ways they normally aren't.
HHC : Same thing for the videos, don't you think that due to them a lot of DJ's use the same techniques now and have a hard time pushing the envelope ?
RS : I think videos featuring battle DJs are good. Once again they help expose the art to people in places that may not be fortunate enough to see it in person. However, if you're an aspiring DJ and have an extensive DJ video collection, it's important to remember that the object of watching the videos is to learn and grow as a DJ. Not to be a carbon copy.
HHC : You seem very close to the Triple Threat crew and to their definition of the DJ ?
RS : I love what the Triple Threat DJs have contributed to the art. At one point, many DJs were focusing on the technical aspects of "turntablism." As a result, a lot of the younger DJs thought scratching, beat juggling etc. was more important than party rocking which is the essence of DJing. Triple Threat helped bring back the importance of being well rounded. They are teaching young DJs that there are three stages to DJing. Party rocking,
battle DJing and production.
HHC : Let's talk about your solo career on wax. In 1997, your "Soulful Fruit" mixtape was one of the first releases of Stones Throw. What gave you the will to do this kind of tape ?
RS : By 1997, most mix tapes contained current or classic Hip Hop music. So when I decided to do a mix tape of my own, I decided I would have to do something different for it to stand out amongst every one else's. Thus, I made a tape which consisted of rare grooves or the types of music that Hip Hop artists would sample.
HHC : How did you approach the making of "Sound Event" knowing that "The Ablist" was considered by many as a tough act to follow? You've introduced a lot of your salsa influences on this one.
RS : I approached "Sound Event" with the intention of expanding on the ideas I tried to introduce on "The Ablist". If I may say so myself, I believe "Sound Event" is a much better album sonically, conceptually, and skillfully. I feel "Sound Event" is my best work to date.
HHC : What about the "Under The Influence" mix record you've done recently for Six Degrees ? How did it come about ?
RS : My mix CD with Six Degrees was made possible because the label expressed an appreciation for the approach I had on my first mix CD "Soulful Fruit". They reached out to me in hopes that I can produce a similar CD for their label. Tuff City records then came into the picture and made their entire library of records available to me. That was cool because a lot of their stuff was unreleased funk and soul which fit the concept I had for the CD perfectly.
HHC : You've also scored video games and TV projects I believe. What did you like in those experiences ?
RS : Recently the X-ecutioners scored the music for a new game called " NFL Street " by EA Sports. Scoring the music for a video game was very challenging because we had to work within strict parameters. At the same time, we welcomed the challenge because we knew it would turn out to be a chance to reach a wider audience. I've also licensed music for commercials. That's always good because again, I got the chance to expose what I do to more people.
HHC : How did you hook up with Day By Day for "Who Sampled This?"? What was the whole idea behind the album ?
RS : I hooked up with Day by Day Entertainment through a good friend of mine, MF Grimm. In the past I produced some songs for him and as a result, we grew tight. This past spring Grimm informed me that his company Day by Day Ent. was looking to put some new material out. He expressed an interest in releasing something from me. Thus, I decided to record my following mix CD with his independent label.
HHC : Do you plan to release other mixtapes in the spirit of "Soulful Fruit" ?
RS : I'll always release mix CDs. Maybe not quite like "Soul Fruit" because I don't believe in going backwards.
HHC : Now let's talk about some of your collaborations. How was it working again with Large Professor on 'XL' ?
RS : Working with Large Professor on "XL" was a lot of fun. We both created that song together from nothing. I was present for every word he wrote to the song and he was present for every scratch I laid. That's one of my favorite songs.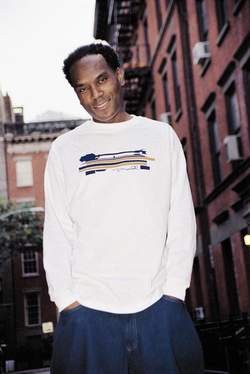 HHC : How was it working with Herbie Hancock on his "Future 2 Future" LP ? And how did you end up performing with him and Chaka Khan at the World Economic Forum ?
RS : Working with Herbie Hancock on his "Future 2 Future" was a dream come true. I got hooked up with that project through Bill Laswell a mutual friend of Herbie's and mine. I assume Herbie asked me to perform at the World Economic Forum with his band because he felt having a DJ on stage would bring an edge to the overall performance. I'll never forget that day!
HHC : How did you meet Bob James ?
RS : I met Bob James through a mutual friend of ours named Milan Simich. Working with Bob was a dream come true as well.
HHC : What do you think of D-Styles' album "Phantazmagorea" ?
RS : I've known D-Styles for years now. I met him through the DJ circuit. D Styles in my opinion is one of the top 3 scratchers in the world. He's very funky and makes the most technical cuts sound musical. His album "Phantazmagorea" is a classic DJ album and any one who is a fan of turntable music should own a copy of this album.
HHC : Could you tell us a few words about your relationship with MF Grimm (now known as GM Grimm) ? I know you're supposed to produce some joints for his upcoming projects.
RS : I met Grimm in 1992. Our friendship has lasted over a decade. I met him through Roc Raida who was his DJ. I think he's one of the underground's best emcees. I produced several of his early songs.
HHC : You've been working with Gudtyme for quite some time now. Will he ever release an album ?
RS : I believe Gudtyme will eventually release an album. It's really hard for underground emcees to catch breaks in the music industry because most record labels want you to sound like someone else. However, Gudtyme consistently writes music and he'll be ready once a good opportunity opens up for him.
HHC : Apart from that, do you plan to produce for other emcees ?
RS : I would love to produce for other emcees in the future.
HHC : You produced most of "X-Pressions", remixed a few tracks here and there and worked with a few emcees, yet it seems that you haven't really tried to be recognized as a producer outside of your own projects. Why is that ?
RS : I think I'm still learning and growing as a producer. Once I master the art of production the way I've mastered DJing, then I'll be ready to venture outside of my solo projects and make a name for myself as a producer.
HHC : A few words on the Gap commercial you did. How did you end up appearing in one of their TV adds ?
RS : The Gap commercial was a great experience. The Gap contacted my booking agent at the time, Lan Phan (Hype Entertainment), in hopes that she could hook them up with 2 DJs to appear in the commercial. She suggested Shortkut and myself. The Gap selected an actor by the name of Shannyn Sossaman who is also a DJ to appear in the commercial as well. That was one of the biggest things I've been a part of in my whole career.
HHC : Do you still follow the evolutions of the underground scene ? If yes, is there any record out there that you really liked lately ?
RS : I follow all music scenes that inspire me. Not just the underground. As far as Hip Hop, lately, I'm digging the new Souls Of Mischief album.
HHC : What's your view on the Final Scratch software and on CD scratching ?
RS : I think all technology that helps advance the art of DJing is good. Whether it's Final Scratch or the new CDJ-1000. I personally would never give up my turntables though.
HHC : Talking about wax, what are the favorite records of your collection ?
RS : Some of the favorite records in my collection are "Are You Experienced?" Jimi Hendrix, "It Takes a Nation Of Millions..." PE, "Raising Hell" Run DMC, "Kind Of Blue" Miles Davis.
HHC : What's up with the X-Ecutioners LP ?
RS : We are finishing the next X-ecutioners LP right now. It's due out next year on Columbia Records. It features artists like Ghostface, Cypress Hill, Black Thought and more.
HHC: What are your upcoming projects ?
RS : I just started working on my 3rd solo album. I'm sure it's going to be crazy so look out for it.
HHC: Any last word ?
RS : My last word to all the people out there are to keep supporting turntable music! Peace
Interview by
Cobalt
Questions by
Cobalt
&
Bachir
December 2003
PS: Thanks to Rob Swift and DJ Fisher.