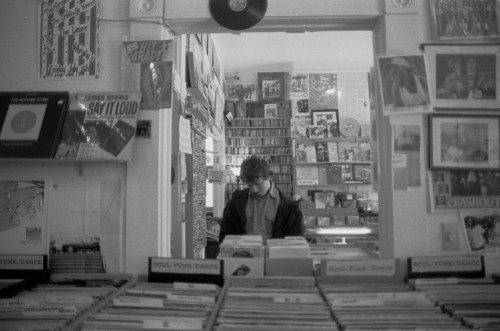 Hip-Hop Core: Could you introduce yourself please for the people who still don't know you?
Meaty Ogre: I am Meaty Ogre, DJ, Producer, Hustler, Record Collector, Drummer.
HHC: How did you end up being affiliated with Galapagos4?
MO: I met Jeff (owner/manager of G4) after working on Pugslee Atomz tape "Thanks for Not Rhymin". I bought the "Blackbook Sessions" tape off Jeff a while back and I liked it a lot and wanted to be down. I did the track for Typical Cats (Manhattan Project) and started doing more production and now I'm doing most of the production work.
HHC: You've done a few split singles with Dreas, a mix-CD with Maker. You seem to enjoy collaborating with other producers. What interests you in this kind of project?
MO: Maker and Dreas are my homies, and I love their beats. Those guys are some of my big influences, and I love bumping heads with like minded individuals. We all plan on doing a mega-producer album very soon.
HHC: How did you get involved in hip-hop exactly?
MO: I grew up listening to rap in Orlando , FL. I listened to a lot of Salt n Pepa, Beastie Boys, JJ Fad, Kurtis Blow, Rob Base. I started to make beats in 1997, messing with samples and loops. When I moved to Chicago in 1998, I met a lot of local rappers and DJ's and I started producing hard core.
HHC: What made you want to produce your own solo album then?
MO: After we came back from last year's European tour, I was very inspired to release my own project. I wanted to display a variety of my styles, and get some of our new MC's recorded. This album was a huge weight off my shoulders, it was something that had been building in my head for 4 years.
HHC: Could you explain to all the newcomers what was the concept behind your CD-R's "Meaty's Adventures" and "Packed Meats"?
MO: "Meatys adventures" was from 99'. I made that CD just to give to friends and family, as a joke. Most of the songs on it are jokes, just songs that we come up with joking around and actin a fool. "Packed Meats" was a CD I made in 2 nights by myself just throwing records around my room. Neither of those CD's are professional, they are kind of " Chicago style" releases, very bootleg, with Kinkos' Copy Center album covers.
HHC: Did you know right from the start that "Leo vs. Pisces" would be split evenly between instrumental and vocal tracks? Why did you choose that equilibrium and that global arrangement of the tracks?
MO: Yes, I planned to make half tracks purely instrumental and the others with rap. I arranged the CD after all the songs were done, just playing with different orders, and it eventually fell right.
HHC: You sing on a few tracks of "Leo vs. Pisces". Is that something that you plan to develop further in the future? Will there ever be a "Meaty Ogre vocal album"?
MO: I have always loved to sing, and I wanted to play with it a little on the album. I sang on Qwel's upcoming album a bit, and I'm sure I'll do more in the future. Not sure about a "vocal album" though!
HHC: For the album, you've decided to put some new talents of the G4 roster in the limelight (Robust, Mestizo.) instead of sticking with the heavy-hitters of the label. Why is that?
MO: Robust and Mestizo are not heavy hitters yet, but when their albums drop, they will be known. I want people to know how dope all of our MC's are, so having them appear on my album was my first chance. Just wait a few months and you'll see what I mean!!!
HHC: Did you give the rappers any guideline concerning subject matter or whatever?
MO: No, only for a few of the songs. I told them all the concept of the album, but some of the songs were done before I had a full concept for the album (like Flibbertigibbit).
HHC: Why didn't you invite any real outsider of the Galapagos4 camp to rap on your productions?
MO: Galapagos 4 is my family, and nobody else really appeals to me at the moment. I feel like our MC's are better than any other MC's out there, and it just so happens that they are also my friends, so why not just stick to the fam?
HHC: What do you like so much about the Chicago scene?
MO: People in Chicago are very hard working, this is a middle class city, and there are a lot of down-to-earth people here. Here, you have to have a lot of skill to get your respect, because there are so many people doing music that you wont get heard unless you come with it. I grew up here and the people here make me feel like home. Also, Chicago has plenty of places to dig for records, and we are right in the center of the midwest, making it easy to drive out to other big cities to dig.
HHC: You're often on tour with Galapagos4. How do you feel about touring?
MO: I live for touring. When we are on the road, it is the most free feeling you can have in life. No rent to pay, no obligations, no government, no worries. Also, I love to meet new people and make connections with people, and try other peoples grass!
HHC: Your sound is very organic and structured. Could you give us some insight on how you create a track? What is your method (if there is any)?
MO: I basically make a drum track and play with records scattered around my room and mess with sounds until I find something that catches my ear. Depending on how much I like the track, I will work on it for a few weeks to a few months until it has the sound I like.
HHC: 'Pornounciation' is definitely a standout cut when listening to "Leo vs. Pisces". What gave you the basic idea of the track?
MO: haha... well I just heard this record talking about how to pronounce words, and I heard the MMMMM and the EEEE sounds and I just edited the song until it said MEEETEEE OGREEE.
HHC: I believe you were a drummer before becoming a hip-hop producer. In what ways does that affect your way of producing a track? It's fair to say that drums are an important element on "Leo vs. Pisces".
MO: I always start by sequencing the drums. Rhythm is always the most important part of a song to me. Next comes melody. The drums are the foundation and part of the reason I started to produce hip hop. I always have drum beats in my head, and I release them through producing beats.
HHC: I know you're a dedicated crate-digger and vinyl collector. What does crate-digging mean to you exactly? Do you still spend a lot of time going through record racks?
MO: As a producer, I think to be versatile, you have to have a huge library of sounds to work with. I have explored almost every genre of music searching for samples, and I have also grown new loves for all types of music just by looking for samples. For instance, I have a pretty big collection of Japanese Pop records, Spanish/Mexican LP's, Polish, Russian, Private Pressings, etc. I also sell records regularly to pay my rent and eat, so I stay submerged in vinyl every day. I spend my late nights making beats, so it doesnt really interfere with diggin'.
HHC: Is this passion for vinyl the reason why you've often released 7"?
MO: Yes, I collect 7"s as much as LP's, I love the feel of them, and to DJ them out. 7"s feel more precious to me than 12"s.
HHC: Why do you prefer 7"?
MO: They are the ultimate format for the single. To produce a 45 is fun because you only have 2 songs, and you can put all your attention into those 2 songs and work on them until you are happy.
HHC: Could you tell us a few words about the Heardrums instrumental 7" series you've released? What's the goal of these 7"?
MO: These are purely instrumental 7"s limited to 500 pressings. We started them just to get our music out more, and to get DJ's interested in only instrumental beats to check out our music. We have now released 5 seperate records, and we should have at least 4 more out this year. I am also releasing a 7" on Memphix records this year under the pseudonym "Micky Ritter".. check for that in a week or so!
HHC: You said that you have explored almost every genre of music. In what musical genre, do you find the most thrilling records then?
MO: I am most intrigued by private pressed records. There were thousands of bands in the 60s and 70s releasing their own music, much like we do now, with small pressings and no distribution. When you find records like this, they feel very personal and special. Also, I am very attracted to Asian records, Korean, Japanese, Chinese, etc. I sample off of Asian records for most of my beats. Almost all of the beats on Robusts album were from Asian records.
HHC: On that note, you've done most of the production on Robust's new album. What kind of production do we have to expect on this project? Did you have a special approach for this album?
MO: Robust likes the slinky, jazzy, boom bap beats, which is what his album sounds like. It is a very honest and soulful album. He got beats from Prolyphic, who is an unknown producer to most, but he came RAW on Robust album. Robust has been picking beats off me for 3 years now, and alot of the beats on his album are ones that he has chosen over the years. I am a big Robust fan, and I know people are going to be checking him out alot more when his album drops.
HHC: A lot of people think that your best production work is to be found on "The Fifth Sun". Your sound seems to fit perfectly to the flexible flow of Offwhyte. Do you work differently with him than with the other emcees? Do you have any idea about why there is a kind of obvious chemistry between the both of you?
MO: Both of us are control freaks about our work. We are both very hesitant to release things until they are completely finished, and that's why I think we work together well. I always try to make a variety of beats, and Offwhyte tends to choose my beats that are a bit more uptempo and off-kilter. He tends to pick beats that other MCs wouldnt pick, and he always does the beats justice! Also, he is a Leo like me.
HHC: What's your opinion on "Leo vs. Pisces" now that it's been released for a few months in the States?
MO: I am happy with the album, but I know I can do a lot better. My next album will be much more hardcore rap. I have a million ideas in my head for beats!
HHC: By the way, what's behind the name of the album?
MO: I am a Leo (born July 31), and my ex-girlfriend is a Pisces. The album is in dedication to our relationship and the love I left behind with her.
HHC: How did you hook up with Sage Francis for the "Makeshift Patriot" EP?
MO: I met Sage in 99 and gave him a beat CD. That beat is the one he chose, and we basically just have an online relationship, as he lives in Rhode Island.
HHC: What are your current projects?
MO: I just recorded Qwel's new album , the Harvest, (all the production is by Maker), I finished recording Denizen Kane's new album (Tree City Legends Vol. 2), and Mestizo's new album "LifeLikeMovie". I did beats for a lot of those albums as well. My next big project will be a full length with Qwel called "Freezer Burn". I also plan on putting out a full length with Golda Supernova and others that will sound like Sneaker Pimps or Portishead. Also, as many 7"s that I can put out this year!
Interview by
Cobalt
February 2004