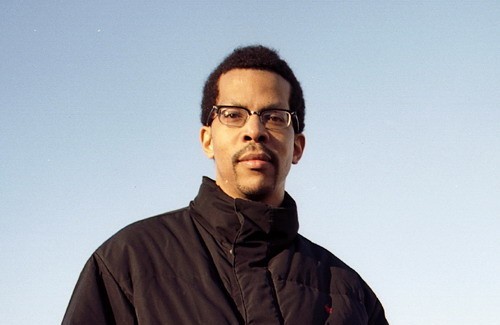 Hip-Hop Core: Can you introduce yourself for those who don't know you?
Amir: Well, my name full name is Amir Abdullah, but my DJ name is DJ Amir. I have collecting records since 1986. I have been for about six years now. From 1997 to 2005, I was the Head A&R and V.P. of Sales at Fat Beats Distribution.
HHC: How have you been contacted by BBE for Kings Of Diggin'?
A: Well, I have known Peter the founder of BBE since 2001 because when I was the Head A&R at Fat Beats. I reached out to Peter to do another album like our last one The Cleaning but Peter had the idea of doing a Kings of Diggin' album. Kon and I thought about it and eventually we said cool we will do it.
HHC: Did you already listen the former volumes released in this collection before working on it?
A: Yeah, I have heard most of the Kings of series. I like the Kings of Disco a lot.
HHC: How did you proceed for the construction of the track listing? Did BBE give you enough lattitude to express yourself?
A: Well, Pete definitely gave us room to be free in what we chose. However, many of the tracks we chose could not be cleared so we had to proceed without them. We had a lot of tracks that were so rare that the artists could not be found. Also we decided to a mix of funky tracks that were good throughout the whole song. We didn't want to do as Muro did on his side.
HHC: You just talked about Muro, I know that you had a little different with him about the "King Of Diggin'" thing. Can you explain that?
A: Yes, I don't agree with anyone saying they are the King of Diggin' even myself! I don't think anyone can call themselves the King of Diggin'. There are just too many records out there for anyone to know every record every Human Being made. It's impossible. However, Muro and I know each other. We have no problem with each other at all!
HHC: What is your opinion on the mix you've done with Kon?
A: I think this mix is good, but I thought it could have been a little better. I think Kon did an excellent job of doing the mix given the diverse nature of the selection of music we chose. My share in the task of doing the Kings of Diggin' was picking most of the records.
HHC: What kind of equipment do you use when you record this kind of project?
A: Well, for this project we recorded the records into Pro-Tools and did the mix from there. From there we did the actual CD mix from Serato.
HHC: Do you plan to "encode" all of your records in the near future in order to mix them on programs like Serato Final Scratch or Mixvibes?
A: I need to get Serato because I don't want to ruin my REALLY rare records. Super rare records are harder to come by these days. Then I can cut, scratch, and rock doubles of all my rare records without fear destroying them. Plus, when I go on tour I don't have to worry about losing records or having my records stolen.
HHC: Did it happen to you?
A: No, but I heard that it recently happened to Primo, DJ Spinna, and Kenny Dope. This is EVERY dj's worst nightmare!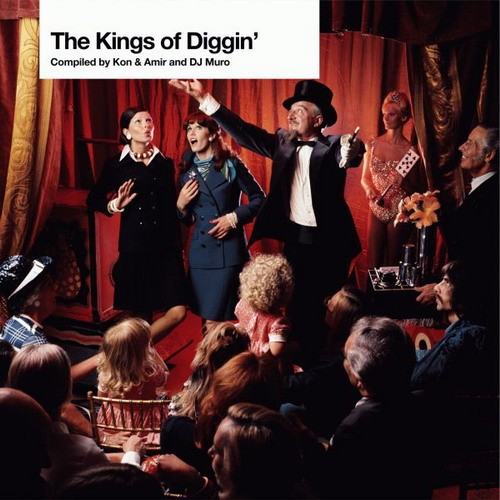 HHC: What are the pros and cons of working with another person?
A: Well, the advantage of working with someone else is that you get to hear more than your own opinion on something. You know something you can start to believe that only you are right and that everything must be done your way….that can hurt a project. The disadvantage you can argue all the time and never get anything done.
HHC: Does technique really matter to you or is it just about selecting the right records?
A: I think both technique and selection are equally important. You have may have dj's who are technically sound and good, but have no selection so they are boring to me. Then you have dj's that have great selection but no skills so the great selection is wasted! That's why the DJ that impresses me the most is Jazzy Jeff, because he is technically superb and has a ridiculously ill selection too!
HHC: Yeah, his show with Mad Skills is really dope. By the way, do you work with any MC?
A: At the moment we don't have an MC, but Kon does a lot to warm up the crowd while we are djing.
HHC: What are your best party memories?
A: My best party memory is in 2004 in Hamburg, Germany. We played a party that was SUPER packed and people were dancing like crazy to the music that I was playing. It was so packed that at 6AM the club owner wanted to close soon, but there were still too many people there dancing and having fun to what Kon and I were playing. So the club owner asked us to play something that would drive the crowd away and make them go home, but no matter what I played they loved it and stayed. So the club owner stopped the music and told everyone "please go home I am tired." It was the funniest thing I ever seen. When I finally packed my records and went outside the sun was shining bright! I felt like Dracula because I cringed from the bright sun..then I found out we played for 6 hours straight. We had so much fun djing that I didn't even notice the time.
HHC: You seem to really appreciate Europe; Lord Finesse told us once in an interview that the European public is more interested than the American one about the evolution of hip-hop and its history… What do you think about this statement?
A: I mean Europe is where it is at for good music. People in Europe have always appreciated good music. That's why many American Jazz and soul musicians came to Europe to record; the same with many American artists today. For many American DJ's, travelling in Europe is great! You play for people who know and appreciate good music. I always look forward to coming to Europe to play..sometimes I just want to stay in Europe and say fuck America. Finesse is right on about Europe!
HHC: At the end of 90's, you released those mythical tapes "On track". Did you expect that kind of success?
A: Yeah, Kon and I started the On Track series in 1997. I didn't expect the success that we have had with the series because in the beginning EVRYBODY used to diss us. Most people thought doing a break tape was wack and they could not understand why we would do it. No one wanted to buy them at all. It was a long time before anyone started giving us love and support for what we do. It amazes me to meet so many people especially in Europe that followed us since day one!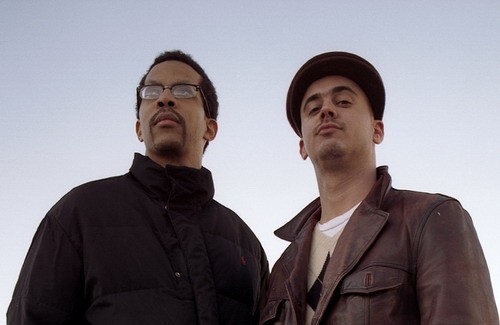 HHC: How many records have you got ? How do you classify them?
A: At the moment I have about 15,000 records in my collection here in NYC, and I have about 2000 at my father's house in Boston. I honestly don't have my records in any order at all. That's why if you ask for let's say a Stevie Wonder record it takes me hours to find it. The only records I have in order are the records I have to dj with.
HHC: When people talk about you, they often think of dark breaks from jazz discs but what about your rap collection? What percentage does it represent in your whole collection?
A: Well, my rap collection is about 2/3 of my collection. I have a lot rare and hard to find rap records especially from the early 80's. I have a lot of early disco rap and a lot indie rap records from late 80's and early 90's. I mean before I started collecting Jazz or breaks I was buying rap records. I will always love Hip-Hop!
HHC : What is your favourite rap track talking about crate diggin'?
A: My favourite that talks about crate digging is definitely "Best Kept Secret" by Diamond D!
HHC: Do you still buy new releases?
A: I have to say that I don't buy too many new releases these days because I don't feel today's Hip-Hop. I listen to my old stuff a lot and once in awhile I will buy something new that grabs my attention. For example, I love De La Soul's Last album The Grind Date!
HHC: What are your first memories of your encounter with Hip Hop?
A: My first memory of being introduced to Hip-Hop was like in 1977. I was 7 years old at the time and I was on the subway in Boston and I started to notice a lot of Graff on the subways. Then I started noticing people dancing I thought funny (later I found out it was B-Boying). However, my favourite memory is at the Fresh Festival in 1983 featuring Whodini, UTFO, and many others. I had a lot of fun watching my favourite groups at the time. You don't have shows like that anymore. I miss stuff like that now.
HHC: Amir, you're from Boston, do you care at all about the local scene over there?
A: The local scene in Boston is so different from the one I grew up in. I mean we had great radio shows that played everything from New York and Philly, and everybody was doing shows in Boston. The Almighty RSO was the shit back when I was young along Top Choice Clique. Also EDO Rock aka EDO G was doing his thing back way before "I Gotta to Have It." However, now it seems like all the young cats are doing spacey weird rap which I cannot relate to.
HHC: How do we handle a love life with this Crate diggin passion?
A: It is so hard having a love life when you are record collector because most women don't understand why you collect records. I have lost two girlfriends over my records. Both women asked me to choose between them or the records…obviously I chose my records. So right now, I am single because I cannot be with a woman that doesn't represent my passion for record collecting. It's like a man not representing a woman because she likes to collect shoes or purses.
HHC: Don't you think that with the whole internet globalisation, this art of cratedigging lost a great part of its charm?
A: I think that in some ways that the internet is killing the art of record collecting. For example, you have a lot of crate diggers that only get records from looking on EBAY. I learned like many true crate diggers, by digging for in actual stores, the garbage, on the street, dirty dusty basements or anywhere there are records. You learn about records getting dirty and dusty not having someone tell you about records. When you learn from the internet or you have someone tell about records you only learn what they know nothing more!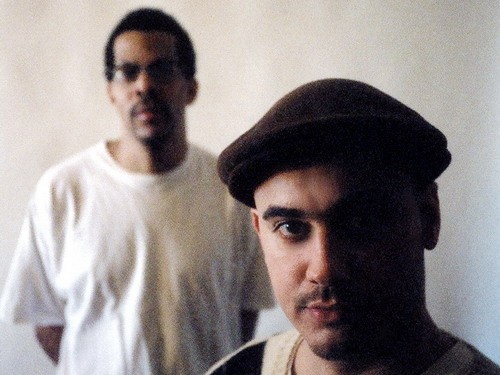 HHC: Amir, you also did some Radio shows, Are you still close with this Universe?
A: WOW! I cannot believe you know that! Well, I did a radio show called Across 110th Street with Danny Rudder hosted by Ricky Powell at WKCR at Columbia University. We did this show for two and half years. I have had many people over the years tell me "man I learned about records from you doing that show." I mean we played nothing but rare grooves and breaks. I also had a Hip-Hop show in college called Da Funkiest back in the early 90's as well. I am not closely involved with radio anymore simply because no one really does those kinds of shows anymore. It's like good music is not loved anymore by the mass majority!
HHC: You also had a lot of experiences in the Music Industry. What kind of memories do you keep from this time and how did it influence you as a crate digger?
A: My favourite memory is when I was working on the EDO G album with Pete Rock. One night at the now defunct Unique Studios Lord Finesse came by with Greg Nice just to chill with Pete and I. Then 9th Wonder came by to kick it too. It was an incredible hearing Pete Rock, Lord Finesse, and 9th Wonder talk about beats and record collecting. I wish I could have taped that conversation that night…it was so classic!!!
HHC: Can you talk about your work over at Fat Beats records?
A: I worked with many artists and producers when I was at Fat Beats. There were many records that are "classics" at Fat Beats that I was heavily involved in. For example, I worked with Common convincing him to release the "Communism" 12" thru Fat Beats. I worked on many of the earlier DITC 12" thru Fat Beats. I have worked with Company Flow and Mr. Lif. I pressed and distributed Mr. Lif's 1st record "Electro." I signed Stones Throw to an exclusive worldwide vinyl distribution in 2000 thru Fat Beats. I mean I worked with sooo many people over the past several years.
HHC: Could you sum up a list of mc's you worked with?
A: Well, I worked with mad MC's. Everybody from Common Sense, Black Thought, Masta Ace, Just Ice, Big Daddy Kane, Lord Finesse(my homie), Big L, Diamond D, Dilated Peoples, J5, and too many more to name.
HHC: People talk about a kind of sampling revival, with some producers like Just Blaze or Kanye West…. How do you feel about their work?
A: Well, I think that the sample work of Kanye West and Just Blaze is dope, but they are only doing what Lord Finesse, Pete Rock, and others like them have done already for years. I know Just Blaze and he will tell you himself that Pete Rock was a great influence on him. People are starting to call Kanye West the originator of soulful samples, but Lord Finesse aka the Funky Man and Pete Rock aka Soul Brother#1 were using soulful funky samples when Kanye was a little boy.
HHC: Talking about producers, which is the best at finding a loop or chopping a sample according to you?
A: My all-time favourite producer is Pete Rock. He is the master of loops and chopping samples to me. No one is better at it then him! He has mad classics!!
HHC: What are your upcoming projects with Kon?
A: Our next project is the next On Track Volume 6. It is a double CD with 2 ½ hours full of just ill breaks and samples! Kon will be doing a rare disco/boogie CD, and I will be doing a rare jazz fusion CD. Plus, we will still be doing our 12" edits. Hopefully, we will start to work on a new album sometime next year.
HHC: Any last message for our French readers?
A: My message to all the French readers is to first say thank you very much for supporting Kon and I for the last ten years. We appreciate it very much!!! I also want to say thanks to all the French crate diggers and fans that hit us on our myspace page (www.myspace.com/konandamir). I want to send a special shout to my homegirl Emma Soriano… you are the best!!!! Love You!!! I also want to send a shout to my man Texaco, to the whole Grim Team, Oliver from Chronowax, and lastly to Bachir for hooking up the interview… good looking B!
Interview by
Bachir
November 2006
PS: Thanks to Amir, Emmanuelle and François.