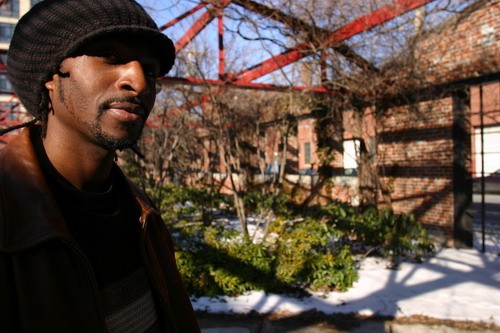 Hip Hop Core: First, I couldn't start without telling you how great this show was. I'd seen you before in Boston but this time it was truly amazing. Did you rehearse a lot because all the routines you put together and all the back-to-back rhyming stuff comes out so naturally?
Insight: It's just a lot of rehearsals, repetitions. Actually, you gotta come up with new ideas too. A lot of it is doing things that people don't normally wanna spend time doing. When you spend time doing something that's kinda creative, then you have the discipline to work a lot and make something that's unique. But it definitely takes time to get it right. People see it right away in the way you perform.
HHC: One can also feel that you're trying to bring an old school feel to the whole show, with the circle in the middle of the crowd for instance…
I: I think I did that first in Boston somewhere. I had split the crowd up, half, and made it like a Soul Train thing. I want to have fun, I want people to be dancing. So one day that started and we just keep that going. But that's how it should be! People shouldn't feel like they just need to watch you say words all day. Those rhymes are meant to be enjoyed. You can party and dance to what we're rhyming. You see us having fun doing the rhymes and I want you to have fun in seeing it. It's music, the voice is like an instrument.
HHC: How do you manage to also include in your show the whole political aspect of your rhyming then
?
I: I just think it's a personal thing. I know the different frames of mind and things that I'm thinking of. And they're gonna be reflected in the music. Sometimes, I don't want to get a political view across in a song, I just want to have fun with it. Sometimes, I might be upset or I might be happy, you know. Like Electric was happy. At that point in my life, I was satisfied with everything, all my bills were paid up, I felt good. And then, sometimes, you're not feeling so well. Maybe like I didn't get a job or you're stressed out by different things or statistics. And it's reflected in my life situations and then you got "The Maysun Project" and it just reflects where I am. There's no set way. I'm not gonna say: "I'll kick political rhymes". But I believe that whatever I do I had an intention and it's not based on an ignorant one. Enough of that! I want to come up with a message and still display skills. You can't just use a message to sell your albums and then forget about the foundations of hip-hop and how so many people kicked ill rhymes to make you wanna rhyme in the first place. So, to me, the rhymes have to be impressive even if you have a message and the overall project has to be consistent with one type of feel.
HHC: But isn't it hard to edutain these days?
I: I think it depends on what you're doing. You gotta have confidence that what you're doing is what you believe in. You have people saying now that boom-bap is old and all of this stuff. But before there was the title "boom-bap", that's what I was doing and everybody can't do it good. You still need people doing the basics in order to capture the essence… There's certain things in hip-hop that's never gonna change. There's always gonna be drums. Sometimes, you might not have it but there's some things that just have to be there. If it's not there, then you don't like hip-hop. If you want to make it so different that it's something brand new, maybe you don't need to be doing hip-hop. Some people can't do it good. And when you try to alter some of the basic foundations while you don't master those same foundations, then you're not gonna be able to get a message across in a flavourful way. You're not gonna get your point across. You might have a strong message, the music will suck! You can't fool anybody with that. You can try to do something and fool people for a short period of time, like some of these mainstream artists, but in the long term nobody's gonna remember those artists. Think about MC Hammer, Young MC… At the time, people were into those artists but what do we remember? Nobody remembers Hammer… People forget that. At the same time, De La Soul or Nas were out and they were smaller. But now, ten years later, Nas can go and do shows. Nobody wants to see Hammer. So you just gotta do what you believe in, no matter what.

And I noticed that with hip-hop, the people who are remembered always went against the grain. People gonna diss your album when it comes out and then, ten years later, they're gonna be like "ok, that was a good album". So I have a longer journey. I did a lot of material and I just think I was cursed with doing everything on my own. That's my curse. It seems that everytime I let some other entity have something to do with my thing, it doesn't go well. Apart from "The Maysun Project" but that's because I was working with good people. Most of the people in the industry are not good people. You do so much and you get that so little, that by the time you get it, you decide to quit. Maybe that's why some of these mainstream artists are so wack. Maybe they don't have the drive anymore.
HHC: Speaking about lyrics, you use a lot of technical or scientifical vocabulary. Is it something that comes out naturally, a way to reflect your education or is there something deeper than that?
I: That's crazy you said that because I think that rhymes are formulas that you can use to put songs together. Like a sax player over a jazz rhythm, he can play like mathematic formulas and adjust them to give you a different feeling. He might play fast and give you a bright feeling or play kinda smooth and give you a mellow feeling. You could do the same things with words. I believe that hip-hop hasn't been taken to the level where people recognize that. Hip-hop doesn't have the respect of poetry yet but it's like an advanced poetry. The things that some of these artists do with the words, like Kool G Rap when he was already 16, is just crazy. It's like a Shakespeare's song. It's not recognized that way because of the marketing that makes it look like an imageful music. But now that, as a music, it exists longer. People get older and now you have legendary artists that are like 40 now. I remember that when I was starting up the oldest rapper was like 16! Before you know it the oldest rapper that you respected is gonna be like 60.
HHC: Now you even have people like KRS-One writing books and doing seminaries… How do you feel about the fact that hip-hop is also becoming a written artform?
I: It's good. Hip-hop just needs to become more sophisticated on a larger scale for it to excite me at all. Right now, it's not for a sophisticated audience. It's crazy, like Bill Cosby gave a lecture some time ago and people in the south thought he was a little extreme, but I think he's right on point. You got some young kids looking up to 50 Cent. It's plain to see that everything is manipulated. Nothing of substance is being presented to the younger generation, that embraces like love and peace and harmony and knowledge and working hard and ageing quality rhymes. Nothing is based on that. It's all based on shocking you and being the bad guy and oppressing. Everything evil is what's marketed because they know the younger generation is gonna eat it right up.
HHC: You always have a project on the grill and you stay constantly busy. Are you afraid of the void?
I: No, I was just doing as much as I can. I was gonna go broke. I'm doing it all on my own. Most of the stuff that I'm doing now, it's on my own. Even if I put it out with a label, I was always doing more than whoever because there was no turning back. I had so many dead-ends, no support from anyone, no home base. And on top of that, I was working for 4 years and I didn't want to do that. I just said: "Damn, if this is life, then everybody's got it wrong".
HHC: Speaking of isolation, many artists coming out of the Boston area are 'one-man arsenals' like you. I'm thinking about Edan or Cadence for instance, who know perfectly how to rhyme, produce AND use the turntables. Does it just came out of necessity or is there something in the water in Boston ?
I: I don't know about anybody else but in Boston I was doing it way before the scene really existed. When I was like 15, I had an appartment and I would just wake up, turn on my equipment and start making music. People would come over, drop rhymes… I didn't care what anyone was doing, I knew that I had to do that everyday just like when you wake up, you take a shower. I had to wake up and make songs all day. I was abusive with that. I would play the music too loud, my landlord would get upset and I would get evicted. My whole life was this cycle of getting equipment and finding a place where I could just do music and where I could have people come over. I always liked seeing somebody improve, taking an artist, working with him, putting music around him, making it sound good, trying to see him develop and evolve into something better. And it's still like that now. I don't feel like a workaholic, I just get up and do a song, just like I get up and eat. It's just fun. Well, now that I'm at a different place, I look back and I think: "Damn, I did like sixty things and what do I have to show for it?" So now I gotta be more smart about my business moves. I'm looking into my archives and using the skills that I have to collaborate with other artists and try to market it better. So I figured that instead of putting out one project in the whole world at the same time, I take a project like Electric "Life's A Struggle" and put it out in Japan and see how that market is. And then when I analyse that, I take that and release it in Europe to see how that market is and work with cats in France who understand the french mentality. Cause you can't expect that you gotta know all this. You gotta work with people there that understand what's going on.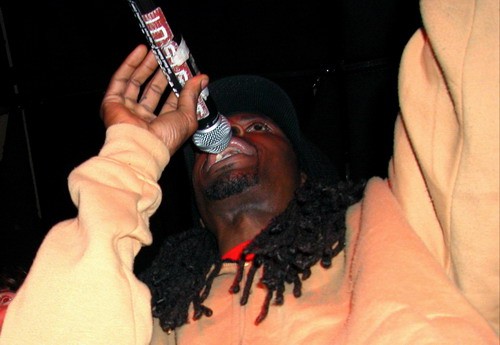 HHC: So that's also why you released "The Maysun Project" in France first?
I: Yeah but this project had nothing to do with what went on on September 11th. My view was already in there. My view was always that so it wasn't surprising to me. But as far as the ignorant society, they look at that likE: "Why is he saying that? Why does he feel like that? Is he crazy?" So when I brought it to distributors over there, they didn't wanna view it. But after all that happened, now they wanna use that to make it seem like a gimmick, so I was likE: "Fuck that". I don't want people to think that I'm doing this just because of that or that it's just this president, all presidents are fucked up! You're not in control even if you think you are. I don't want to do things and have people think I'm doing it for the wrong intention. I didn't want to put it out in the States and have people think I just did it as a publicity stunt. I wasn't gonna do that. I realized that in Japan they don't have the same history. They don't' care about the same social views that I'm concerned with, but I think Europe does. Because the United States is based on here. The criminals from here went there. So europeans have an interest. Statue of liberty came from here with the slaves, now it's over there. What does it represent? Now it's kinda ironic. So the best situation for this album would have been to drop it here and then in the States.

But for projects like Electric, I did that to understand the market over in Japan and then drop it in the States and understand the market over there, and so on... There might be another Maysun Project and another project I'm doing now. But now, I'm to the point where I have my own label so I surround myself with good people to help everything go well. I got a production team and they're all spread out everywhere. Some of them in Japan , Germany , etc. There's situations where I know for instance I can't market in France . I don't speak french but I got people over at Ascetic that did a good job with Maysun… So I can concentrate on the US market that I truly understand. I know that what I'm doing is new and innovative and that I'm going against the grain, so you have to really understand the market if you wanna make a successful project in the States. So if I'm gonna be going around the regular channels, I'm gonna be dissing the regular magazines and critics who support everything that I'm talking against. Then it's gonna be hard for me, but it's like a ten-year mission. I don't care. I don't wanna be in a position where in the middle of my career I'll be making music that I don't like because I compromised to work with these people who go against everything I stand for as far as hip-hop goes. That's why I have all this material. There's places who might not know me but I'm satisfied with that because I realize the shows somehow tie everything together. Once I start touring more and people see the shows and the interest goes up, my time will come. You gotta be humble too.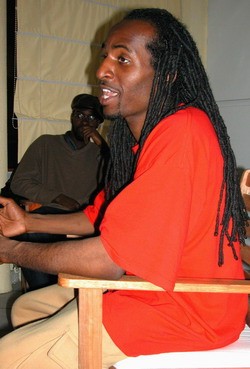 HHC: What was your goal with a project like "Targeting Zones" that you've only released in Japan and that contains remixes of different tracks from your discography?
I: I had put Electric out in Japan and it did well. I like dealing with that company Bad News, they treated me well and I wanna keep people around like that. Brick had "Blast Radius" and I wanted to use Bad News for that in Japan and Ascetic in Europe . Something funny happened with Brick because they were already in other contracts where I couldn't use the people I liked. I had to settle for the people they had in their circle. That made me feel likE: "Damn, I can't put the people who I know and are on my side in place, I gotta use who they tell me". But those people didn't give a damn about me. Maybe Brick does but not the other people above them… They don't understand that what I've been doing was testing out different companies to see who is really on that side, to use people who are doing a good job. If I see somebody putting an album out and they do a good job, they're on the team. But I realized that they're never gonna do what I want unless I'm the one that runs the label. Now, that's what I have to do.

For "Targeting Zones", I had "Blast Radius" done and there was this situation where I couldn't use these people in Japan . People liked Electric and they gonna like "Blast Radius" but it's a little bit more aggressive so I wanted to make an album that was kinda in-between. So "Targeting Zones" is really smooth but it's also sort of aggressive and it's like a little bridge to the next album.
HHC: Do you still plan to release it in Europe ?
I: Yeah, Ascetic gonna release it in Europe . I see the reason why some artists come out with projets and no one really knows about them. You can't use one company for the whole entire Europe . Use a company for France in France if you know they're gonna do good in France . Use another company for Germany … You know, I'm down like that, I wanna take it even more independent and I know it's gonna be harder. This tour, I'm out here on my own, on the train, travellin'. If I don't work with the promoters, they're not gonna know me and they might put up flyers without my face on it and tell mE: "we don't know you". They have no idea that I put out all them albums. So I gotta be more involved with everything and be even more independent than it already is. I stay travelling 'cause I wanna understand what's going on.
HHC: Do you get inspiration from all your travels?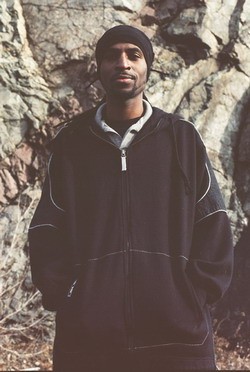 I: Yeah, because when you travel somewhere and somebody has your record over there and is happy about it, that's good. It's a blessing. Even though I have a lot of things to do, I still feel satisfied with who I already am. I'm glad to be in that position, but I know that it's not luck. I put in a lot of work. And still to some people it means nothing. Some people may not like what I do and may not ever like me but I just love what I do and I'll always do it. I grew up listening to real hip-hop and I was influenced by what they end up callling boom-bap and that's me! Everything that I got into hip-hop for, like the drums, is the thing that I've been working to improve. And I believe that I got my little style but I'll never fit into a box, I'm always gonna do whatever I wanna do. It's just an ongoing journey.
HHC: How do you compare the european audience to the american one?
I: I'm starting to notice what kind of audience I have and I think you receive the audience that your music gives the vibe for. If I kick ignorant lyrics and talk about fighting and all that, that's what's gonna be on the show. I'm just glad that I've always been consistant and at the shows I get people who are themselves, sincere and that like the same type of music I like. It happens to be a certain foundation of hip-hop that I believe is necessary for it to continue. The music that I was doing when I did "Blast Radius" is where I think hip-hop left off and started fucking up… Before Puffy started to make everybody think that you just gotta do hip-hop to get this money. If you could rewind time and go back and everybody would just drop something that sounded more '94-ish or '95, it would have been good. That sparked the change in hip-hop that I just didn't like, man.
HHC: That's interesting because I was speaking with Edan the other day and he told me to not care about the years and to just concentrate on the fact that music is timeless but you're speaking precisely about a particular sound from a couple of years…
I: I think that music is timeless but you remember the time that the music was good. You have to go by a time. If a song is wack and it came out and you got married on that day, or you were on the elevator and you proposed to this person… If that song was 'Whoop! There it is!' then that's the song you will always remember and it means something to you. It's a part of your life, and that's why time matters. If I stop dropping albums and I let some wack MC drop 'Whoop! There it is!' then they have a time to occupy their life with this song. Maybe another song could have been playing, that was better. So if you have something to express as an artist, you should try to be productive because if you don't, a wack MC is gonna come out and drop some songs that are gonna become parts of people's life. Just do it. If you let anything slip up and slide, somebody's gonna slide in and come up with some bullshit hit and it's gonna redefine what people think about hip-hop.
HHC: But don't you think that it's a bit hard to keep those time references in mind while still going forward, trying to advance your music?
I: I don't try to stick in any year. I just try to do what I feel. The mid-nineties sound just happens to be the sound that I was the most influenced by.
HHC: At the beginning of your career, your production style has often been compared to DJ Premier's production ethic, particularly concerning your heavy drum kicks and the way you chop up the loops. Some people thought that you were a little too close to his style to be truly original. Now you've shown that you can do a lot more than that but how did you fell about those critics?
I: It's crazy, because when I started, man, I was already doing the same thing and then Premier came through and he was also doing that… And they're comparing me to him but they don't realize that I'd been doing that ever since my existence. I listened to 45 King, Marley Marl… And Premier, he got his cuts thing from there. I like 45 King's drums, so if there's a certain foundation that I got into, I put in my work to study from the greatests and to learn not to do it wackly. People can say what they want but they should do the same thing. They shouldn't just get a computer or a sampler and think that they can produce now. I always stayed humble. I stayed working out my thing every day. If people think I sound like Premier, then fuck it! But that doesn't take away from the fact that I was sleeping outside for this thing. I had nothing. What are they doing? They're priviledged enough to have a place to live, samplers and everything but I had nothing. They had no idea what I had to do to even do hip-hop. If they knew what I had to go through, I think they would realize it's such an ignorant statement to compare me to someone. My struggle is greater than that. I'm really down for the real shit and I'm never gonna compromise even though sometimes maybe I think I should have a better position… But fuck it, I love this shit.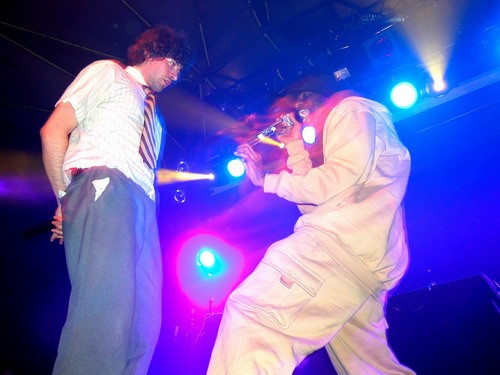 HHC: By the way, why did you and Edan decide to create Duplex for?
Edan: How did that shit even start, dude? (speaking to Insight). I had some shows, up on stage by myself and I got tired of it for a little while. I just wanted somebody else to interact with and really work hard on intricate routines and just take it to that level. And he was the only person really willing to do it, that was just dedicated to evolve and try new styles. Like "let's do this cadence!", "oh, you peeped this rhyme style" and just get really intricate with the shit. He was one of the few dudes that was even trying to think like that about the music. I wanted to do some two-men shit and he was down so yup!

I: Exactly!
HHC: Do you plan to do a whole full length album together any time soon?
I: Yeah, of course! We can't drop no dates, we're just having fun…

E: It's sort of spiritual and we don't plan to much ahead of time, apart from the shows. We'll let it go where it's meant to go but sure it'd be great to do a project.

I: I think that we will. The music is our life. I'm waking up every day doing that and every thing is based on that. Even if I'm talking to somebody I can't not talk about hip-hop or something related to it in a five-hour span. It's just part of me, and part of him too. That's our livelihood and it's a blessing… This is what we do, there's nothing outside the music. Well, actuallly, we've been playing basket-ball but it's also because of music too. By hip-hop, we're doing things together and we're getting to know each other more. The music is bringing us closer together.

E: We just both view hip-hop as a high artform, like just anything you can associate with eloquence and a high level of intellect. We see it with passion and we both bring those standards to the table when we work together. We don't care about us, we care about the bigger picture and what we add on to the bigger picture.
Interview by
Cobalt
&
Phara
Photos de
Nicolanifanta
(except 1 & 5)
April 2005