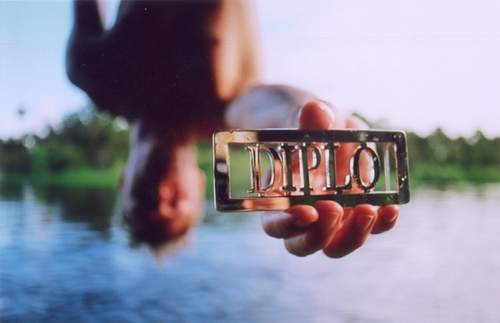 Hip-Hop Core : You've just released "Never Scared" with Low budget, on "Money Studies". Could you introduce your partner and Hollertronix to our readers ?
Diplo : Low budget is another cat in Philly that holds down the DJ nights in the city. He's good people and both of us were on the same track when we started this night out here, just basically being city DJs and catering to whoever called us into their club to play. We basically hooked up so we didn't go against each other and brought in a bigger audience in Philly. at the time, I was just renting this club out and playing whatever I wanted and it just turned out to be mostly dirty south. Hollertronix came out of the fact that all these kids were making money and eating good at the new 80s nights and they couldn't even mix or they played the same set over and over. We just started mixing in a lot of "dirty south" and Baltimore club music too cause that's what we were used to playing at clubs in the city, but we did these parties for scenesters too . So we had records for whatever.. the whole party became a place where we could play whatever we wanted. So many tempos out now on the radio and what people recognise in the clubs so the only thing creative we were doing was getting drunk and splitting tempos in half. i.e. an Electro Bjork remix into some slow slow down south tempo shit.
HHC : How did you build "Never scared" ?
D : We were just dropping buttons on the sampler and making it seem normal. It just made sense to put a CD out. Our crowd was so unusual we wanted to get some exposure. Since we were broke too and I had this 45 turntable lab 'Money studies' was supposed to put out like 2 years ago, so I remade it club style and now it had a context.
HHC : Despite the 'dirty south' touch, « Never scared » is not the first project smashing the musical bounds and contravene the rules of mixing. Don't you think this concept has lost its originality ? For instance, what's your opinion about '2 many DJ's' ?
D : To tell you the truth, I never heard 2many DJs till I downloaded the CD of soulseek last week. And it's not even all that. I only did that because they were compared to us in a few reviews. We don't re-edit or use computers, we just mix off records, we do things on the spot we don't even practice. But the "Never scared" CD took a few different takes to get right. There are rumours that we will try and have a battle with them in January, and straight up .. I'm down, we would destroy them. Imma try and hook up all these ideas if that actually goes down (at least in the US , if we battled them in Europe , we would lose bad probably)… These are kinds of music that people don't hear all the time. I mean, the down south shit is all over tv and the radio, but there is never the context up here for kids unless you go to some baller afterhours spot where you can't wear sneakers and have to have an escalade. The CD is just about context, man. That's really it, and music with energy. Its just all about context.
HHC : Which need/desire does your eclecticism correspond to ?
D : Just what kids want to hear, but all of it at once. I mean, all kids like rod lee club music, and 3-6-Mafia, and New order and some ESG, its' just good music to dance too energy music, But no DJs can play it all at once at least do it and do it right. Except us.
HHC : How did you get in touch with Big Dada Records and Will Ashon ? What does a renown DJ from Philly expect from a deal with an European label such as this one ?
D : When I hooked up with Will I was living in Japan , just working and trying to get stuff done. I made a tape and website of this group, I was doing in Florida called Pinniped science and some of my own beats on CD. Pinniped science .. they are still my people, the website was funny as hell and so was the music I made as a kid down in FL. We used to track it all on tape and then go from the tape to a Akai s20 sampler and sequence the whole record on there from a tape, like all 30 minutes. It was crazy, all freestyles and beats that I picked up at the flea market that day. That was when we just ran around and listen to the Florida breaks and hip hop and painted trailers and school buses top to bottom.. I sent Will a demo from Japan (where I was living at the time) 'cause I caught the adders in a magazine and I was just did it on a whim. I convinced him that I'm going to make dancehall. And then, I just put together what was on my mind at that became the album. "Newsflash" is the dancehall jawn though, but I just kept doing the same shit and ended up getting a direction with Big dada at the same time. I mean, if MCA or Universal offered me a deal, I'd take it in a hot second, but you know… my shits just too weird.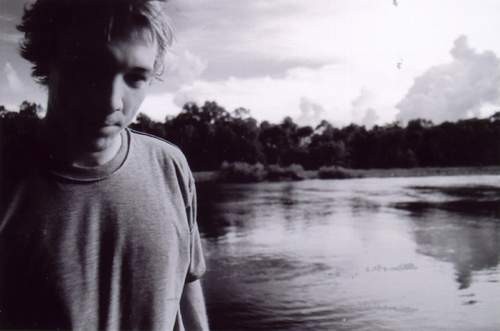 HHC: There's a huge gap between David Banner and the "NMS" project, it shows your ability to produce thoroughly different sounds…
D : …not really… it's all the same. Look at Timbaland or Radiohead or Bjork, they are so unpredictable. They are the types of people that come out with a different sound for every track. Like they invent a new genre with each song. So unpredictable, that's the only thing I'm aiming for. NMS project got hooked up cause I did some shows down in Florida with Big Jus and he just asked to get a beat really. The instrumental version of that track will be on my record.
HHC : What do you like in Dirty south Hip hop shit ?
D : It's just the only music with energy these days, it's all different, and everything else is a little boring unless it has a bounce.
HHC : As a DJ, do you regard yourself as an 'entertainer' or do you aim
at 'educating' your audience ?
D : As a DJ, i'm just trying to make people stay until the place closes, that's the only goal. But if I get to and people are already gonna be there when I play, and people are already getting real loose or drunk, then I can usually get them educated on the real slow shit.
HHC : What do you know and/or like in the French scene ?
D : I know TTC, they are real solid, I did a remix for them. and I've seen them playing here in New York . I remember some other groups from the little exposure that they got over here, Ntm, hmm… MC Solaar, I really like the track he did over Serge Gainsbourg's "Bonnie and Clyde ", I'd like to remix that one.
HHC : What's your current playlist and what are your favourite records of 2003 ?
D : Best of the year : 3-6 Mafia - "da unbreakables", David Banner – "Mississippi", Outkast – "Speakerboxxx-The love below", T.I.-"trap musik", Susheelah Raman - "love trap", Martina Topley – "bird ëquixotic" , Various artists – "chains and black exhaust" , Dizzee Rascal - Boy in da corner"… Current playlist : MIA - "galang", Bubba sparxxx - "comin' round", Roll deep – "Ice rink", The ends – "Are you from the ends?", Trick daddy - "Nann", Timbaland & Magoo – "Indian flute, Indian carpet", David banner- "Might getcha", Missy Elliott – "Wake up", Rosco P. Coldchain – "Hot", Lcd soundsystem – "I'm losing my edge"
HHC : Any last word ?
D : It's all about context and having fun, and going to the woods, and making out with our girl… And '2manydjs'stay off my dick !
Interview by
Kreme
&
Checkspire
December 2003
P.S. : Thanks to Etienne and Big Dada.