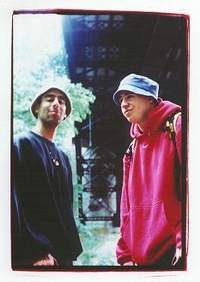 Hip-Hop Core : First, as many people don't know you yet, could you introduce yourself ?
Abdominal : MC Abdominal (or just Abs)
HHC : Could you tell us a few words about your first steps in the hip-hop community ?
A : Before really getting into emceeing, about10 years ago, I was heavy into skateboarding. I first started making music with a fellow Toronto skater who was just getting into DJing and producing. He's still doing music as well & goes by the name DJ Serious.
HHC : Then you worked with the Toronto DJ/producer DJ Fase. How did you meet him ?
A : Fase had a weekly DJing gig at this little lounge in Toronto & I met him there while attending a going away party for a friend of mine who was going to Malaysia. I got to talking with Fase 'cuz I liked the tunes he was spinning & he told me he also produced. At the end of the night he played me a beat he had with him & that became the A-side to our 1st single, "The Vinyl Frontier".
HHC : Yeah, I've seen on tuneupmusic.com that you've recorded an album with him named "Flowtation Device" in 1999. How would you describe it? Where can we find it online in Europe ?
A : It's hard to describe because every song is quite different. In a nutshell...good raps & good beats. It's actually about to be re-released (properly) in UK & Europe with 3 new songs through Format's label PIAS.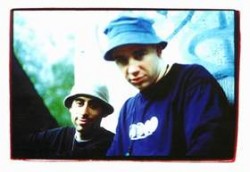 HHC : Cool. By the way, how did you hook up with DJ Format exactly ?
A : I had been (and still am) working with DJ Fase, & we were signed to a little Toronto label called Tune Up records. The guy that ran the label, Aaron Keele, was also a record dealer. Format, in his constant search for vinyl, came on a trip to Toronto & somehow met up with Aaron. They kept in touch over the years so when Fase & my first single came out (The Vinyl Frontier 12"), Aaron sent a copy to Format. I guess Format liked it enough to want to work with me so Aaron gave him my number & we went from there.
HHC : How did you manage to work together while being thousands of kilometers apart ?
A : A lot of big phone bills!! No...Matt came back to Toronto to record "Ill Culinary Behaviour", I went out to England to record "As the Drum Pounds" & then he returned to record "The Hit Song" & "Vicious Battle Raps".
HHC : How is life in Toronto ?
A : I'm actually living in Montreal right now, but my heart's still in Toronto. T.O.'s wicked man...great music, great food, great girls (although I have a girlfriend so that doesn't apply...Hi Elizabeth!!). The rents are too high though!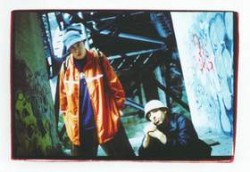 HHC : How did you get this idea of the cooking imagery for 'Ill Culinary Behaviour' ? It's really an amazing track. Any particular event behind this ?
A : Nope...I just rhymed Format with doormat in the first 2 lines & the rest of the song just kinda logically unfolded. Thanks for the props by the way!!
HHC : How many "hit"-related metaphors do you have left in store ?
A : I'm pretty much tapped out for now!
HHC : Did you do any battle in the past ?
A : A couple... I'm too nice to battle.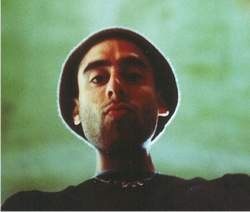 HHC : Do you plan to collaborate further with Format 'cause there definitely seems to be a chemistry between the both of you ?
A : I think we'd both like to.
HHC : Your performance at l'Elysée Montmartre in Paris last month really impressed us. Where did you find all those crazy ideas (the balloon, the aprons) ?
A : I came out to England a few days before the tour began & Matt & I whipped up our set (we had actually never performed together before!).
HHC : Did you learn french at school because your french freestyle was amazing for an english native speaker ?
A : Thank you. Yeah, I took French in school, plus I've been living in Montreal for the last 3 years so my french is OK.
HHC : How do you feel about the current state of Canadian hip-hop ? With such different artists as mc Enroe, Moka Only, Saukrates, Buck 65 or Swollen Members, it seems to be in a really good shape. Are you close with some canadian artists ?
A : Canadian hip-hop seems to be doing really well these days. I know some of those dudes...wuttup Moka! Some other good people to watch out for are D-Sisive, the Oddities & Circle Research (all Toronto-based artists).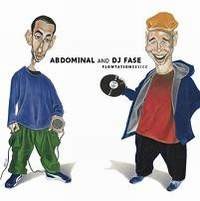 HHC : What kind of music do you listen to ?
A : My girlfriend plays jazz piano, so we listen to a lot of jazz. I like all kinds of stuff...I usually just leave the college radio station on all day to expose myself to all the different shit I wouldn't normally check out.
HHC : What's your favourite rap album of all time ?
A : Either Run-DMC's "Raisng Hell", Saafir's "Boxcar Sessions" or Pharcyde's "Bizarre Ride to the Pharcyde".
HHC : What do you plan to do in the near future ?
A : More shows in Europe hopefully!! More tours, more music (with both Fase & Format) & more fun!!
HHC : Do you have a message for the readers of www.hiphopcore.net ?
A : Merci beaucoup a tout le monde en France qui aime ma musique!!
HHC : Feel free to add whatever you want or to answer the questions you might have liked me to ask you.
A : Nothing to add...hope you got enough! Peace, Abs.
Interview by
Cobalt
April 2003
- DJ Format "Music for the Mature B-Boy" available on Genuine/Pias
- Abdominal and DJ Fase "Flowtation Device" available soon on Tune Up/Pias