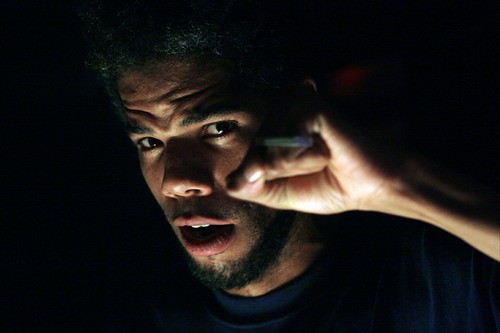 Place: Fondation Cartier, Paris, France
Date: April 20th, 2006
Hip-Hop Core: Going back to LabWaste, what do you like about Adlib's musical universe and could you tell us a few words about your friendship?
Subtitle: I've know Thavius since 1997. I had just joined Blowed and I was in a crew called the Library. I was on a hill smoking a blunt (sorry, I hate the blunts but it was 1997, everybody was smoking blunts at the time) and I was waiting for my crew to come up. And Global Phlowtations were playing basketball but I didn't know them yet… I heard this really really crazy song playing down the hill and I had never heard anything like this in my life. I was in a haze, I walked down the hill until 3 feet away from the boom box that was playing this music. I was there like a maniac, like "What is this?!". I couldn't believe it! Jenny, the woman who's now Thavius's wife and who was working at Project Blowed at the time, was there and told me it was a sound by Adlib of Global Phlowtations. I was like "Where is he at?" and she was like "Oh, he's just over there playing basketball". I was just tripping over that beat and, later on that day at a show, PEACE ended up freestyling over that beat and he destroyed it, hands down. Dudes went crazy and I'd never seen nothing like it before.

Unfortunately, that beat never got released… because Thavius had like 600 beats on his sampler and he lost about 400 of them because the disc got messed up over time. But he was making beats all day long, litterally. He was even making beats in his car on his laptop while he was driving to work..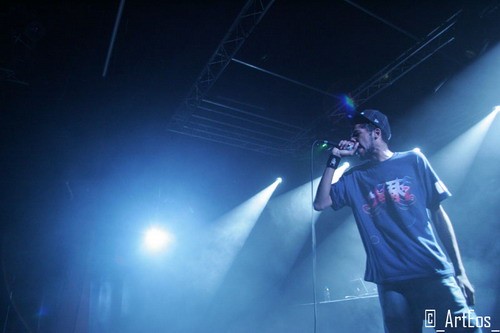 HHC: In an old interview, you said: "I look at my music as an on-going study in sound development". I found that particularly acurate. To this day, what do you think you've learned and discovered through this study?
S: Basically, that all music is the same, but all music is different. You can go from Bill Laswell, Adrian Sherwood (and all the dub stuff he's done), David Axelrod down to Brian Eno, they're all producers who are writing with twelve notes of music… including Karlheinz Stockhausen or John Cage who's dealing with silence. He's writing like negative twelve notes of music, but it's all the same music to me. But I want to keep it for rap. How can you mix Karlheinz Stockhausen and Dabrye? You don't have to, because Dabrye's Karlheinz Stockhausen. If you listen to his minimal production nowadays, people don't really understand where it came from, well, listen to Brian Eno's "Music for Airports". That's the whole thing : we have counterparts for all the music we're making all over the last 60 years.

No one knows that because we're all in our twenties. Some of us might be around 30 or 40 but not many, everybody else is in their teenage years and they don't count 'cause they haven't learned yet. If you're a kid, unless you're J Dilla and you've been buying records since you were 2 years old, you are not knowledgeable of music until you get old enough to travel around and listen to punk from Germany or like Turkish prog-rock. That's when you start to realise that there are similarities in everything. That's where I'm at today. People need to give a name and a genre to everything so they don't feel stupid but it's useless. It's still the same shit…

It's just the changing of the guard. Every 5 or 10 years, you need a few people to come by and revitalize something that's already been losing its energy because they came to revitalize something else. Hip-hop is a 30 year old culture and people still don't really realize… I mean graffiti would have been around anyway, when they were doing graff, they were listening to anything, they weren't listening to rap. Wearin' fly clothes has been around for a hundred years… You know what I'm saying. None of this is new but people don't really understand it. Fuck innovators! I want to see the Salvador Dali or the Leonardo Da Vinci of music but I haven't seen him yet.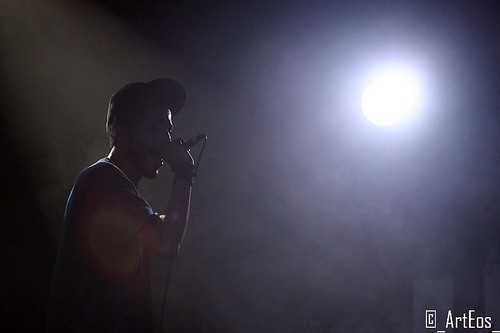 HHC: Many of the tracks of the LabWaste have been remixed in the past months and it seems that it's something that you're very fond of. Who would you like to be remixed by now?
S: Chris De Luca from Funkstörung, Sa-Ra, Madlib (but I already have two beats from him so I don't ask for too much), Nasa (who used to be with Def Jux), Dabrye, Dizzee Rascal, Ta'raach (Lacks from Detroit), Wajeed, my ex-roomates Eliot Lipp and Leo123, E-Swift from Tha Alkaholiks (if he's still doing stuff), J-Swift who used to be with the Pharcyde (although I've heard all kind of bad things about him, y'all know what I'm talking about)… And I really really want to work with Para One. I've been waiting over Para One. Technically, we did a song together but I'd like it to be more. Tido from TTC also, I want to do stuff with him. But the persons I want to work with the most are Jammer from England (straight grime) and Drop The Line…

But apart from remixes and productins, I also plan to work with other people. Dalëk and I, we're doing a record together. Solex out of Holland also, she's put out a few electronic albums and she hit me up to do a record, so we're working on that slowly but surely. It's just a matter of me being at home writing a million raps…

I'm also doing a record with Thavius of course. We're gonna go crazy with this one. I got six songs deep into it while I was at my house, I had made three beats and recorded over three of his beats… then this son of a bitch came out with seventeen new beats! And I was mad, because it was too good. We never stop working. We 're trying to go all out with this one, we're gonna do whatever we want. We want this to be a record people talk about. The first LabWaste record, we didn't compromise anything and it laid down the foundation for something else, even though we would have been able to do more with this record if we had signed with a better label. Hopefully people are gonna want to go with it. We came to it with a very good attitude about it, we didn't come to it to serve anybody, the music we're making we made it as if people didn't care about it… Many people thought it was too weird anyway, and it is, so I'm like "thank you, keep saying that". So for the next record, we're not settling for the whole indy thing, we're just gonna do a dope record and we'll put it out.

We didn't record that first album in the same room. Thav had his studio and I had mine so we'd meet about working and trade CD's. Now, we've been hanging out more but we like recording by ourselves, because it's comfortable. I know how he works and he knows how I work so we don't need to be in the same room. We know each other that well, and I'm thankful to have this kind of report with somebody that's on that level of genius. And it kills me because he drove me to J Dilla's wake one time and we were in the car talking music just before I went in and I was like "I look at you like I look at Dilla, man". But he said "I look at you the same way and you don't even know"…

The thing about Adlib is that he makes beats that, if he hadn't think about if first, I probably would have thought about it. But he thought about it first so he beat me! So the only thing I can do is write something that can hopefully accompany that beat. And I know no one else can write to his songs, except for him, but I can do it, because I understand what he's doing all year long.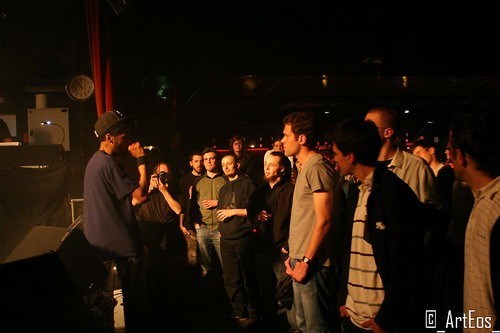 HHC: I have the impression that the first time they hear LabWaste, many people don't understand anything about it, but then after a while, they become captivated by it… Did you ever have an encounter with these species of listeners?
S: Yeah, that's the case with a lot of people. People may have hated the music when they first heard it, then you could not just not listen to it. I'm cool with it. It just takes time to get used to because it's new ideas. So new that we just thought of them, we recorded them and you've just heard'em. I can't expect you to look at LabWaste like you look at my other material or Thav's other material which has been like 15 albums deep. With Thavius, we're coming with shit that neither of us did because we wanted it to be new. I mean, I can only be happy that you guys have been into it at all. Thav and Sa-Ra taught me something I'll carry to my grave: I can't be mad at anybody who listens to me for the first time and doesn't understand because it's new. That record's designed to make you feel crazy, it's not designed for large humane consumption, it's designed for people who feel weird about themselves. That's not for everybody to get into, and it's made that way on purpose.

At the same time, after a while, I think I turned selfish, because you're making records that only you and your five friends can get. But now we're in France so that doesn't count, because you see it's for everybody, that's what I've learned by the travel… So a lot of the music we're doing next, we're not gonna do it for everybody but we're gonna do it for everybody! We're gonna bring out ideas to the world.
HHC: Do you think you could record an album like "Lost Love Stays Lost" today?
S: No. Not anymore. I understand music more now so I understand the values of spreading songs out and letting tracks breathe; things I had no knowledge of before. Now I understand what I should be doing and how songs should be treated and respected. It doesn't have to be a closet full of junk a.k.a. a song. I've learned now that no matter what I think about my music, I'll never sound like anybody else. People told me that enough times and now I finally believe it. I think the more I'll streamline my music and learn music more, the more I'll be able to do what I want but it's still me! My voice will always stay my voice. And my music will always be me. You're gonna get my version of house, my version of minimal electronic music, my version of R&B, my version of rock, but it's me, not those other dudes. At one point in time, I'll tell you my version's no different than anybody else's version but it's still my version. It's not something that hasn't been thought of before but it's seen from my perspective, and I know it's me.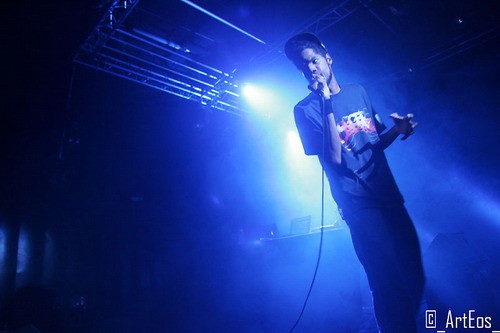 HHC: Will there be another Weekend Science Experiment now that you and Mums have become more established artists?
S: No, 'cause Mums is set to be a lawyer right now. He's gonna be a lawyer pretty soon. At one point in time, I said we would never do one because I was young and pretty stupid, and I was pretty sad that he went and start messing with Murs full time. But now, in retrospect, I understand why, because I was making 4-tracks album in my house and getting high everyday, while Murs doesn't get high at all and he's making fucking records all the time going around the world… when we were both the same age. Which one would you go with? At that time, I was real bummed-out and I didn't understand. But now I understand it perfectly. We don't do the same kind of music but I can rap over any beat he comes up with because he made me my first beat ever. But we did two records together that never came out so before we make another two we want to make sure these first two come out.
HHC: What about your longtime loose friendship with Anti-MC?
S: We did the 'Shake, Rattle, Rattle' song for his album and he's still one of my best friends even though we don't kick it nearly as much as we did when we were younger, for any reason you can think of. I asked him to do something for "Young Dangerous Heart" but I didn't get around to do anything with him. Last time I saw him was when we did a LabWaste show in Texas for this convention and he was there and he was happy that we're doing good and everything… He's a straight-up musician, he's a virtuoso, he can play any instrument. I don't want to limit him by rapping. If he has something that he thinks I can do with him, then I'll do it, real quick! But no more "Appropriately Complex" will pop up, because we're both in different modes of our life. I'm not trying to make these songs with no reverb on them anymore that sound like they had been mixed through a shoe box. (laughs)

It's a different time but we're all still together. And I'm happier… Because you're probably gonna see a reunion of the Library crew pretty soon, which is really funny. All the people I started with are all back in the scene together now, even though we're doing different things, like Mums's being lawyer, AntiMC's working at Mush, I'm working for Alpha Pup, the Lexicon dudes are doing their thing, Dramatic from Oxnard's doing his thing but we're all fucking coming together kicking it. We can also talk about stuff and still want to do something together… whereas three years ago, I would have told all these dudes to leave me alone, for no reason, because of me being stupid. We're at a point now where we can all work how we want to work. We might do an album, I'd like to, but I won't say I plan on it because I plan on doing the LabWaste album and a Giovanni Marks album.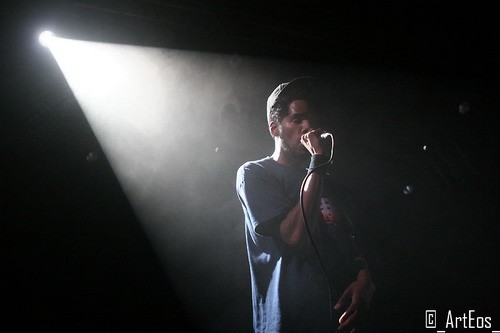 HHC: The city (Los Angeles in particular) and its energy seems to be an important part of the reason why your music is so oppressive and breathless…
S: I guess now, since I've travelled around and I've been able to join other scenes that are like the L.A. scene and be accepted (like I'm a part of the Montreal scene for hip-hop, or I have homies in France, England, Croatia or New Jersey to link up with), Los Angeles doesn't matter no more. It'll always be where I'm from but, while I'll always have L.A. in my veins, the world is bigger than L.A. Now that I finally have a good amount of influence on the L.A. scene, it doesn't matter, because it's very elitist and inclusive, and I don't suscribe to any of that. Being a separatist is to separate away from all that and do something that everybody can come together with, not do something where everybody can seat in a room and say "yeah, we're fresh!" and you never hear from us…

Ellay Khule told me that's what happened to Blowed. Everybody was sitting around talking about how dope they were, not getting out with anybody else, so then a lot of these people who were jocking Blowed for years ended up taking their crown. Not because they were better, just because they were there! To me, the L.A. scene is a very superficial one at that, everybody wants to be seen. But I want to work, I don't want to get fucking pictures taken of me, I'll get enough of those as it is as a model, doing commercials and shit, I'll get paid for that. I come here to make records. In L.A., we have a lot to offer but I don't think any of the musicans, emcees or all of that shit really care about offering it like they should right now, or we'll be doing it like Minnesotta or New York does it.

When I was a kid, I was like a nerd, all I did was write raps and hide in my room all the time, so that will always be in me. But as I grow older and got more popular in my twenties, it's turned to a point where I realised that you can make your own scene up. A scene is 25 dudes in a room, with one dude that knows how to make flyers, four dudes have a band, one dude has a little clothing company, two girls that are in… That's a fucking scene right there! Three people threw a show at their uncle bar. A scene is not something crazy. They write about it like it's crazy but it's just everybody kicking it. People talk about me like I'm doing some important stuff but I don't care! (laughs) The scene is what you make of it. It's something that we design, it's something that YOU design. That goes for out here and that goes for anywhere.

And I want to make it a global scene, I'm going for a bigger scene now, so I want to rap about that, I don't wanna rap about L.A. anymore… Until more angelinos come to my show, I don't need to rap about Los Angeles anymore (laughs). Like you have Hip-Hop Core and West Coast Indies over here, but they don't do that for us in L.A. ! (laughs) It's a different time now.

But being around this L.A. scene definitely gave me a base and it gave me courage. I can find myself rapping in a museum like today and people like it. I can go to New York and not give a fuck what NY thinks and still rip NY to shreds, because I'm from L.A. It's hard to really get something going so people can understand you and your vision of a place that they don't even live at, but at least L.A. gave me courage to go out there and try.
Interview by
Cobalt
&
Billyjack
Photos by
ArtEos
October 2006